Tátra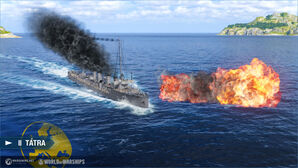 Tech Tree Position
100 mm/50 Škoda K10 on a deck mount
2 х 1 

pcs.
Rate of Fire
13.33 

shots/min.
Reload Time
4.5 

sec.
Rotation Speed
10 

deg./sec.
180 Degree Turn Time
18 

sec.
Firing Range
8.3 

km.
Maximum Dispersion
83 

m.
HE Shell
100 mm HE M1910 
Maximum HE Shell Damage
1,450 
Chance of Fire on Target Caused by HE Shell
6 

%
Initial HE Shell Velocity
880 

m./s.
HE Shell Weight
13.75 

kg.
AP Shell
100 mm AP M1910 
Maximum AP Shell Damage
1,650 
Initial AP Shell Velocity
880 

m./s.
AP Shell Weight
13.75 

kg.
450 mm Twin
2 х 2 

pcs.
Rate of Fire
2 

shots/min.
Reload Time
30 

sec.
Rotation Speed
25 

deg./sec.
180 Degree Turn Time
7.2 

sec.
Torpedo
Torped M1913 
Maximum Damage
4,200 
Torpedo Speed
55 

knot
Torpedo Range
8.01 

km.
Maximum Speed
32.5 

knot
Turning Circle Radius
460 

m.
Rudder Shift Time
3 

sec.
Surface Detectability Range
6.03 

km.
Air Detectability Range
2.43 

km.
Battle Levels
Tátra — European Tier II destroyer.
A series of the best destroyers of the Austro-Hungarian Navy that were built as part of the naval program and intended to equip the navy with more advanced ships. The artillery for the destroyers was supplied by the Czech company Škoda.
Modules
Compatible Upgrades
Player Opinion
Performance
Warning. The data presented in the AA Defense sidebar section may be incorrect.
For a graphic summary of ships Tiers VIII thru XI see LittleWhiteMouse's "Actual AA DPS".
Tátra introduces players to the European destroyer line. She does not excel in any one area in particular, with mediocre agility, practically no concealment, all around thin armor and substandard guns. As a result, she is more comfortable supporting at range with her torpedoes.

Speed
Tátra's speed is average for the tier. While not the fastest nor the smallest, her decent power-to-weight ratio brings her up to speed fairly quickly. Captains will notice her responsiveness right away as her stern seems to "flick" in response to helm commands, giving her a decent turning radius. Do not get overconfident with this though. She is not equipped to brawl at close range but is agile enough to avoid ships trying to ram her, a common occurrence at this tier.

Concealment
Compared to her contemporaries, it would seem that Tátra would be quite stealthy. At only 83 meters in length with a beam slightly shorter than the V-25, her raw statistics show she could be stealthy. However this is not the case and she bears the worst detectability rating of Tier II tech tree and premium destroyers.

Armor
With no armor to speak of other than the 6mm of base material holding her together, Tátra needs to stay at range for any chance of damage mitigation. But all is not lost: her decent torpedo range ensures she is still able to engage targets from a relatively safe distance.

Main Battery
Two, 100mm single gun turrets comprise her main battery armament. She retains this same armament with the upgraded Hull (B), further cementing them as a weapon of last resort. With the turrets arranged in an A-X profile, getting both simultaneously on target requires Tátra to expose at least 30 degrees of broadside. They take a full 18 seconds to traverse 180 degrees leaving her unable to effectively return fire if engaged in evasive maneuvers.

Torpedoes
Tátra's best point is her torpedo loadout. She carries two, double 450mm launchers located amidships towards the stern with a decent 30 second reload. When upgraded to Hull (B) both become triple 450mm launchers, reload speed increases to a grueling 40 seconds, and damage still remains some the lowest at Tier II-III with minimal flood chance. While an 8km range and 55kn speed is quite respectable at this tier, her spread angles are restricted because of where the launchers are located. Captains will need to get her fish launched while still at range to avoid over-exposing her weak hull to opposing team gunfire. As these torpedoes have a very high detection range, do not be surprised if ships are able to avoid them.

Consumables
Tátra has access to the standard Damage Control Party and Engine Boost consumables available to most of her peers.

Summary

Tátra
is at home being at range supporting the main lines with her torpedoes. Captains are well advised to stay clear of direct fire engagements with opposing team destroyers, instead using her torpedoes more for deterrence and area denial. She will reward a patient playstyle just as much as she will punish an overly aggressive one.
Pros:
Decent rudder shift
Fastest torpedoes at tier
Good torpedo range
Cons:
Paper thin all over.
Only 2 player controlled guns with slow rate of fire.
The "secondary battery" of 6 7cm K10 guns are purely cosmetic and do not fire at all.
Lowest torpedo damage of all Tier II–III DDs.
Substandard torpedo spread angles.
Research
Tátra has two upgraded modules to choose from. Captains should first invest in the upgraded Hull (B) option to increase the number of available torpedoes and health. Upgrading the Fire Control System module to boost her main battery range can be saved for last or overlooked completely in favor of unlocking the next tier ship.
Optimal Configuration
Upgrades
The recommended upgrades for Tátra are as follows:
Tátra only has one upgrade slot; Main Armaments Modification 1

is the recommended choice.
Commander Skills
  Recommended Commander Skills  
Cost
(points)

Attack

Defense



1

 

 

 

 

 

★★★



2

 

★★★

★★

 

 

★★★



3

 

★★★

★★

 

 

★★★



4

 

★★

 

 

★★★

 

Key: ★★★ - Extremely Useful      ★★ - Frequently Useful      ★ - Occasionally Useful     No stars - Not Useful
Consumables
Note: Use of the Juliet Charlie signal makes detonation impossible.
Gallery
References
See here for links to Update notes.

Available for testing by supertesters in the game starting from Update 0.9.0.
Dec 5, 2019:

Preliminary characteristics.

Mar 6, 2020:

Torpedo parameters changed:

Maximum damage decreased from 5,100 to 4,200.
Probability of causing flooding decreased from 79 to 63%.

Main battery reload time decreased from 5.0 to 4.5 s.
Introduced in Update 0.9.3.
Update 0.9.5:

Minor fixes to geometry and textures.