Fusilier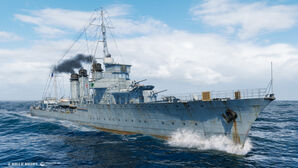 Tech Tree Position
100 mm/45 Mle 1921
4 х 1 

pcs.
Rate of Fire
9.09 

shots/min.
Reload Time
6.6 

sec.
Rotation Speed
20 

deg./sec.
180 Degree Turn Time
9 

sec.
Firing Range
9.47 

km.
Maximum Dispersion
86 

m.
HE Shell
100 mm HE OEA Mle 1910 
Maximum HE Shell Damage
1,400 
Chance of Fire on Target Caused by HE Shell
6 

%
Initial HE Shell Velocity
780 

m./s.
HE Shell Weight
13.5 

kg.
AP Shell
100 mm AP Mle 1910 
Maximum AP Shell Damage
1,600 
Initial AP Shell Velocity
780 

m./s.
AP Shell Weight
13.5 

kg.
550 mm tube lance-torpilles
2 х 2 

pcs.
Rate of Fire
1.71 

shots/min.
Reload Time
35 

sec.
Rotation Speed
25 

deg./sec.
180 Degree Turn Time
7.2 

sec.
Torpedo
550 mm 19V Mle 1 
Maximum Damage
7,433 
Torpedo Speed
52 

knot
Torpedo Range
7.5 

km.
Maximum Speed
34 

knot
Turning Circle Radius
530 

m.
Rudder Shift Time
4 

sec.
Surface Detectability Range
6.66 

km.
Air Detectability Range
2.49 

km.
Battle Levels
Fusilier — French Tier III destroyer.
This destroyer design was offered soon after the end of World War I. The reason for the ship's significantly increased dimensions was the wider range of missions the destroyer would be tasked with during military combat.

This ship entered the tech tree on 24 Aug 2019.

Modules
Compatible Upgrades
Player Opinion
Performance
Fusilier is a larger ship than Ens. Gabolde. She carries the same armament (plus a little AA with the B hull), just more of it - an added gun and 2 more tubes. She feels more substantial, not least because of the greater health pool, and has room for more powerful engines, yielding faster speed. The larger size also results in less stealth and maneuverability.
Despite the lack of smoke,
Fusilier
is a formidable ship at tier, and feeds on enemy destroyers.
Pros:
Decent turret traverse.
Four good guns.
Good speed, plus an engine boost.
Cons:
Torpedoes have small warheads.
With more torpedoes, reload is much slower than that of its predecessor.
No smoke generator.
Research
Availability of researchable upgrades for Fusilier is as follows:
Hull: Upgrade to Hull (B) for a much improved health pool, better maneuverability, and some AA capability. Research of this module unlocks Bourrasque.
Optimal Configuration
Upgrades
Unlike the French cruisers, the French DDs don't seem especially apt to lose their steering or propulsion. The recommended upgrades for Fusilier are as follows:
Commander Skills
Key skills for Fusilier commanders include Preventive Maintenance and Last Stand.
Recommended Commander Skills
Cost
(points)

Endurance

Attack

Support

Versatility



1

★★

★★★

 

Χ

Χ

Χ

★

Χ



2

 

 

 

 

Χ

Χ

 

★★★



3

 

 

 

Χ

★★

 

★★

 



4

 

 

★

Χ

★

Χ

 

★★★

Key: ★★★ - Extremely Useful      ★★ - Frequently Useful      ★ - Occasionally Useful     No stars - Meh     

Χ

- Not recommended
Consumables
Fusilier can equip the following consumables: