Jutland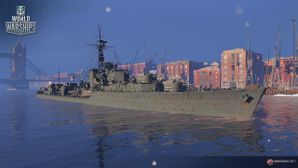 Tech Tree Position
113 mm/45 Mk IV
2 х 2 / 1 х 1 

pcs.
Rate of Fire
13.33 

shots/min.
Reload Time
4.5 

sec.
Rotation Speed
20 

deg./sec.
180 Degree Turn Time
9 

sec.
Firing Range
11.37 

km.
Maximum Dispersion
100 

m.
HE Shell
113 mm HE 5crh 
Maximum HE Shell Damage
1,700 
Chance of Fire on Target Caused by HE Shell
8 

%
Initial HE Shell Velocity
746 

m./s.
HE Shell Weight
24.95 

kg.
AP Shell
113 mm SAP 55 lb 
Maximum AP Shell Damage
2,100 
Initial AP Shell Velocity
746 

m./s.
AP Shell Weight
25 

kg.
533 mm PR Mk II
2 х 5 

pcs.
Rate of Fire
0.48 

shots/min.
Reload Time
125 

sec.
Rotation Speed
25 

deg./sec.
180 Degree Turn Time
7.2 

sec.
Torpedo
533 mm Mk IX** 
Maximum Damage
15,533 
Torpedo Speed
62 

knot
Torpedo Range
9.99 

km.
113 mm/45 Mk IV
2 х 2 

pcs.
. . . Average Damage per Second
29.8 
. . . Firing Range
5.01 

km.
113 mm/45 Mk IV
3 х 2 

pcs.
. . . Average Damage per Second
44.7 
. . . Firing Range
5.01 

km.
40 mm Bofors Boffin
2 х 1 

pcs.
. . . Average Damage per Second
17.4 
. . . Firing Range
3.51 

km.
40 mm Bofors Mk V
1 х 2 

pcs.
. . . Average Damage per Second
12.3 
. . . Firing Range
3.51 

km.
40 mm STAAG
2 х 2 

pcs.
. . . Average Damage per Second
26.8 
. . . Firing Range
3.51 

km.
Maximum Speed
34 

knot
Turning Circle Radius
610 

m.
Rudder Shift Time
5.9 

sec.
Surface Detectability Range
7.25 

km.
Air Detectability Range
3.26 

km.
Battle Levels
Jutland — British Tier IX destroyer.
One of the Battle-class destroyers. She was designed with consideration of the experience gained in World War II. She had a very powerful anti-aircraft defense due to enhanced AA automatic guns and main battery, which served its dual purpose in full.
Modules
Compatible Upgrades
 Slot 1 
 Slot 2 
 Slot 3 
 Slot 4 
 Slot 5 
 Slot 6 
Player Opinion
Performance
Jutland is the tier 9 British destroyer and is a development on the play style of her predecessor, Lightning in the role of a defensive destroyer. Her armament changes, between two dual and one single 113mm gun mounts on the base hull, and three dual mounts on the upgraded (B) hull. Two quintuple torpedo mounts completes Jutland's offensive armament.
One of Jutland's key strengths is her concealment. Her concealment is competitive against ships at her tier, able to compete with even the Japanese destroyers. Captains of Jutland should use this key strength to their advantage. With careful management of her position and concealment, Captains can keep hostile destroyers spotted, and control the engagement choosing when they wish to engage.
Her six 113mm guns despite being smaller than her predecessor, are an upgrade in most regards sporting a high base fire chance and fast reload of only 4 seconds. The ability to traverse her turrets a full 360-degrees aids her in keeping her guns on target while maneuvering. Jutland's armor-piercing shells also boast enhanced auto ricochet angles, enable her to better deal damage vs angled targets. Her torpedoes armament is also an improvement, now sporting a 10km range and ten tubes combined with a relatively fast reload.
Her excellent concealment allows her to lay ambushes against unsuspecting ships allowing her to control the engagement and to make effective use out of her Short-Burst Smoke Generator (
) and Short-Range Hydro-Acoustic Search (
). Jutland differs from the preceding ships being able to equip a Repair Party (

) consumable. The addition of this consumable provides her with added flexibility, allowing her to recover some health between repositioning and increases her total potential health. The relatively short smoke screen cooldown combined with an increased rate of acceleration allow her to swiftly reposition and the ability to recover some health compliments her in the role of a defensive scout.
Not everything is great for Jutland however, as her lack of the Engine Boost (

) consumable can slow down her ability to reposition and makes evading combat a difficult task. Because of this, Captains will want to take great care to stay near to their team to have support against any ships which may engage her.
Overall,
Jutland
is a ship which plays similar to the rest of the line. Captains will appreciate the improvements over the preceding ships in the line able to perform well in the defensive scouting role. She is a relatively strong gunboat backed up with very usable torpedoes and fans of gunboat destroyers will likely adjust quickly to her play style.
Pros:
Good main battery rate of fire and turret traverse speed.
Improved penetration angles with AP shells make them more effective against angled targets.
Torpedoes have good range and fairly low detectability.
Very good concealment.
The Short-Burst Smoke Generator () consumable has many charges and a quick cooldown.
Long lasting Short-Range Hydro-Acoustic Search () is an excellent defensive tool against torpedoes.
Access to the Repair Party () consumable.
Cons:
Jutland is a slow ship, and lacks the Engine Boost () consumable.
The smoke from her Short-Burst Smoke Generator () has a short emission time and duration. (This may have an upside: she won't be tempted to sit in smoke long enough for countering torpedoes to reach her.)
The Repair Party () has only two base charges, a good heal rate, but quite a small action time.
Weak AA defenses make her vulnerable to air attack.
Research
Availability of researchable upgrades for Jutland is as follows:
Hull: Upgrade to Hull (B) (see above for costs). Research of this module unlocks progression to X Daring.
Gun Fire Control System: Upgrade to GFCS Mk.IX mod.2 for an extra 10% range on the main battery.
Captains should prioritize the upgraded hull first as this brings an increase in firepower, survivability, and maneuverability. After this, the range upgrade is recommended as the extra range can allow more flexibility in where positioning and targeting.
Optimal Configuration
Upgrades
As a hybrid destroyer reliant on her concealment, Concealment System Modification 1 (

) is a vital upgrade which helps to reduce her detection. To further supplement her role, Main Armaments Modification 1 (

) will help prevent her torpedoes and weapons being knocked out. Engine Room Protection (

) is also vital. Aiming Systems Modification 1 (

) is useful, for the decreased main battery dispersion and increased torpedo tube traverse rate, though Torpedo Tubes Modification 1 (

) may be attractive to the more torpedo-minded.
The recommended upgrades for Jutland are as follows:
Commander Skills
Key skills for Jutland commanders include your standard destroyer skills, Concealment Expert, Last Stand and Survivability Expert. However, to get the most out of Jutland, Inertia Fuse for HE Shells, and Demolition Expert are also recommended.
Recommended Commander Skills
Cost
(points)

Endurance

Attack

Support

Versatility



1

★★★

★★

 

Χ

Χ

Χ

★

Χ



2

★

★

 

 

★

Χ

★★★

★★★



3

★

★★★

★★

Χ

★★

★★★

★★

★



4

 

 

 

Χ

★★

Χ

★★

★★★

Key: ★★★ - Extremely Useful      ★★ - Frequently Useful      ★ - Occasionally Useful     No stars - Meh     

Χ

- Not recommended
Consumables
Jutland equips the following consumables:
Camouflage
Type 1, 2, or 5 camouflage can be equipped for credits; Types 1 or 5 are recommended at a minimum to reduce detectability range.
Players who wish to spend doubloons can equip Jutland with Type 19 camouflage that lowers her detection radius, reduces the accuracy of incoming shells, reduces her repair costs, and increases the amount of experience she earns.
Signals
Captains should equip combat signal flags to improve the ship's performance during battle. Sierra Mike (

) is highly recommended for the increase to the ship's top speed. Victor Lima (

) and India X-Ray (

) flags can be mounted to further improve upon the ship's main battery fire chance. India Delta (

) is also recommended to increase the amount of health that can be recovered with her
Repair Party
(

). Lastly, economic and special signal flags can be equipped to increase the credit and experience gain of the ship.
Gallery
References