Chung Mu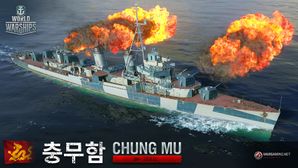 Tech Tree Position
127 mm/38 Mk.12 on a Mk.30 mod.0 mount
5 х 1 

pcs.
Rate of Fire
17.14 

shots/min.
Reload Time
3.5 

sec.
Rotation Speed
34 

deg./sec.
180 Degree Turn Time
5.29 

sec.
Firing Range
11.04 

km.
Maximum Dispersion
97 

m.
HE Shell
127 mm HE Mk32 
Maximum HE Shell Damage
1,800 
Chance of Fire on Target Caused by HE Shell
5 

%
Initial HE Shell Velocity
792 

m./s.
HE Shell Weight
24.5 

kg.
AP Shell
127 mm AP/SC Mk38 
Maximum AP Shell Damage
2,100 
Initial AP Shell Velocity
792 

m./s.
AP Shell Weight
25 

kg.
533 mm Mk15
1 х 5 / 1 х 5 

pcs.
Rate of Fire
0.51 

shots/min.
Reload Time
117 

sec.
Rotation Speed
25 

deg./sec.
180 Degree Turn Time
7.2 

sec.
Torpedo
Mk15 mod. 3 
Maximum Damage
16,633 
Torpedo Speed
59 

knot
Torpedo Range
9.51 

km.
127 mm/38 Mk.12 on a Mk.30 mod.0 mount
5 х 1 

pcs.
. . . Average Damage per Second
53.5 
. . . Firing Range
5.01 

km.
20 mm Oerlikon on a Mk.4 mount
6 х 1 

pcs.
. . . Average Damage per Second
21.6 
. . . Firing Range
2.01 

km.
40 mm Bofors on a Mk.1 mount
3 х 2 

pcs.
. . . Average Damage per Second
33.9 
. . . Firing Range
3.51 

km.
Maximum Speed
38 

knot
Turning Circle Radius
620 

m.
Rudder Shift Time
5.5 

sec.
Surface Detectability Range
7.2 

km.
Air Detectability Range
3.24 

km.
Battle Levels
Chung Mu — Pan-Asian Tier IX destroyer.

A former U.S. Navy
Fletcher
-class destroyer (USS
Erben
, DD-631) that was transferred to the Republic of Korea Navy in 1963. The ship carried good armament and had enhanced AA capabilities.
Modules
Compatible Upgrades
 Slot 1 
 Slot 2 
 Slot 3 
 Slot 4 
 Slot 5 
 Slot 6 
Player Opinion
Performance
Players familiar with Tier IX American destroyer Fletcher will be at home in Chung Mu, as most of the important characteristics of both ships are extremely similar.
While Chung Mu retains the excellent close range firepower of Fletcher, she has the Pan-Asian line signature weapon — deep water torpedoes — and has access to the unique Pan-Asian Smoke Generator 

and Surveillance Radar 

. Consequently, Chung Mu is uniquely dangerous to both cruisers, battleships, and the occasional aircraft carrier. While Chung Mu is entirely capable of contesting capture points just like her American sister, her inability to damage destroyers with her torpedoes hampers her ability to control enemy destroyer access to those capture points. Rather, Chung Mu excels at cooperative flanking, where she can easily destroy distracted cruisers and battleships. Her most important upgrade from Hsienyang is gaining access to Upgrade Slot 6, allowing captains to customize their Chung Mu into builds that befit their preferred play style for the ship.
Players will be tempted to exchange the
Smoke Generator

for
Surveillance Radar

, but the radar's modest range and duration makes it difficult to employ effectively in the absence of smoke. As such, the radar consumable is best used by experienced players or those working in a division, as the consumable requires the close cooperation of allies to take advantage of the targets thus spotted.
Pros:
Excellent close range main battery firepower.
Good AA capabilities.
Good maneuver profile, especially when in top configuration.
Good concealment values.
Powerful torpedoes with excellent detection values.
Access to radar consumable.
Smoke screen can be made to operate nearly continuously with proper captain skills, and signal flags.
Cons:
Poor main battery muzzle velocity.
Incapable of damaging destroyers with torpedoes.
Radar is short-ranged and short-lived.
Research
Availability of researchable upgrades for Chung Mu is as follows:
Hull: Upgrade to Hull (B) for a bump in AA, more health, and a faster rudder shift time. Research of this module unlocks progression to Yueyang.
Torpedoes: Chung Mu's upgraded torpedo module is one of the best investments out there, as it provides a moderate bump up damage but a 20% increase in speed.
Gun Fire Control System: Upgrade to Mk9 mod. 2 for an extra 10% range on the main battery.
Captains will want to prioritize Hull (B) first, as the extra range provided by the fire control module is far less important than the extra hit points and better rudder shift of the B hull. The improved torpedoes should come next; the increase to main battery range should be saved for last or skipped entirely.
Optimal Configuration
Upgrades
The recommended upgrades for Chung Mu are as follows:

Upgrade recommendations for Slots 1, 3, 4, and 5 are fairly easy to make; captains who equip Surveillance Radar 

instead of Smoke Generator 

are encouraged to equip special upgrade Surveillance Radar Modification 1
in Upgrade Slot 2. The upgrade chosen for Upgrade Slot 6 — and the corresponding commander skills — will separate one Chung Mu from another.
Torpedo Build: Captains wishing to focus their Chung Mu as a torpedo boat will opt for Torpedo Tubes Modification 2
in Upgrade Slot 6. This lowers her torpedo reload to only 103.7 seconds (down from 122 seconds). If her commander invests in the Level 3 commander skill Torpedo Armament Expertise, the reload time drops to a scant 93 seconds. Given how hard her torpedoes hit and how fast they travel, this configuration of Chung Mu can give even the vaunted Japanese destroyers a run for their money in the torpedo damage category.
Main Battery (Maximum Rate of Fire) Build: Another solid choice for Chung Mu in Upgrade Slot 6 is Main Battery Modification 3
. When coupled with Level 3 commander skill Basic Firing Training, her rate of fire increases significantly. In this configuration, the reload time on her main battery guns drops to 2.6 seconds (from a base of 3.3 seconds).
Main Battery (Maximum Range) Build: Some captains prefer to maximize the range of Chung Mu's main battery guns utilizing Gun Fire Control System Modification 2
in the final upgrade slot. While this pushes her main battery range out to 15.0 km, landing shells on all but the slowest, largest ships at such range is incredibly difficult.
Commander Skills
The following captain skills are useful for Chung Mu. Skills with a single star are objectively useful, but two and three star options are far superior.
Regardless of other choices, Chung Mu commanders are strongly encouraged invest in either Priority Target or Preventative Maintenance at Level 1, Last Stand at Level 2, Survivability Expert at Level 3, and Concealment Expert at Level 4. Where points go after that depends on how captains wish to play the ship.
A Torpedo Build Chung Mu will want to invest in Torpedo Armament Expertise at Level 3, whereas a Main Battery Build Chung Mu will want to pick up Basic Firing Training — and probably Demolition Expert — instead. Captains concerned about enemy aircraft could opt for Advanced Firing Training or Manual Fire Control for AA Armament. The latter is the better option, as Chung Mu will run most of the time with her anti-aircraft guns disabled in order to avoid detection (making the additional AA range less valuable).
  Recommended Commander Skills  
Cost
(points)

Attack

Defense



1

 

 

 

 

 

★★



2

 

★★

★★

 

 

★★



3

 

★★

★★

 

 

 



4

 

★★

 

 

★★

 

Key: ★★★ - Extremely Useful      ★★ - Frequently Useful      ★ - Occasionally Useful     No stars - Not Useful
Consumables
Chung Mu can equip the following consumables:
Camouflage
Type 1, 2, or 5 camouflage can be equipped for credits; Types 2 or 5 are recommended at a minimum to reduce the accuracy of incoming shells.
Players who wish to spend doubloons can equip Chung Mu with Type 19 camouflage that lowers her detection radius, reduces the accuracy of incoming shells, reduces her repair costs, and increases the amount of experience she earns.
Signals
Captains who have opted for a Torpedo Build Chung Mu will want to equip a Juliet Whiskey Unaone (

) signal in order to maximize potential damage from torpedo hits. Throwing on a Sierra Mike (

) signal will further boost her excellent speed and allow her to move around the map more quickly as needed. November Foxtrot (

) and Juliet Charlie (

) are also highly recommended, if available. Main Battery Build Chung Mu captains should also consider Victor Lima (

) and India X-Ray (

) signals to maximize the fire chance of her main battery shells.
Recommended Signal Flags
Combat

★★

 

★★

★★★

★★

★

★★★

★★★

 

 

★

★★★

 

 

Economic

★

★★

★★★

★★

★

Special

 

★★

★

 

 

 

 

 

Key: ★★★ - Extremely Useful       ★★ - Frequently Useful       ★ - Occasionally Useful      No stars - Not Useful
Note: Use of the Juliet Charlie signal makes detonation impossible.
Gallery
References
See here for links to Update notes.

Available for testing by supertesters in the game starting from Update 0.6.10.
Introduced in Update 0.6.14.
Update 0.7.1:

Disabled national voiceovers for the ship. Now, even if the national voiceover is selected, the voiceover of the player's region or the selected sound mode in the settings will be played.

Update 0.7.6:

The reload time of the Smoke Generator consumable was increased from 120 to 150 s (from 80 to 100 s for improved consumables).

Update 0.7.7:

For 127mm AP / SC Mk38 armor-piercing shells, the fuse detonation time was decreased from 0.03 to 0.01 s.

Update 0.8.6:

Main battery reload time increased from 3.3 to 3.5 s.
Researchable torpedo tubes' reload time increased from 106 to 122 s.

Update 0.9.1:

The speed of stock torpedoes increased from 55 to 56 knots.
Stock torpedo tubes reload time decreased from 122 to 119 s.
The speed of researchable torpedoes increased from 66 to 67 knots.
Researchable torpedo tubes reload time decreased from 122 to 119 s.

Update 0.9.2:

Torpedo tubes reload time decreased from 119 to 117 s.

Update 0.10.4:

The range of stock torpedoes was increased from 9.2 to 9.5 km.
Stock torpedo speed increased from 56 to 59 knots.

Update 0.11.4:

Torpedo Reload Boost consumable added

Number of consumable charges: 2
Reload time: 300 s.