Anshan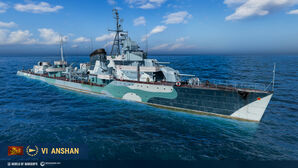 Tech Tree Position
130 mm/50 M1936 shì
4 х 1 

pcs.
Rate of Fire
12 

shots/min.
Reload Time
5 

sec.
Rotation Speed
6 

deg./sec.
180 Degree Turn Time
30 

sec.
Firing Range
11.89 

km.
Maximum Dispersion
104 

m.
HE Shell
130 mm HE A 
Maximum HE Shell Damage
1,900 
Chance of Fire on Target Caused by HE Shell
7 

%
Initial HE Shell Velocity
870 

m./s.
HE Shell Weight
33.4 

kg.
AP Shell
130 mm SAP A 
Maximum AP Shell Damage
2,500 
Initial AP Shell Velocity
870 

m./s.
AP Shell Weight
33.5 

kg.
533 mm 1-N
2 х 3 

pcs.
Rate of Fire
0.86 

shots/min.
Reload Time
70 

sec.
Rotation Speed
25 

deg./sec.
180 Degree Turn Time
7.2 

sec.
Torpedo
533 mm 53-38 
Maximum Damage
14,400 
Torpedo Speed
65 

knot
Torpedo Range
4.02 

km.
37 mm 61 shì
4 х 2 

pcs.
. . . Average Damage per Second
36.8 
. . . Firing Range
3.51 

km.
Maximum Speed
38 

knot
Turning Circle Radius
610 

m.
Rudder Shift Time
4.4 

sec.
Surface Detectability Range
7.2 

km.
Air Detectability Range
2.88 

km.
Battle Levels
Anshan — Pan-Asian premium Tier VI destroyer.

One of the Soviet destroyers built under Project 7 (the
Gnevny
class). She had a high speed and powerful artillery. The ship was handed over to the Navy of the People's Republic of China in 1955. By that time, her AA defenses had been noticeably enhanced.
Anshan
is now preserved as a
military museum ship
in Qingdao, China. She was first released for sale on 8 February 2016 for the NA server and 12 February 2016 for the EU server.
Modules
Compatible Upgrades
 Slot 1 
 Slot 2 
 Slot 3 
 Slot 4 
Player Opinion
Performance
Essentially a Tier VI Gremyashchy flying a Pan-Asian flag, Anshan is surprisingly more sluggish than her Russian counterpart but has better torpedoes. She's better suited for second line skirmishing than going all-in on close-range combat with other destroyers, as her turrets turn a bit slower than the American destroyers she will encounter and are easy to incapacitate or knock out if under heavy enemy fire. She can take a bit more punishment than her peers and her concealment is reasonable enough to perform torpedo attacks without getting detected.
Pros:
Premium camouflage gives 100% bonus to Free experience which makes Anshan ideal for Free experience farming.
More health than Gnevny.
Torpedo speed of 60 knots with an 8.0 km range is slightly better than Gremyashchy's 55 knots at 8.0 km and vastly outranges Gnevny's choices.
Capable of carrying out torpedo attacks without being detected by her target.
Improved uniform AA defense in the form of four dual 37mm mounts.
Cons:
HE shells have a 7% fire chance (2% worse than Gremyashchy and 1% worse than Podvoisky).
Has exact same torpedo set up as Gremyashchy but with slower reload time, 0.8 rounds/min instead of 0.9 rounds/min.
Essentially a Tier VI Gremyashchy with slightly worse overall offensive power, concealment, and flat out worse maneuverability.
Turret traverse speed is not ideal for close-range fighting even with Expert Marksman.
Research
As a premium ship, Anshan doesn't have any upgrades to research.
Optimal Configuration
Upgrades
The recommended upgrades for Anshan are as follows:
Commander Skills
Skill points on Anshan commanders should be focused on maximizing the usefulness of her main battery and improving her survivability. The latter is best accomplished by attempting to preserve her engine functionality (Last Stand) and health pool (Survivability Expert); however, there are other useful skills at those levels as well, such as Expert Marksman and Advanced Firing Training. Captains will have to use their judgment to decide which is best for their play style.
Recommended Commander Skills
Cost
(points)

Endurance

Attack

Support

Versatility



1

★★★

 

 

Χ

Χ

Χ

 

Χ



2

★★

 

★★★

 

★

Χ

★★

★★★



3

 

★★★

 

Χ

★★

★★

★★

★★



4

 

 

 

Χ

★★★

 

 

★★★

Key: ★★★ - Extremely Useful      ★★ - Frequently Useful      ★ - Occasionally Useful     No stars - Meh     

Χ

- Not recommended
Consumables
Anshan can equip the following consumables:
Camouflage
As a premium ship, Anshan comes included with Type 11 camouflage that is unique to her. It lowers her detection radius, reduces the accuracy of incoming shells, increases the amount of experience she earns, and provides an additional bonus to the Free experience earned in battle.
Signals
Recommended Signal Flags
Combat

 

 

★★★

★★

★★★

 

★

★★★

 

 

 

★★★

 

 

Economic

 

 

 

 

★★★

Special

★

 

 

★★

★★

 

 

 

Key: ★★★ - Extremely Useful       ★★ - Frequently Useful       ★ - Occasionally Useful      No stars - Not Useful
Gallery
References