Mogador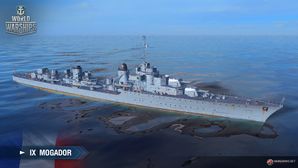 Tech Tree Position
139 mm/50 Mle 1934 on an Mle 1935 mount
4 х 2 

pcs.
Rate of Fire
7.5 

shots/min.
Reload Time
8 

sec.
Rotation Speed
10 

deg./sec.
180 Degree Turn Time
18 

sec.
Firing Range
11.62 

km.
Maximum Dispersion
102 

m.
HE Shell
139 mm HE OEA Mle 1928 
Maximum HE Shell Damage
2,000 
Chance of Fire on Target Caused by HE Shell
10 

%
Initial HE Shell Velocity
840 

m./s.
HE Shell Weight
40.2 

kg.
AP Shell
139 mm SAP OPFA Mle 1924 
Maximum AP Shell Damage
2,700 
Initial AP Shell Velocity
840 

m./s.
AP Shell Weight
39.9 

kg.
550 mm tube lance-torpilles
2 х 2 / 2 х 3 

pcs.
Rate of Fire
0.78 

shots/min.
Reload Time
77 

sec.
Rotation Speed
25 

deg./sec.
180 Degree Turn Time
7.2 

sec.
Torpedo
550 mm 24V Mle 2 
Maximum Damage
18,400 
Torpedo Speed
75 

knot
Torpedo Range
8.01 

km.
37 mm/70 Mle 1935 on an ACAD Mle 1936 mount
2 х 2 

pcs.
. . . Average Damage per Second
24.2 
. . . Firing Range
3.51 

km.
13.2 mm Hotchkiss Mle 1929 on a CAD Mle 1929 mount
4 х 2 

pcs.
. . . Average Damage per Second
14 
. . . Firing Range
1.2 

km.
Maximum Speed
43.5 

knot
Turning Circle Radius
730 

m.
Rudder Shift Time
6.6 

sec.
Surface Detectability Range
9.25 

km.
Air Detectability Range
4.59 

km.
Battle Levels
Mogador — French Tier IX destroyer.
The most powerful large destroyers (French "contre-torpilleurs") among those built for the French Navy. Due to the placement of her artillery guns in twin mounts, the ship outgunned not only all of her predecessors in terms of firepower, but also most contemporary destroyers. Another special feature of the Mogador-class ships was the arrangement of their torpedo armament, where two torpedo tubes were placed along each side of the ship.
Modules
Compatible Upgrades
 Slot 1 
 Slot 2 
 Slot 3 
 Slot 4 
 Slot 5 
 Slot 6 
Player Opinion
Performance
Mogador is the Tier IX destroyer of the French Tech Tree. She continues the trend set by Le Fantasque, but with a welcome increase in firepower and a more convenient gun layout. Instead of five single mounted guns, Mogador sports eight in four twin mounts mounted along the centerline, making gunnery in total more convenient.
The most prominent features of Mogador are her speed, which can go well above 50kn as well as her Main Battery Reload Booster 

, which gives her the edge in a duel vs another destroyer or allows her to rack up a lot of damage against a target showing broadside. At the same time her lackluster concealment means that opposing destroyers will have the option to react before Mogador can engage them. On top of that, the lack of a Smoke Generator 

means that Mogador will struggle to disengage if required. Mogador's torpedo armament is also lacking, making them more of a side weapon or a tool when rushing an opponent rather than a consistent factor.
This means that
Mogador
is best played in combination with an allied destroyer, to overcome her concealment issues and the lack of a smoke generator while the high burst damage potential allows the duo to dispose of any destroyers they might face.
Pros:
Incredibly fast, can reach a ludicrous 54.8 knots with Engine Boost  and the Sierra Mike () signal flag
Powerful main battery guns with excellent HE and AP performance
High burst damage potential with Main Battery Reload Booster  active
Very good healthpool for a destroyer
Decent mid-range AA suite
Very fast torpedoes with good damage and quick reload time
Cons:
Lacks defensive tools of any kind and relies entirely on speed and dodging to avoid damage
Poor main battery reload speed
Slow turret traverse and poor firing angles
Very poor concealment. Concealment cannot be improved past 7.5 km.
Vulnerable to planes due to high aerial detection and lack of long range AA defenses
Torpedoes have high detectability
Research
Availability of researchable upgrades for Mogador is as follows:
Hull: Upgrade to Hull (B) for a good chunk of hitpoints and a significant boost in AA, as well as a rudder shift improve. Research of this module unlocks progression to Kleber.
Gun Fire Control System: Upgrade to PCA n°9 Mle 2 for an extra 10% range on the main battery.
Optimal Configuration
Upgrades
The recommended upgrades for Mogador are as follows:
Commander Skills
Key skills for Mogador commanders include the skills that improve her main armament and survivability.
  Recommended Commander Skills  
Cost
(points)

Attack

Defense



1

★★

 

★★

 

 

★★



2

 

 

 

★

 

★★



3

★★

 

★★

 

 

★★



4

 

 

★

★

★★

 

Key: ★★★ - Extremely Useful      ★★ - Frequently Useful      ★ - Occasionally Useful     No stars - Not Useful
Consumables
Mogador can equip the following consumables:
Signals
Note: Use of the Juliet Charlie signal makes detonation impossible.
Gallery
References
See here for links to Update notes.

Available for testing by supertesters in the game starting from Update 0.8.3.
In Update 0.8.6, it became available from the "Legion of Honor" bundle in the Armory.
Update 0.8.7:

Increased the normalization of AP shells from 8.5 to 10 degrees.

Introduced in Update 0.8.8.
Update 0.9.0:

Detection of the ship was increased:

From ships: from 9.04 to 9.54 km.
By air: from 4.35 to 4.59 km.
After firing main guns in smoke: from 3.7 to 3.96 km.

Detectability of torpedoes was increased from 1.4 to 1.8 km.