Okhotnik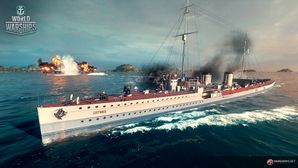 Tech Tree Position
130 mm/55 Model 1913 on an Obukhov Plant mounting
7 х 1 

pcs.
Rate of Fire
6 

shots/min.
Reload Time
10 

sec.
Rotation Speed
5.5 

deg./sec.
180 Degree Turn Time
32.73 

sec.
Firing Range
9.2 

km.
Maximum Dispersion
84 

m.
HE Shell
HE-54 
Maximum HE Shell Damage
1,900 
Chance of Fire on Target Caused by HE Shell
8 

%
Initial HE Shell Velocity
861 

m./s.
HE Shell Weight
33.4 

kg.
AP Shell
SAP-46 
Maximum AP Shell Damage
2,500 
Initial AP Shell Velocity
861 

m./s.
AP Shell Weight
33.5 

kg.
450 mm Goncharov Triple
4 х 3 

pcs.
Rate of Fire
1.28 

shots/min.
Reload Time
47 

sec.
Rotation Speed
25 

deg./sec.
180 Degree Turn Time
7.2 

sec.
Torpedo
45-36NU 
Maximum Damage
13,667 
Torpedo Speed
62 

knot
Torpedo Range
4.5 

km.
76.2 mm Model 1914/15 on an AA mounting
2 х 1 

pcs.
. . . Average Damage per Second
3 
. . . Firing Range
3 

km.
7.62 mm Maxim machine gun
4 х 1 

pcs.
. . . Average Damage per Second
6.8 
. . . Firing Range
0.99 

km.
Maximum Speed
34.5 

knot
Turning Circle Radius
730 

m.
Rudder Shift Time
3.2 

sec.
Surface Detectability Range
6.48 

km.
Air Detectability Range
3.48 

km.
Battle Levels
Okhotnik — Soviet promo premium Tier V destroyer.
An original project for a unique large destroyer that was created during World War I to remedy the lack of modern cruisers in the Russian Navy. The ship's dimensions — too big for this type — allowed her to carry multiple guns and torpedo tubes.

Okhotnik first went on sale on 13 March 2017 on the NA servers, and on 11 March 2017 on the EU servers.
Modules
Compatible Upgrades
Player Opinion
Performance
Okhotnik is a Tier V Russian destroyer that is the living embodiment of the phrase "anything worth doing is worth overdoing". She features seven main guns in single turrets, as well as twelve torpedo tubes in four triple-tube launchers.
In many ways, Okhotnik is what one might expect if the low tier Russian destroyers were scaled up in size, with more guns and torpedoes. However, Okhotnik's guns fire slowly with a base rate of fire of only 6 rounds per minute, while their base 180 turret traverse time is 32.73 seconds, meaning she can easily out-turn her turrets. Her torpedoes are 450mm size, featuring 13,666 damage, a range of 4.5 km at 62 knots, and a stock reload of 47 seconds per launcher. Okhotnik takes the alpha strike of the low tier Russian destroyers to the extreme, and pays for it in weapon reload and mobility. She bleeds large amounts of speed in turns, and feels sluggish to accelerate again. Her large size also means she takes large amounts of damage from incoming fire.
Due to her rather short ranged torpedoes and heavy hitting guns, she excels at surprise attacks (using smoke and/or islands to close with an enemy). She does decently at longer ranges but her torpedoes are her biggest source of damage; developing tactics to deploy them well — or recognizing when a situation allows for their use — is key to getting maximum performance out of Okhotnik. She is an amusing destroyer to play if one likes to unleash large alpha strikes onto one's enemies.
Pros:
A very large amount of guns for a destroyer; easily outguns any destroyer she can face in her tier spread.
Very stealthy for a Russian destroyer.
The HE shells hit hard and are good at starting fires.
Has a decent amount of hit points for its tier.
Cons:
Poor rate of fire.
Slow turret traverse.
Very poor maneuverability; slowest of all the Tier V Russian destroyers and has a massive turning circle.
Short firing range.
Torpedoes have very short range, and torpedo dueling is not advised at all. Okhotnik's size and handling characteristics make avoiding close-range torpedoes a nightmare.
Research
As a Premium ship, Okhotnik doesn't have any upgrades to research.
Optimal Configuration
Upgrades
The recommended upgrades for Okhotnik are as follows:
Some captains may find Main Battery Modification 2 (
) worthwhile in Slot 3, as it provides a notable increase in turret traverse speed for only an extra 0.5 second increase in main battery reload time.
Commander Skills
  Recommended Commander Skills  
Cost
(points)

Attack

Defense



1

★

 

★

★★

 

★★★



2

★★

 

 

 

★★

★★★



3

★★★

 

★★★

 

★

★★★



4

★★★

★★

 

★★★

 

 

Key: ★★★ - Extremely Useful      ★★ - Frequently Useful      ★ - Occasionally Useful     No stars - Not Useful
Consumables
Okhotnik can equip the following consumables:
Camouflage
As a Premium ship, Okhotnik comes included with Type 9 camouflage that lowers her detection radius, reduces the accuracy of incoming shells, and increases the amount of experience she earns.
Signals
Recommended Signal Flags
Combat

 

 

★★★

 

★★★

 

★

★★★

 

 

 

★★

 

 

Economic

★

 

 

★★

 

Special

 

 

★★

 

 

 

 

 

Key: ★★★ - Extremely Useful       ★★ - Frequently Useful       ★ - Occasionally Useful      No stars - Not Useful
Note: Use of the Juliet Charlie signal makes detonation impossible.
Gallery
The Okhotnik Flag. Given to players who purchased a special bundle containing Okhotnik.
References