Leningrad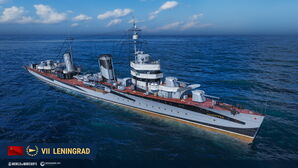 Tech Tree Position
130 mm/50 Model 1936 on a B-13-IIc mount
5 х 1 

pcs.
Rate of Fire
12 

shots/min.
Reload Time
5 

sec.
Rotation Speed
6.5 

deg./sec.
180 Degree Turn Time
27.69 

sec.
Firing Range
11.56 

km.
Maximum Dispersion
101 

m.
HE Shell
HE-46 
Maximum HE Shell Damage
1,900 
Chance of Fire on Target Caused by HE Shell
8 

%
Initial HE Shell Velocity
870 

m./s.
HE Shell Weight
33.4 

kg.
AP Shell
SAP-46 
Maximum AP Shell Damage
2,500 
Initial AP Shell Velocity
870 

m./s.
AP Shell Weight
33.5 

kg.
533 mm Quad N-7
2 х 4 

pcs.
Rate of Fire
0.65 

shots/min.
Reload Time
92 

sec.
Rotation Speed
25 

deg./sec.
180 Degree Turn Time
7.2 

sec.
Torpedo
53-39 mod. 2 
Maximum Damage
15,100 
Torpedo Speed
60 

knot
Torpedo Range
8.01 

km.
76 mm Model 1935 on a 34-K mount
2 х 1 

pcs.
. . . Average Damage per Second
4.4 
. . . Firing Range
3 

km.
37 mm 70-K mount
4 х 1 

pcs.
. . . Average Damage per Second
22.8 
. . . Firing Range
3.21 

km.
12.7 mm DShK
4 х 1 

pcs.
. . . Average Damage per Second
14.4 
. . . Firing Range
1.2 

km.
37 mm SK C/30 on a Dopp LC/30 mount
1 х 2 

pcs.
. . . Average Damage per Second
2.6 
. . . Firing Range
3.51 

km.
76 mm 81-K mount
1 х 2 

pcs.
. . . Average Damage per Second
2.7 
. . . Firing Range
3.51 

km.
Maximum Speed
43 

knot
Turning Circle Radius
690 

m.
Rudder Shift Time
3.7 

sec.
Surface Detectability Range
7.56 

km.
Air Detectability Range
3.46 

km.
Battle Levels
Leningrad — Soviet promo premium Tier VII destroyer.
The first major warship completely designed and built in the USSR. The ship was notable for her powerful artillery and very high speed. During World War II, her AA defenses were reinforced.

Leningrad first went on sale on 10 October 2016 on the NA servers, and on 5 October 2016 on the EU servers.
Modules
Compatible Upgrades
 Slot 1 
 Slot 2 
 Slot 3 
 Slot 4 
Player Opinion
Performance
Warning. The data presented in the AA Defense sidebar section may be incorrect.
For a graphic summary of ships Tiers VIII thru XI see LittleWhiteMouse's "Actual AA DPS".

Leningrad may initially seem like a Tier VII Gremyashchy with an extra gun and quadruple torpedo launchers (instead of triples). Her 43 knot top speed (reaching nearly 46 knots with Engine Boost 

active) means she can avoid some incoming fire by simply outrunning it, and her high velocity guns give her the ability to pepper targets at range where she can not be reliably hit. However, she has a much wider turning circle in exchange for her higher top speed, causing her to drift when turning. This can sometimes lead to accidentally hitting torpedoes her captain thought they had dodged.
Her torpedoes are more powerful than Gremyashchy's, with 700 more damage and 5 knots faster speed in exchange for a longer reload due to the quad mount launchers. The main battery guns are in an odd layout, with an anti-aircraft mount blocking the rearmost gun from firing aft, and the third gun located aft of the bridge; in order to fire all her main battery weapons simultaneously, Leningrad needs to expose a great deal of herself to return fire.
Overall,
Leningrad
trades a worse gun layout from the regular tech tree Tier VIII destroyer
Kiev
for better torpedoes, making her an interesting hybrid play style ship, able to both function as both gunboat and torpedo boat depending on what the situation calls for.
Pros:
Relatively good firing angles.
Good main battery rate of fire and shell velocity like all other Russian destroyers.
Fastest destroyer in her tier: a whopping 43 knots.
Great rudder shift and handling characteristics for a Russian destroyer.
Decent concealment, identical to Tier VII USN premium destroyer Sims.
Good torpedoes; can fire torpedoes from beyond her detection radius, similar to Gremyashchy.
Cons:
Typically large turning radius for a Russian destroyer.
Cannot easily stealth-fire.
Anti-aircraft armament is underwhelming. Don't expect to shoot down any planes.
Poor turret traverse, only slightly better than Tier VII Japanese counterpart Shiratsuyu.
Insane ship drift at mid-to-high speeds while turning, even when slowing down.



Research
As a Premium ship, Leningrad doesn't have any upgrades to research.
Optimal Configuration
Upgrades
The recommended upgrades for Leningrad are as follows:
With only four upgrade slots to fill, there isn't a lot of variety of choice for fitting out Leningrad. Main Armaments Modification 1 is the natural pick for Slot 1'; for Slot 3, the choice boils down to captain's preference between Aiming Systems Modification 1 to improve the accuracy of her main battery, or Main Battery Modification 2
for faster turret rotation. Captains who have opted for Last Stand over Expert Marksman as a Level 2 commander skill will probably want the latter.
Remaining upgrade slots are best used for Engine Room Protection and Propulsion Modifications 1, in order to increase the reliability of her engines. Leningrad is dependent upon her speed for defense; these two mods help contribute to her survivability in that regard.
Commander Skills
Like her tech tree cousins, Leningrad plays more like a light cruiser than a destroyer. She will greatly prefer to hold enemies at arms' length when possible, maximizing the accuracy, muzzle velocity, and user-friendly firing arcs of her main battery. Captains will want to focus their skill points on improving her main battery and maximizing her survivability.
  Recommended Commander Skills  
Cost
(points)

Attack

Defense



1

★

 

★

★★

 

★★★



2

★★

 

 

 

★★

★★★



3

★★★

 

★★★

 

★

★★★



4

★★★

★★

 

★★★

 

 

Key: ★★★ - Extremely Useful      ★★ - Frequently Useful      ★ - Occasionally Useful     No stars - Not Useful
Consumables
Leningrad equips the following consumables:
Camouflage
As a premium ship, Leningrad comes with Default permanent camouflage and a set of permanent combat bonuses.
Signals
Note: Use of the Juliet Charlie signal makes detonation impossible.
Gallery
Leningrad passes the sinking wreck of an enemy Scharnhorst.

Flag of Leningrad. Given to players who purchased a special bundle containing Leningrad.
References
See here for links to Update notes.

Available for testing by supertesters in the game starting from Update 0.5.11.
Went on sale after the release of Update 0.5.12.
Update 0.5.16.1:

Fixed incorrect placement of AA guns.

Update 0.6.1:

Added to the list of ships available in supercontainers.
Added to the tech tree for purchase with doubloons.

Update 0.6.2:

The damage from HE-46 shells was increased from 1600 to 1900.

Update 0.6.12:

Detectability when firing main guns in smoke changed to 2.88 km.

Update 0.6.13:

Fire extinguishing time now 30 s instead of 60 s.

Update 0.6.15:

A bonus was added to the Type 10 permanent camouflage: a 10% discount to the cost of post-battle maintenance.

Update 0.7.0:

The normalization angle for an AP shell was increased from 8 to 10.

Update 0.10.7:

Fixed a bug that caused the game client to terminate when using the "Defense of Leningrad" camouflage.

Update 0.10.9:

Available for purchase in the Armory for 20,000 Community Tokens.

Update 0.11.4:

No longer available for purchase in the Armory via Community Tokens.