Loyang B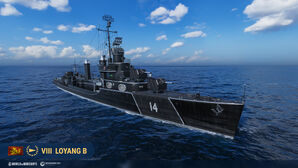 Tech Tree Position
127 mm/38 Mk.12 on a Mk.30 mod.0 mount
4 х 1 

pcs.
Rate of Fire
17.96 

shots/min.
Reload Time
3.34 

sec.
Rotation Speed
34 

deg./sec.
180 Degree Turn Time
5.29 

sec.
Firing Range
11.55 

km.
Maximum Dispersion
101 

m.
HE Shell
127 mm HE Mk32 
Maximum HE Shell Damage
1,800 
Chance of Fire on Target Caused by HE Shell
5 

%
Initial HE Shell Velocity
792 

m./s.
HE Shell Weight
24.5 

kg.
AP Shell
127 mm AP/SC Mk38 
Maximum AP Shell Damage
2,100 
Initial AP Shell Velocity
792 

m./s.
AP Shell Weight
25 

kg.
IDS_PZGT007_21IN_MK15_TORPEDO_TUBES
2 х 5 

pcs.
Rate of Fire
0.55 

shots/min.
Reload Time
109 

sec.
Rotation Speed
25 

deg./sec.
180 Degree Turn Time
7.2 

sec.
Torpedo
533 mm Mk15 mod. 0 
Maximum Damage
11,600 
Torpedo Speed
55 

knot
Torpedo Range
9.15 

km.
127 mm/38 Mk.12 on a Mk.30 mod.0 mount
3 х 1 

pcs.
. . . Average Damage per Second
32.1 
. . . Firing Range
5.01 

km.
127 mm/38 Mk.12 on a Mk.30 mod.1 mount
1 х 1 

pcs.
. . . Average Damage per Second
10.7 
. . . Firing Range
5.01 

km.
40 mm Bofors on a Mk.1 mount
2 х 2 

pcs.
. . . Average Damage per Second
22.6 
. . . Firing Range
3.51 

km.
20 mm Oerlikon on a Mk.4 mount
4 х 1 

pcs.
. . . Average Damage per Second
14.4 
. . . Firing Range
2.01 

km.
Maximum Speed
38 

knot
Turning Circle Radius
570 

m.
Rudder Shift Time
2.7 

sec.
Surface Detectability Range
7.16 

km.
Air Detectability Range
2.88 

km.
Battle Levels
Loyang B — Pan-Asian promo premium Tier VIII destroyer.
A destroyer specifically built for the U.S. Navy, boasting powerful AA guns and a high speed. She was handed over to the Navy of the Republic of China in 1954. Her armament comprised dual-purpose main guns and quintuple torpedo tubes.
Loyang B first went on sale on 19 November 2021 during the Black Friday event.
Modules
Compatible Upgrades
 Slot 1 
 Slot 2 
 Slot 3 
 Slot 4 
 Slot 5 
Player Opinion
Performance
Warning. The data presented in the AA Defense sidebar section may be incorrect.
For a graphic summary of ships Tiers VIII thru XI see LittleWhiteMouse's "Actual AA DPS".

Loyang B, or Loyang Black, is a clone of Loyang with an attractive black skin.
Loyang B can be best summarized as a German version of Benson, trading raw firepower for the ability to mount a powerful Hydroacoustic Search 

. Similar to Benson, Loyang B remains a highly flexible destroyer thanks to her potent combination of Smoke Generator 

, Hydroacoustic Search 

, and excellent concealment. Skilled Lo Yang captains can use those tools to their advantage to lock down capture points, duel other spotting destroyers, and provide torpedo screening for the fleet. Though Loyang B is a relatively difficult ship to play correctly, a well captained Loyang B is able to support their team to victory.
While Loyang B is a highly capable ship, her base stats are generally average with a few exceptions. Her base HP pool is mediocre for a T8 DD, sporting only 14,600 HP at baseline and 17,400 HP with Survivability Expert. Armor is the typical T8 DD profile of 13mm for her superstructure and 19mm for her hull; wholly inadequate for protecting against any shell aimed at her. Worse yet, Loyang B is woefully inadequate to deal with carrier attacks. Loyang B simply lacks the AA to reliably stop the carriers from striking her over and over. Thankfully this is more than offset by her exceptional maneuverability; her tight turning radius, responsive rudder shift, and thin hull allow her to weave between enemy salvos and air attacks alike.
Unfortunately, Loyang B 's offensive can be best described as average at best. Though Loyang B 's gun firepower is average for a Tier 8 DD, it quickly drops off at longer ranges due to the floaty shells both making it difficult to aim and giving enemies more time to dodge. Both of Loyang B 's torpedo options have notable limitations compared to other DDs. Her stock torpedoes are the same as Benson 's stock torpedoes, having good range but low damage. Loyang B 's alternative torpedo option has the same damage as Benson 's upgraded torps and travels much faster, but at the cost of a low 6.7km range. It is the player's choice whether to run the safe but low damage torpedoes, or the high-risk high reward alternative torpedoes.
What makes Loyang B truly terrifying is her deadly smoke + hydro combination. When built for full concealment, Loyang B will have a surface detection range of 5.8km, better than the vast majority of the DDs she faces. Combined with a Hydroacoustic Search 

that can spot enemy ships at 5.5km, enemies only have a 300m buffer to react before they stumble into her hydro range. Loyang B can then smoke up and attack the enemy destroyer with near impunity; the hydro providing spotting and the smoke hiding her hull. When employed properly, Loyang B can comfortably out-trade almost any DD caught in her trap even against higher tier DDs. This tactic is especially effective in capture points and near islands as Loyang B can set up ambushes and keep DDs even longer in her hydro range for her or her allies to attack. Still, this deadly combination is not without limitations. Radar ships can force Loyang B out of her smoke, with the Russian cruiser's 12km radar being especially dangerous. Enemy DDs can blind fire and launch torpedoes at Loyang B 's last known position, damaging or forcing her out of smoke. Finally, Z-52 can completely negate this tactic as her hydro out ranges Loyang B 's own hydro.
When not employing this tactic, Loyang B remains a very effective destroyer in their traditional roles of spotting and providing support for her allies. Loyang B 's 5.8km concealment will let her out spot most enemy DDs with the exception of the high tier Japanese DDs and the British DD Lightning, all of which Loyang B can take effective engagements against. Some high tier DDs with similar concealment ranges can outgun Loyang B, so take care to have your smoke available or have nearby allies to even the odds. As a support ship, Loyang B is one of the best DDs around as she can lay a long duration Smoke Generator 

for her allies while simultaneously screening for torpedoes with her long range Hydroacoustic Search 

.
Overall,
Loyang B
is one of the better destroyers in
World of Warships,
capable of providing a valuable contribution to any team she finds herself on whether it is supporting allies, taking capture points, or sinking enemy ships.
Pros:
Extremely fast turret traverse with adequate gun firepower
Access to one of the best Destroyer Hydroacoustic Search  in the game with detection ranges of 3.75km for torpedoes and 5.5km for ships.
Loyang B's Hydroacoustic Search  is superior to every DD she can face except for the Z-52
Lo Yang can trap overly aggressive DDs with her potent smoke + hydro combo and attack them with near impunity
One of the fastest Tier VII Destroyers, surpassed only by the French and Russian DDs
Very fast rudder shift time of 2.7s
Highly competitive concealment, allowing Loyang B to outspot the majority of DDs she can face
Being a Pan-Asian DD, many DD players may be fooled into thinking she has deepwater torpedoes
Cons:
Torpedoes armament is a mixed bag; stock torpedoes are the same as Benson's stock Mk. 15 mod. 0 — low damage but and longer-ranged — the alternative torpedoes are much faster with a nearly suicidal range of only 6.7km.
Hydroacoustic Search  shares the same slot as Engine Boost  and Defensive AA Fire , making the latter two a less viable choice
Radar cruisers will make it difficult for Lo Yang to employ her smoke + hydro combo against other destroyers
Anti-aircraft suite is inadequate for air defense, even with Defensive AA Fire  active.
Relatively long torpedo reload time.
High shell arcs make it hard to hit fast-moving ships, especially if they are maneuvering to avoid incoming fire.
Research
As a premium ship, Loyang B has no module upgrades to research.
Optimal Configuration
Upgrades
The recommended upgrades for Loyang B are as follows:
Upgrade Slot 2 It is highly advised to take Hydroacoustic Search Modification 1
to maximize Loyang B 's usage of Hydroacoustic Search 

. Engine Room Protection
is a viable alternative if the player is unable to obtain Hydroacoustic Search Modification 1
.
Commander Skills
Captains are recommended to spend the first 13 points on the following skills:
1pt skill: Preventative Maintenance
2pt skill: Last Stand
3pt skill: Survivability Expert
4pt skill: Concealment Expert
3pt skill: Adrenaline Rush
Once the core skills have been taken, captains can begin to customize their Loyang B commander based on their playstyle. Captains focusing on a more offensive playstyle should consider taking Torpedo Armament Expertise, the 3pt skill Main Battery and AA Specialist, and/or Demolition Expert. Captains looking to play a support or objective-focused playstyle should consider taking Superintendent, Swift in Silence, Radio Location, and/or Consumables Enhancements. Of course, captains can take skills from both categories to fully complement their own playstyle.
  Recommended Commander Skills  
Cost
(points)

Attack

Defense



1

 

 

 

 

★

★★



2

 

 

★★

 

 

★★★



3

★★

★★

★★★

 

★

★★★



4

 

★★

★

 

★★★

 

Key: ★★★ - Extremely Useful      ★★ - Frequently Useful      ★ - Occasionally Useful     No stars - Not Useful
Consumables
Loyang B can equip the following consumables:
It is recommended to only take Hydroacoustic Search 

in slot 3 for Loyang B as her excellent hydro is what sets Loyang B apart from every other DD. Defensive AA Fire is a poor choice as Lo Yang's AA isn't enough to deter attacking aircraft even with the consumable active. Engine Boost 

also isn't recommended as she essentially becomes a completely inferior version of the Benson.
Camouflage
As a premium ship, Loyang B comes with Default permanent camouflage and a set of permanent combat bonuses.
Signals
Juliet Charlie (

) is always a good signal to use on destroyers to avoid detonations. Sierra Mike (

) is a great pick for Loyang B as the extra mobility is always appreciated. If the player is low on signals, it is recommended to conserve the signals for ranked.
Recommended Signal Flags
Combat

★

 

 

★

★★★

★★

★★★

 

 

★★★

★★★

 

★★

★★★
Note: Use of the Juliet Charlie signal makes detonation impossible.
Gallery
References
See here for links to Update notes.

Available for purchase in the Premium Store during the Black Friday 2021 sale during Update 0.10.10. Could also drop from Black Friday containers.