Delny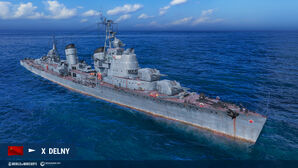 Tech Tree Position
130 mm/60 on a BL-101 mount
3 х 2 

pcs.
Rate of Fire
12 

shots/min.
Reload Time
5 

sec.
Rotation Speed
20 

deg./sec.
180 Degree Turn Time
9 

sec.
Firing Range
13.13 

km.
Maximum Dispersion
113 

m.
HE Shell
HE-42 
Maximum HE Shell Damage
1,900 
Chance of Fire on Target Caused by HE Shell
8 

%
Initial HE Shell Velocity
950 

m./s.
HE Shell Weight
33 

kg.
AP Shell
SAP-42 
Maximum AP Shell Damage
2,600 
Initial AP Shell Velocity
950 

m./s.
AP Shell Weight
33.4 

kg.
533 mm PTA-53-30
2 х 5 

pcs.
Rate of Fire
0.47 

shots/min.
Reload Time
129 

sec.
Rotation Speed
25 

deg./sec.
180 Degree Turn Time
7.2 

sec.
Torpedo
53-39 mod. 4 
Maximum Damage
15,100 
Torpedo Speed
60 

knot
Torpedo Range
9.99 

km.
130 mm/60 on a BL-101 mount
2 х 2 

pcs.
. . . Average Damage per Second
30.4 
. . . Firing Range
5.01 

km.
IDS_PRGM188_130MM_60_BL_101_B
1 х 2 

pcs.
. . . Average Damage per Second
15.2 
. . . Firing Range
5.01 

km.
45 mm SM-20-ZIF mount
3 х 4 

pcs.
. . . Average Damage per Second
61.8 
. . . Firing Range
3.51 

km.
25 mm 110-PM on a 4М-120 mount
2 х 4 

pcs.
. . . Average Damage per Second
16.8 
. . . Firing Range
3.09 

km.
Maximum Speed
43.5 

knot
Turning Circle Radius
760 

m.
Rudder Shift Time
5 

sec.
Surface Detectability Range
9.12 

km.
Air Detectability Range
4.44 

km.
Battle Levels
Delny — Soviet Tier X destroyer.
A project of a Tashkent-class destroyer leader that was improved taking experience gained in warfare into account. She differs from her prototype in the composition of her torpedo armament and more advanced artillery systems, which are of a post-war design.
Modules
Compatible Upgrades
 Slot 1 
 Slot 2 
 Slot 3 
 Slot 4 
 Slot 5 
 Slot 6 
Player Opinion
Performance
Warning. The data presented in the AA Defense sidebar section may be incorrect.
For a graphic summary of ships Tiers VIII thru XI see LittleWhiteMouse's "Actual AA DPS".
Topping off the Russian destroyer mainline, Delny stands as the pinnacle of the long range gunboat play style developed over the preceding tiers. As a fictional post-war improvement to the real-life Tashkent design, she features improved gunnery, torpedoes, and survivability. However, she isn't as much of an upgrade compared to her Tier IX predecessor compared to some other Tier X ships. With a high top speed and excellent gun performance and range, Delny can reliably engage targets out to her maximum range to help kill a spotted destroyer or farm capital ships from relative safety.
Armament
Delny carries six 130mm guns in three twin turrets, with similar characteristics to those found on IX Tashkent. With one of the highest shell velocities among destroyers, her excellent ballistics allow her to comfortably engage targets at any range. Her shells are nearly identical to Tashkent's, but they lose speed more quickly due to higher drag, and thus have similar or slightly longer flight times despite their higher initial velocity. Both her AP and HE shells deal the same damage as Tashkent's, but her HE has a slightly higher fire chance per shell — 10% vs. 8%. Although this fire chance is one of the best at Tier X, her slower reload leaves her average fires per minute well below other HE spammers like Harugumo or Vampire II. While Delny's primary ammo selection should be HE to damage destroyers and set fires on larger targets, her AP is surprisingly effective for a destroyer. Thanks to her excellent shell velocity, her AP can reliably damage many battleship and cruiser upper belts, and even citadel some less-armored cruisers.
Delny also has one of the longest ranges of all Tier X destroyers, further emphasizing her role as a gunboat. Along with her ballistics and short flight times, this means she can reliably damage most destroyers without fear of retaliation. While she can't outrange any cruisers or battleships, distance helps her dodge their return fire. Players should be cautious around secondary-focused battleships, as her stock gun range is barely longer than their maximum secondary range.
In addition to her main battery, Delny carries two quintuple torpedo launchers. The torpedoes themselves are identical to Tashkent's, but Delny's gain an extra 2 kilometers of range. The extra torpedo and longer range come at a cost; while Tashkent's reload in just over a minute, Delny's take almost twice as long. The extra range makes them more versatile, but their lower than average damage, flood change, and speed leave them as a source of extra damage rather than a primary weapon.
Consumables
Like IX Tashkent, Delny has access to the standard Damage Control Party and Engine Boost consumables, as well as a choice between a Smoke Generator and Repair Party. Although she has to choose between the two, unlike X Grozovoi, simply having access to a Repair Party is uncommon for a destroyer. The Repair Party is identical to the one found on other high tier Russian destroyers, able to repair up to 14% of her HP per charge but with an extra charge compared to Grozovoi.
Maneuverability
Delny is one of the fastest destroyers in the game, outrunning all but Marceau and Kleber at Tier X, and the Tier VIII and IX French destroyers with their speed boost active. Her high base speed allows her to pick and choose her fights and quickly respond to changes in the battle, as well as reach caps before opposing destroyers. She can also easily outpace any cruiser, providing some scouting for allied cruisers or kiting away from enemy ones.
While her speed is among the best, the rest of her agility is below average. Her rudder shift is average, but her turning circle is one of the worst, roughly comparable to Hayate or Ragnar. While she can easily deal with enemy destroyers at range, her poor agility leaves her more vulnerable to torpedoes and close-range enemy fire.
Survivability
Like Tashkent, Delny has a decently large health pool for her tier. However, while Tashkent has one of the largest at Tier IX, Delny falls behind other Tier X gunboat destroyers like Harugumo and Ragnar. Her Repair Party gives her one of the largest effective health pools among Tier X destroyers, but she still needs to be cautious when engaging larger targets and even some other destroyers.
The majority of Delny's armor is either 13 or 19mm thick, identical to most other high tier destroyers. However, she has reinforced 50mm side plating, an unusual feature for a destroyer. Like the thicker plating on Khabarovsk, it provides additional protection against destroyer and cruiser HE, and can even bounce any battleship AP shell when properly angled. However, unlike Khabarovsk, Delny's only covers the central part of the ship, and her deck is the standard 19mm rather than 25mm.
While many other destroyers have stealth to further enhance their survivability, Delny does not. She has one of the highest detection ranges of all Tier X destroyers, and will almost always get out-spotted by the opposing destroyers. Depending on her build, she could even be out-spotted by a Minotaur, a scary thought for any destroyer. Although she is fast enough to reach a cap first, her high detection and large size make her ill-suited for cap contesting. When the opposing destroyer spots her, the difference in concealment makes disengaging tricky, and her large size presents an easy target for the enemy destroyer and supporting cruisers in the process.
Anti-aircraft
Delny's anti-aircraft defenses leave a lot to be desired. Tier for tier, she's actually slightly worse than Tashkent. Her long range protection is average at best, both in terms of range and damage, and her flak offers little to improve it. Her mid and short range are similarly disappointing, although her short range defenses are tied with Grozovoi for longest reach — an impressive 3.1km. However, their low damage fails to provide much impact despite the longer range. Delny's AA defenses are roughly comparable to X Yueyang, although Delny has slightly stronger midrange defenses thanks to her longer-reaching short range mounts.
Delny's AA gives her some protection against lower tier carriers, but will do little to deter Tier X planes. She may be able to shoot down a few, but most of the strikes will get through with little resistance. If she finds herself getting focused, she'll need to retreat to friendly AA support or use her speed to try and dodge.
Battle performance
Delny is a typical long range gunboat destroyer. Like Kleber, Mogador, and other large destroyers, she's most comfortable sitting at mid or long range on a flank, dealing damage to whatever she can while dodging return fire. Her torpedoes are more effective than the preceding Russian gunboats, but her guns are still her primary weapon. While she can get close and fill a more traditional destroyer role when team compositions force her to, she isn't suited for closer range engagements due to her large size and poor agility.
With her high speed, excellent gun performance, and increased survivability,
Delny
is about as close to a cruiser as she can get while still filling a destroyer slot. When played to her fullest potential, she will be an annoying thorn in the side of whichever enemy ship ends up in her sights.
Pros:
Above average HP pool
50mm side plating
Excellent main battery ballistics
Good AP penetration
High fire chance
Fairly stealthy torpedoes
High top speed
Has access to the Repair Party consumable
Cons:
Armor is still rather vulnerable
Poor AP and HE DPM
Weak torpedo performance
Below average AA
Large turning circle with average rudder shift
High surface and air detection range
Must choose between the Smoke Generator and Repair Party consumables
Research
As a Tier X ship, Delny has no upgrades to research.
Zorkiy
is researched off
Delny
at a cost of 1 XP.
Optimal Configuration
Upgrades
The recommended upgrades are:

In slot 5, Concealment System Modification 1 

is recommended for the increase to enemy dispersion. More experienced players may opt for Steering Gears Modification 2

to help dodge incoming fire, but must remember Delny's larger turning circle and resulting high surface detection.
Commander Skills
  Recommended Commander Skills  
Cost
(points)

Attack

Defense



1

★★

 

 

 

★

★★★



2

★★

 

★

 

★

★★★



3

★

 

★★

 

★★

★★★



4

★★★

 

★

★★

★★

 

Key: ★★★ - Extremely Useful      ★★ - Frequently Useful      ★ - Occasionally Useful     No stars - Not Useful

Delny is primarily a damage-dealing destroyer; as such, players should select skills that improve her survivability and main battery performance. Grease the Gears is helpful to counteract the slower turret traverse from Main Battery Modification 3
. Those that wish to play Delny with smoke may prefer to take the 2-point Consumables Enhancements skill for the increased action time on her Smoke Generator.
Consumables
Delny equips the following consumables:

Both Smoke Generator and Repair Party can be valid choices, depending on the role players wish to fill. The Smoke Generator allows her to farm damage without getting spotted, or provide some offensive cover for her allies or defensive cover for herself if she needs to run. The Repair Party allows her to be more aggressive as an open water gunboat, allowing her to outlast her opponents and have more potential impact toward the end of the game.
Signals
Recommended Signal Flags
Combat

★★★

 

 

★

★★

★★

★

 

★

★★★

★★

★★

★★

 
Note: Use of the Juliet Charlie signal makes detonation impossible.
Gallery
References
See here for links to Update notes.

Available for testing by supertesters in the game starting from Update 0.10.10.
Introduced into the game as a researchable ship in Update 0.11.1, replacing the Khabarovsk after the Tashkent in the Russian Destroyer line.