Gnevny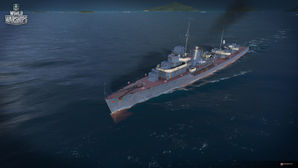 Tech Tree Position
130 mm B-13
4 х 1 

pcs.
Rate of Fire
12 

shots/min.
Reload Time
5 

sec.
Rotation Speed
9.7 

deg./sec.
180 Degree Turn Time
18.56 

sec.
Firing Range
10.81 

km.
Maximum Dispersion
104 

m.
HE Shell
HE-46 
Maximum HE Shell Damage
1,900 
Chance of Fire on Target Caused by HE Shell
8 

%
Initial HE Shell Velocity
870 

m./s.
HE Shell Weight
33.4 

kg.
AP Shell
SAP-46 
Maximum AP Shell Damage
2,500 
Initial AP Shell Velocity
870 

m./s.
AP Shell Weight
33.5 

kg.
533 mm Triple 39-U
2 х 3 

pcs.
Rate of Fire
0.86 

shots/min.
Reload Time
70 

sec.
Rotation Speed
25 

deg./sec.
180 Degree Turn Time
7.2 

sec.
Torpedo
53-38 
Maximum Damage
14,400 
Torpedo Speed
65 

knot
Torpedo Range
4.02 

km.
12.7 mm DShK
4 х 1 

pcs.
. . . Average Damage per Second
14.4 
. . . Firing Range
1.2 

km.
45 mm 21-K
3 х 1 

pcs.
. . . Average Damage per Second
6 
. . . Firing Range
2.49 

km.
76 mm 34-K
2 х 1 

pcs.
. . . Average Damage per Second
4.4 
. . . Firing Range
3 

km.
Maximum Speed
38 

knot
Turning Circle Radius
610 

m.
Rudder Shift Time
6.1 

sec.
Surface Detectability Range
7.02 

km.
Air Detectability Range
2.88 

km.
Battle Levels
Gnevny — Soviet Tier VI destroyer.
Gnevny was the first in a series of destroyers built in the U.S.S.R. (Project 7). She had good performance characteristics and very high speed and became the backbone of the Soviet Fleet during WW2. She outmatched the majority of foreign destroyers in terms of artillery firepower. Later, a Project 7U was introduced to improve engine and seagoing qualities but lacked good AA protection, which was constantly improved during the WW2.


Modules
Compatible Upgrades
 Slot 1 
 Slot 2 
 Slot 3 
 Slot 4 
Player Opinion
Performance
Captains who have played this far into the Soviet destroyer should be well-versed in the tactics of Tier VI's Gnevny: keeping the range open from her primary targets, and pound away at them with her guns.
Keys to victory in Gnenvy include avoiding close-range combat with equal or higher tier American destroyers, as their rate of fire and turret traverse put her at a disadvantage. If corned by an American destroyer, pop an Engine Boost (

) consumable and open the range as quickly as possible; Gnevny's guns can still hit targets outside of 7km, while American destroyer gun ballistics make it a challenge for them to hit quickly moving targets at range. Dealing with any Japanese destroyers — if they are spotted — should not be a problem; their guns have a worse rate of fire, though they have very potent torpedoes, so captains are encouraged to stay alert.
Gnevny
's torpedoes are really only useable where cover (such as islands or smoke) allows her to close to point blank range with unsuspecting targets, or in straight up suicide charges against enemy ships. Captains who do manage to get close enough to use them, though, will inflict crippling damage, as they hit incredibly hard and move fast.
Pros:
Excellent gun range and ballistics.
Decent chance of fire on her HE shells (8%).
Lower base detect than its predecessor and stealthier than its Tier VI American counterpart, Farragut.
Cons:
Very short torpedo range.
Although Gnevny is relatively fast, it is much slower than its predecessor Podvoisky.
Research
Quickly research either Hull (B) for better rudder shift and increased health pool; then research the Gun Fire Control System VI mod. 2 for better range. The upgraded Torpedoes module is optional if low on credits, as it provides only an additional 5 knots to torpedo speed — despite being already very fast for short ranged torpedoes — and are unnecessary to unlock
Minsk
.
Optimal Configuration
Upgrades
The recommended upgrades for Gnevny are as follows:
Commander Skills
Recommended Commander Skills
Cost
(points)

Endurance

Attack

Support

Versatility



1

★★★

★★

 

Χ

Χ

Χ

 

Χ



2

★

★

★★★

 

 

Χ

★★

★★★



3

★

★

 

Χ

★★

★★★

★★

 



4

 

 

★

Χ

★★★

 

★

★★

Key: ★★★ - Extremely Useful      ★★ - Frequently Useful      ★ - Occasionally Useful     No stars - Meh     

Χ

- Not recommended
Consumables
Gnevny can equip the following consumables:
Camouflage
Type 1, 2, or 5 camouflage can be equipped for credits; Types 2 or 5 are recommended at a minimum to reduce the accuracy of incoming shells.
Players who wish to spend doubloons can equip Gnevny with Type 16 camouflage that lowers her detection radius, reduces the accuracy of incoming shells, reduces her repair costs, and increases the amount of experience she earns.
Signals
Recommended Signal Flags
Combat

 

 

★★

 

★★

 

★★

★★★

 

 

 

★★★

Economic

★

 

★★★

★

 

Special

 

 

★

 

 

 

 

 

Key: ★★★ - Extremely Useful       ★★ - Frequently Useful       ★ - Occasionally Useful      No stars - Not Useful
Gallery
AA guns fire at the remnants of an enemy Gneisenau.

An enemy Bayern neglects the Gnevny and pays the price.
References