Västerås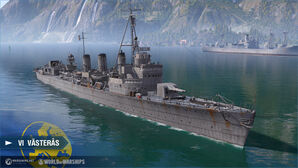 Tech Tree Position
120 mm/45 Bofors Model 1924C on a shielded mount
3 х 2 

pcs.
Rate of Fire
8 

shots/min.
Reload Time
7.5 

sec.
Rotation Speed
8 

deg./sec.
180 Degree Turn Time
22.5 

sec.
Firing Range
9.01 

km.
Maximum Dispersion
89 

m.
HE Shell
120 mm HE M1936 
Maximum HE Shell Damage
1,600 
Chance of Fire on Target Caused by HE Shell
7 

%
Initial HE Shell Velocity
900 

m./s.
HE Shell Weight
24 

kg.
AP Shell
120 mm AP M1936 
Maximum AP Shell Damage
2,200 
Initial AP Shell Velocity
900 

m./s.
AP Shell Weight
24 

kg.
533 mm Triple
2 х 3 

pcs.
Rate of Fire
1.02 

shots/min.
Reload Time
59 

sec.
Rotation Speed
25 

deg./sec.
180 Degree Turn Time
7.2 

sec.
Torpedo
Torped M1929 
Maximum Damage
6,200 
Torpedo Speed
65 

knot
Torpedo Range
8.01 

km.
40 mm/56 Bofors L/60 Model 1936 on a single mount
3 х 1 

pcs.
. . . Average Damage per Second
22.5 
. . . Firing Range
3.51 

km.
20 mm/60 Madsen maskinkanon Model 1938
2 х 1 

pcs.
. . . Average Damage per Second
7.2 
. . . Firing Range
2.01 

km.
Maximum Speed
38 

knot
Turning Circle Radius
590 

m.
Rudder Shift Time
4.2 

sec.
Surface Detectability Range
7.06 

km.
Air Detectability Range
2.99 

km.
Battle Levels
Västerås — European Tier VI destroyer.

The design of a large, fast-moving, and well-armed destroyer, developed by Swedish shipbuilders for the Polish Navy. All of her main battery artillery was placed in twin mounts.
Modules
Compatible Upgrades
 Slot 1 
 Slot 2 
 Slot 3 
 Slot 4 
Player Opinion
Performance
Tier VI destroyer Vasteras embodies the standard characteristics of the European destroyer line. Although she features many of the trademark European strengths, such as fast reloading torpedoes and the Repair Party 

consumable, she lacks other important strengths of higher tier ships of the line.
In terms of armament, Vasteras can be considered a gun-torpedo hybrid in many regards. Her torpedoes have a very quick reload time of just under one minute, which is the fastest at Tier VI. They boast a fairly long range, and decent speed. Because of these strengths, the torpedoes have a pitiful alpha damage of 7,533, which is by far the lowest of all Tier VI destroyers. This prevents Vasteras from being able to successfully rush and kill enemies at close range. In terms of gun power, Vasteras is fairly weak. She has six 120mm guns in three double turrets, one bow and two aft. These turrets, similar to Visby's, have a very poor turret traverse speed, making close range engagements with enemy destroyers difficult. The long reload and bad HE fire chance, along with the small gun caliber, make damaging armored enemies with guns unviable as a source of damage.
Vasteras has a mediocre HP pool of 12,100 fully upgraded. As with all destroyers, use of the Survivability Expert skill is highly recommended. Despite this medium amount of health, she gets access to the Repair Party 

consumable, which is extremely uncommon among mid tier destroyers. This allows Vasteras to take risky engagements and recover from them much more efficiently than her peers. She also has strong handling, with a 3 second rudder shift time, and a tight turning circle. This allows Vasteras to effectively dodge incoming fire from longer ranges.
As a European destroyer, Vasteras has one of the strongest AA suites of her tier. Her AA range is longer than her air detectability, so players should disable AA guns until she is spotted by planes in order to preserve her concealment. Although Vasteras' AA appears to be stronger than other Tier VI destroyers, it is unlikely that they will be able to defend her from a Tier VI carrier, and a Tier VIII carrier will surely be able to attack her.
Taking all her characteristics into account, captains of
Vasteras
should adopt a long range playstyle, using her good concealment and excellent torpedo range to attack sluggish targets from range. Due to her poor turret traverse and bad gun DPM, and especially due to her lack of
Smoke Generator

,
Vasteras
players should avoid contesting key areas and fighting other destroyers early in the game. However, the extra survivability provided by her
Repair Party

can make a significant difference in the later part of the match.
Pros:
Quick reloading torpedoes
Above average concealment for her tier
Good maneuverability
Access to Repair Party 
Cons:
No access to Smoke Generator 
Weak main battery
Poor firing range
Low torpedo alpha damage
Annoyingly slow turret traverse speed
Research
Availability of researchable upgrades for Västerås is as follows:
Hull: Upgrade to Hull (B) for more hit points, an additional main battery gun and faster rudder shift time. Research of this module unlocks progression to Skåne.
Gun Fire Control System: Upgrade to SUO Mk 6 mod. 2 for an extra 10% range on the main battery.
Optimal Configuration
Upgrades
The recommended upgrades for Västerås are as follows:
Commander Skills
  Recommended Commander Skills  
Cost
(points)

Attack

Defense



1

 

 

 

 

 

★★



2

 

★★

★★

 

 

★★



3

 

★★

★★

 

 

 



4

 

★★

 

 

★★

 

Key: ★★★ - Extremely Useful      ★★ - Frequently Useful      ★ - Occasionally Useful     No stars - Not Useful
Consumables
Västerås can equip the following consumables:
Slot 1: Damage Control Party 
Slot 2: Engine Boost 
Slot 3: Repair Party 

Gallery
References
See here for links to Update notes.

Available for testing by supertesters in the game starting from Update 0.9.0.
Introduced in Update 0.9.2 for European tokens in the Armory.
Introduced as a researchable ship in Update 0.9.3.

Basic torpedo modules are now researchable. The characteristics of the new base module are similar to the characteristics of the researchable torpedo module of the destroyer of the previous tier.

Update 0.9.6:

Fixed geometry and textures.