Kiev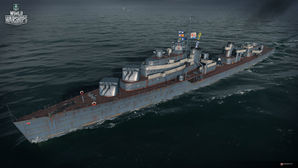 Tech Tree Position
130 mm/50 Model 1936 on a B-2LM mount
3 х 2 

pcs.
Rate of Fire
12 

shots/min.
Reload Time
5 

sec.
Rotation Speed
9.7 

deg./sec.
180 Degree Turn Time
18.56 

sec.
Firing Range
11.14 

km.
Maximum Dispersion
98 

m.
HE Shell
HE-46 
Maximum HE Shell Damage
1,900 
Chance of Fire on Target Caused by HE Shell
8 

%
Initial HE Shell Velocity
870 

m./s.
HE Shell Weight
33.4 

kg.
AP Shell
SAP-46 
Maximum AP Shell Damage
2,500 
Initial AP Shell Velocity
870 

m./s.
AP Shell Weight
33.5 

kg.
533 mm Quintuple 2-N
2 х 5 

pcs.
Rate of Fire
0.49 

shots/min.
Reload Time
123 

sec.
Rotation Speed
25 

deg./sec.
180 Degree Turn Time
7.2 

sec.
Torpedo
53-38U 
Maximum Damage
17,933 
Torpedo Speed
65 

knot
Torpedo Range
4.02 

km.
37 mm 70-K mount
5 х 1 

pcs.
. . . Average Damage per Second
28.5 
. . . Firing Range
3.21 

km.
12.7 mm DShK
4 х 1 

pcs.
. . . Average Damage per Second
14.4 
. . . Firing Range
1.2 

km.
76 mm Model 1935 on a 39-K mount
1 х 2 

pcs.
. . . Average Damage per Second
3.1 
. . . Firing Range
3.51 

km.
Maximum Speed
42.5 

knot
Turning Circle Radius
690 

m.
Rudder Shift Time
6.7 

sec.
Surface Detectability Range
9 

km.
Air Detectability Range
3.55 

km.
Battle Levels
Kiev — Soviet Tier VIII destroyer.
The design for a destroyer flotilla leader, created under the "Big Fleet" program (Project 48). The ship was developed from the first Soviet Leningrad-class destroyer leaders. Among ships of the same type, she boasted powerful armament and a very high speed.
Modules
Compatible Upgrades
 Slot 1 
 Slot 2 
 Slot 3 
 Slot 4 
 Slot 5 
Player Opinion
Performance
Warning. The data presented in the AA Defense sidebar section may be incorrect.
For a graphic summary of ships Tiers VIII thru XI see LittleWhiteMouse's "Actual AA DPS".

Kiev is a significant upgrade over Minsk in many respects: she has significantly more firepower and improved torpedoes, to name two. Kiev excels at long-range harassment, and at closer ranges is capable of fighting against even cruisers with her excellent guns, if they are foolish enough to show their broadside.
Kiev uses the same 130 mm guns as Minsk and Gnevny, but now has a pair of superfiring turrets mounted on the front deck. This allows Kiev to still maintain respectable salvos without exposing her broadside, enabling her to pursue fleeing targets without sacrificing too much firepower. The excellent ballistics of the 130 mm guns mean that Kiev is much better at hitting long range targets than the competing American and Japanese destroyers. These do come in two salvos of five torpedoes with a very high speed, and if Kiev is able to get within range to use them, it is very difficult to avoid them.
With a blistering top speed of nearly 43 knots, Kiev is a lot faster than her same-tier competitors (such as Z-23, Benson, Kagero, and Akizuki). With the Engine Boost 

consumable activated and a Sierra Mike (

) signal flag mounted, she is capable of even outrunning some torpedoes! There is no other ship in this tier which is capable of outrunning her. However, her maneuverability is not particularly outstanding, especially at high speeds. This can be a problem in close-range fights against other destroyers, especially when it comes to dodging torpedoes.
Interestingly, Kiev has a single dual-purpose secondary gun turret with two 85mm guns on Hull (B). The range is decent at 5.0 km but like all secondaries, they cannot be relied on in a close quarters brawl. She is one of the few destroyers in the game with secondary guns; the turret tends to get knocked out fairly quickly, but it is fun to watch while it's still functioning.
Finally, the
Kiev
also introduces the intriguing option of replacing her
Smoke Generator

consumable with
Repair Party

. Both are viable; while the value of smoke in getting out of bad situations and supporting the team is obvious, the sheer longevity provided by Repair Party cannot be denied either.
Pros:
Excellent 130 mm guns with very long range.
Two front-mounted turrets, ideal for pursuing fleeing targets.
Very high top speed and acceleration.
Can fire a 10-torpedo salvo with decent range.
Guns have relatively flat arcs, allowing for accurate fire over ranges American destroyers can only dream about. Advanced Firing Training only extends that distance.
Shells have amazing penetration qualities; Kiev is able to dish out solid AP salvos on broadside battleships — against the superstructure, her AP will bounce off battleship belt armor — and can easily citadel broadside cruisers at medium range.
Gains access to the Repair Party  consumable (by giving up Smoke Generator ).
Cons:
Very small potential window to launch stealth torpedo attacks from.
Incredibly large detection range, even with maximum stealth build.
Sluggish rudder and turning for a destroyer.
Slow torpedo reload.
Research
For a commander without Advanced Firing Training, it is recommended to get the Fire-Control System upgrade first, in order to increase the gun range as much as possible. Hull (B) should be purchased next.
Optimal Configuration
Upgrades
The recommended upgrades for Kiev are as follows:
Captains who have one of the rare Engine Boost Modification 1
upgrades and has the Sierra Mike (

) signal equipped, are encouraged to replace the Propulsion Modification 1 upgrade, as it extends the Engine Boost 

consumable duration by 50%, thereby allowing her to maintain a max speed of 48.2 knots for three minutes.
Commander Skills
  Recommended Commander Skills  
Cost
(points)

Attack

Defense



1

★

 

★

★★

 

★★★



2

★★

 

 

 

★★

★★★



3

★★★

 

★★★

 

★

★★★



4

★★★

★★

 

★★★

 

 

Key: ★★★ - Extremely Useful      ★★ - Frequently Useful      ★ - Occasionally Useful     No stars - Not Useful
Consumables
Kiev can equip the following consumables:
The second slot will really define how the captain plays this ship. The smoke provides the standard utility of team cover, retreating, and smoke firing. However repair offers a unique playstyle giving captains a survivability increase to assist their gun-fighting capabilities.
Signals
Note: Use of the Juliet Charlie signal makes detonation impossible.
Gallery
References
See here for links to Update notes.

Available for testing by supertesters in the game starting from Update 0.5.0.1.
Update 0.5.0.3:

Kiev was added as a Tier VII researchable ship.

Update 0.5.1:

Four 12.7 mm DShKM-2B anti-aircraft mounts were replaced by 25 mm 2M-3s.

Update 0.5.2:

A new mechanism for calculating damage and range of anti-aircraft weapons was introduced. As a result, AA characteristics were changed slightly.
Ship HP decreased by 3,000.
The damage of the HE-46 high explosive shell was decreased from 1,900 to 1,600, and the fire chance was decreased from 9% to 7%.

Update 0.5.3.2:

The Vimpel 2D (AA radar) was removed from the stabilized sighting station.

Update 0.5.6:

The firing range of the 37 mm 70-K anti-aircraft gun was increased from 2.0 to 3.2 km.
The firing range of the 37 mm 66-K anti-aircraft gun (Hull (B)) was increased from 3.2 to 3.5 km.
The durability of the 37 mm 70-K AA gun was increased by 20%.
The Type 17 permanent camouflage was added for the ship.

Update 0.5.7:

The hull's armor model was refined.

Update 0.6.2:

Moved from Tier VII to Tier VIII.
The damage of the HE-46 high explosive shell was increased from 1,600 to 1,900.

Update 0.6.6:

The appearance of the ship was improved using a special technology for improved rendering of thin elements.

Update 0.6.7:

Credit earnings increased by 5%.

Update 0.6.11:

Fixed a bug that caused the main guns to pass through elements of the ship when in restricted firing angles.

Update 0.6.12:

Detectability when firing main guns in smoke was changed to 3.53 km.

Update 0.6.13:

Fire extinguishing time now 30 s instead of 60 s.

Update 0.6.15:

A bonus of -10% to the ship's post battle repair cost was added to the Congratulatory permanent camouflage.

Update 0.7.6:

Minor fixes to geometry and textures.

Update 0.7.10:

The Razorworm permanent camouflage was added.

Update 0.8.0:

The Repair Party consumable was added, occupying the same slot as the Smoke Generator.

Update 0.8.10:

The position of anti-aircraft guns on Hull (B) was fixed.

Update 0.10.3:

The standard hull was replaced with a new one based on the researchable Hull (B) with a modified set of AA defenses.

Update 0.11.1:

The ship's silhouette in the purchase window and other places was fixed.

Update 0.11.3: