T-61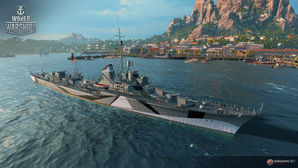 Tech Tree Position
128 mm/45 SK C/34 on an MPLC/34 mount
4 х 1 

pcs.
Rate of Fire
15 

shots/min.
Reload Time
4 

sec.
Rotation Speed
8 

deg./sec.
180 Degree Turn Time
22.5 

sec.
Firing Range
11.64 

km.
Maximum Dispersion
102 

m.
HE Shell
128 mm Spr.Gr. 
Maximum HE Shell Damage
1,500 
Chance of Fire on Target Caused by HE Shell
6 

%
Initial HE Shell Velocity
830 

m./s.
HE Shell Weight
28 

kg.
AP Shell
128 mm P.Spr.Gr. 
Maximum AP Shell Damage
3,000 
Initial AP Shell Velocity
830 

m./s.
AP Shell Weight
28 

kg.
533 mm Vierling
2 х 4 

pcs.
Rate of Fire
0.88 

shots/min.
Reload Time
68 

sec.
Rotation Speed
25 

deg./sec.
180 Degree Turn Time
7.2 

sec.
Torpedo
G7 Steinbutt 
Maximum Damage
13,700 
Torpedo Speed
65 

knot
Torpedo Range
8.01 

km.
20 mm/65 C/38 on a Flak 35 Vierling L/38 mount
4 х 4 

pcs.
. . . Average Damage per Second
24 
. . . Firing Range
2.01 

km.
37 mm/69 Flak M42 on an LM/42 mount
2 х 2 

pcs.
. . . Average Damage per Second
20.6 
. . . Firing Range
3.51 

km.
Maximum Speed
35 

knot
Turning Circle Radius
600 

m.
Rudder Shift Time
3.6 

sec.
Surface Detectability Range
6.81 

km.
Air Detectability Range
3.02 

km.
Battle Levels
T-61 — German promo premium Tier VI destroyer.
Designed as an average-sized destroyer, her design was officially known as Flottentorpedoboot 1940. This series of ships were built in the Netherlands based on Dutch designs and components. They differed favorably from other same-type German ships by their overall well-balanced combat features.
T-61 was first available early August 2018. As of Update 0.10.5 (in June 2021) she is no longer available.
Modules
Compatible Upgrades
 Slot 1 
 Slot 2 
 Slot 3 
 Slot 4 
Player Opinion
Performance
Warning. The data presented in the AA Defense sidebar section may be incorrect.
For a graphic summary of ships Tiers VIII thru XI see LittleWhiteMouse's "Actual AA DPS".

T-61 is similar to her Tier VI tech tree counterpart Ernst Gaede. Both ships share the same 128mm main batteries and the same torpedoes. They also have access to Hydroacoustic Search 

, being the only destroyers at Tier VI to have this consumable. These two factors make both ships very good in close range combat and ambushing enemies in smoke screens. However, T-61 has main batteries that fire slightly faster than Ernst Gaede's, giving the firepower edge to T-61. Unlike Ernst Gaede though, T-61 does not get access to the 150mm main battery guns.
Besides main battery performance, the T-61 can also perform the role of torpedo boat superbly. She has a torpedo range of 8.0 km and has a surface detectability range of 6.8 km without the commander skill Concealment Expert. With this skill, her detection range goes down to 6.1 km, giving her plenty of space to torpedo enemies from beyond her detection range. T-61's detection range is also lower than the Ernst Gaede's minimum surface detectability range of 6.6 km, a significant reduction in detection. Additionally, T-61 has a very quick torpedo reload time at 68 seconds, over 20 seconds better than the torpedo reload time of Ernst Gaede.
T-61
is overall a stealthier, more torpedo-centric version of
Ernst Gaede
. Although her main battery rate of fire is faster,
T-61
lacks access to the 150mm guns that
Ernst Gaede
can use to punish enemies with high damage shots.
Pros:
Good main battery rate of fire and range
Good AP DPM and HE penetration
Good torpedo damage, range and reload speed
Very good hitpoint pool, one of the best for a Tier 6 destroyer
Good concealment
Access to the Hydroacoustic Search  consumable
Research
As a premium ship,

T-61
has no upgrades to research.
Optimal Configuration
Upgrades
The recommended upgrades for T-61 are as follows:
Commander Skills
Key skills for T-61 commanders include a core destroyer build of Preventive Maintenance at Level 1, Last Stand at Level 2, Survivability Expert at Level 3, and Concealment Expert at Level 4.
  Recommended Commander Skills  
Cost
(points)

Attack

Defense



1

★

★★

 

 

★

★★



2

 

★★

★★

 

★★

★★★



3

★★

★★

★★

 

★

★★★



4

★

 

★★

★★

★★★

 

Key: ★★★ - Extremely Useful      ★★ - Frequently Useful      ★ - Occasionally Useful     No stars - Not Useful
Consumables
T-61 equips the following consumables:
Camouflage
As a premium ship, T-61 comes with Default permanent camouflage and a set of permanent combat bonuses.
Signals
T-61 should take the standard flags for improving its offensive and defensive performance in battle. For offensive flags, these include India X-Ray (

) and Victor Lima (

) to improve the fire chance, and Juliet Whiskey Unaone (

) to improve chance of flooding. For defensive and utility flags, November Foxtrot (

) and Sierra Mike (

) are the primary choices to reduce consumable cooldowns and increase the top speed, respectively. I f excessive fire damage and detonations are of concern, the flags India Yankee (

) and Juliet Charlie (

) can be used to reduce time spent on fire and remove the chance of detonating entirely.
Note: Use of the Juliet Charlie signal makes detonation impossible.
Gallery
References
See here for links to Update notes.

Available for testing by supertesters in the game starting from Update 0.6.13.
First appeared for sale in a special promotion in August 2018.
Update 0.7.10:

The range of the Hydroacoustic Search consumable was unified - 4 km for detecting ships, 3 km for detecting torpedoes.

Update 0.9.5:

Armor penetration of the 128 mm HE shells increased from 21 to 32 mm.

Update 0.10.5:

T-61 was removed from sale in the Premium store.