Z-35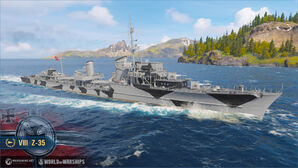 Tech Tree Position
128 mm/45 SK C/34 on an MPLC/34 mount
5 х 1 

pcs.
Rate of Fire
17.65 

shots/min.
Reload Time
3.4 

sec.
Rotation Speed
8 

deg./sec.
180 Degree Turn Time
22.5 

sec.
Firing Range
12.12 

km.
Maximum Dispersion
105 

m.
HE Shell
128 mm Spr.Gr. 
Maximum HE Shell Damage
1,500 
Chance of Fire on Target Caused by HE Shell
6 

%
Initial HE Shell Velocity
830 

m./s.
HE Shell Weight
28 

kg.
AP Shell
128 mm P.Spr.Gr. 
Maximum AP Shell Damage
3,000 
Initial AP Shell Velocity
830 

m./s.
AP Shell Weight
28 

kg.
533 mm Vierling
2 х 4 

pcs.
Rate of Fire
0.67 

shots/min.
Reload Time
90 

sec.
Rotation Speed
25 

deg./sec.
180 Degree Turn Time
7.2 

sec.
Torpedo
G7a T1 
Maximum Damage
13,700 
Torpedo Speed
64 

knot
Torpedo Range
6 

km.
37 mm/69 Flak M42 on an LM/42 mount
5 х 2 

pcs.
. . . Average Damage per Second
51.5 
. . . Firing Range
3.51 

km.
20 mm/65 C/38 on a Flak 35 Vierling L/38 mount
2 х 4 

pcs.
. . . Average Damage per Second
12 
. . . Firing Range
2.01 

km.
20 mm/65 C/38 on an L/30 single mount
1 х 1 

pcs.
. . . Average Damage per Second
3 
. . . Firing Range
2.01 

km.
Maximum Speed
36.5 

knot
Turning Circle Radius
670 

m.
Rudder Shift Time
4.4 

sec.
Surface Detectability Range
7.92 

km.
Air Detectability Range
3.7 

km.
Battle Levels
Z-35 — German promo premium Tier VIII destroyer.
The lead ship in a series of Type 1936B destroyers, built during World War II under a project that was modified to incorporate the combat experience and operational capacity of ships from the preceding series. These ships carried a reinforced AA battery and 128 mm main guns.
Z-35 first was released for sale on 17 July 2020. It currently is available in the Premium shop.
Modules
Compatible Upgrades
 Slot 1 
 Slot 2 
 Slot 3 
 Slot 4 
 Slot 5 
Player Opinion
Performance
Z-35 is a German Tier VIII Premium destroyer and the first German high tier premium destroyer to enter World of Warships. While being at the same tier as Z-23, Z-35 should best be compared to the predecessor: Leberecht Maass, as Z-23 features a main battery that bears few similarities to that of Z-35 while Leberecht Maass does.
In terms of armament Z-35 offers a surprisingly strong main battery. With a base reload of 3.4 seconds she matches the shell output of Z-46 but at a lower tier, with identical shells. This means that given the 1/4 pen on Z-35's HE shells Z-35 has no issues applying her HE dpm to cruisers and a lot of battleships, while her high AP dpm allows for her to deal large amounts of damage to broadside cruisers or battleships at closer range. Her main battery range is also at a comfortable 12.1km, however the distribution of the main battery as well as the gun handling is less favorable. With five guns along the centerline, Z-35 has unfavorable firing angles in particular to the rear of the ship. The traverse speed, while not overly bad, still leaves a lot to be desired.
The torpedo armament in exchange is underwhelming when compared to her colleagues. While boasting the same fast reload speed as all the other German destroyers at Tier VII and upwards, her torpedoes come with a very short range of 6km. This makes them difficult to use tools that can only be relied upon when at closer range, though given their low Alpha damage they can also disappoint when used against larger opponents.
Compared to her peers Z-35 comes with a healthy hitpool, which when combined with Survivability Expert leaves Z-35 just short of 22,000 hitpoints. This allows Z-35 to take a few hits while not feeling too uncomfortable, although the lack of a Repair Party 

should discourage Z-35 from taking too much damage. If the situation gets too heated, Z-35 comes with a special Smoke Generator 

consumable that shares similarities with those found on British destroyers. A quick reload allows Z-35 to always have a smoke screen at hand to either disengage from opponents, hide herself from aircraft or to gain a very short window of opportunity to fire at a preferably low health target from smoke. The short duration of 40s should always be kept in mind however.
As with her colleagues, Z-35 has access to the Hydroacoustic Search 

consumable that allows her to spot torpedoes for her team or push ships out of their smoke screen.
In terms of playstyle
Z-35
should try to work with other destroyers around the cap zones. Her ability to apply direct damage against cruisers and her Hydroacoustic Search can help the team gain control over the vital areas and contribute to victory. Her worst enemy are enemy aircraft, as
Z-35
lacks the means to defend herself against them and her best option is to utilize her rapid recharging smoke to make herself an unappealing target.
Pros:
Very fast main battery rate of fire
Good main battery range
Excellent AP DPM and HE penetration
Large hitpoint pool
Uses the Short-Burst Smoke Generator  found on UK destroyers, with lots of charges and a fast cooldown
Access to the Hydroacoustic Search  consumable
Research
As a premium ship, Z-35 doesn't have any upgrades to research.
Optimal Configuration
Upgrades
The recommended upgrades for Z-35 are as follows:
Commander Skills
  Recommended Commander Skills  
Cost
(points)

Attack

Defense



1

★★

 

 

 

★★

★



2

★

 

 

★★

★★

★★★



3

★★★

 

★★★

 

★

★★★



4

★★

 

 

★★

★★

 

Key: ★★★ - Extremely Useful      ★★ - Frequently Useful      ★ - Occasionally Useful     No stars - Not Useful
Consumables
Z-35 equips the following consumables:
Camouflage
As a premium ship,
Z-35
comes included with
Type 10 camouflage
that lowers her detection radius, reduces the accuracy of incoming shells, reduces her repair costs, and increases the amount of experience she earns.
Gallery
References
See here for links to Update notes.

Available for testing by supertesters in the game starting from Update 0.9.4.
Update 0.9.6:

Went on sale in the Premium Store.