Neustrashimy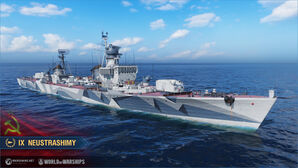 Tech Tree Position
130 mm/58 Model 1957 on an SM-2-1 mount
2 х 2 

pcs.
Rate of Fire
15 

shots/min.
Reload Time
4 

sec.
Rotation Speed
18 

deg./sec.
180 Degree Turn Time
10 

sec.
Firing Range
12.75 

km.
Maximum Dispersion
110 

m.
HE Shell
HE-42 
Maximum HE Shell Damage
1,800 
Chance of Fire on Target Caused by HE Shell
8 

%
Initial HE Shell Velocity
950 

m./s.
HE Shell Weight
33 

kg.
AP Shell
SAP-42 
Maximum AP Shell Damage
2,600 
Initial AP Shell Velocity
950 

m./s.
AP Shell Weight
33.4 

kg.
533 mm Quintuple PTA-53-41
2 х 5 

pcs.
Rate of Fire
0.48 

shots/min.
Reload Time
125 

sec.
Rotation Speed
25 

deg./sec.
180 Degree Turn Time
7.2 

sec.
Torpedo
53-51 
Maximum Damage
17,933 
Torpedo Speed
65 

knot
Torpedo Range
9.99 

km.
130 mm/58 Model 1957 on an SM-2-1 mount
2 х 2 

pcs.
. . . Average Damage per Second
33.8 
. . . Firing Range
5.19 

km.
45 mm SM-16 mount
4 х 2 

pcs.
. . . Average Damage per Second
45.2 
. . . Firing Range
3.51 

km.
25 mm 110-PM on a 4М-120 mount
2 х 4 

pcs.
. . . Average Damage per Second
16.8 
. . . Firing Range
3.09 

km.
Maximum Speed
36 

knot
Turning Circle Radius
700 

m.
Rudder Shift Time
4.6 

sec.
Surface Detectability Range
7.08 

km.
Air Detectability Range
3 

km.
Battle Levels
Neustrashimy — Soviet promo premium Tier IX destroyer.
The first destroyer of the Soviet Navy designed and built after World War II (Project 41). A number of innovative solutions were used in the ship's design, including the most advanced torpedo tubes and the latest artillery mounts, which served both as dual-purpose main battery and AA defense.

Neustrashimy first went on sale on 03 December 2020 in the Armory for 296,000 coal.
Modules
Compatible Upgrades
 Slot 1 
 Slot 2 
 Slot 3 
 Slot 4 
 Slot 5 
 Slot 6 
Player Opinion
Performance
Warning. The data presented in the AA Defense sidebar section may be incorrect.
For a graphic summary of ships Tiers VIII thru XI see LittleWhiteMouse's "Actual AA DPS".

Tier IX Premium Russian destroyer Neustrashimy is very similar to Tier X Russian destroyer Grozovoi in the regular tech tree. While Neustrashimy has one less turret than Grozovoi, Neustrashimy trades the missing firepower for better concealment. She is very much a jack-of-all-trades, marrying the gunboat aspects of the Soviet destroyer line with Japanese-like stealth and American torpedo performance.
The most obvious characteristic of Neustrashimy is her lack of main battery punch. With only four barrels, a Neustrashimy salvo lacks in power compared to the majority of her contemporaries at Tier IX. While the damage output is still passable, it means that captains will have to be more selective about when to use Neustrashimy's main battery; she is decidedly not a ship that can bully capture zones early in a match. The turret layout is also something of an issue: with two turrets of two guns each, if one is knocked out her shell throw weight is halved. This makes module survivability skills and upgrades important; with so few guns each one matters a lot more.
On the other hand, Neustrashimy's concealment is outstanding, besting even Tier X Japanese destroyer Shimakaze. Stealth this good is virtually unheard of among the Russian destroyer line. Neustrashimy can use her stealth to get in the face of enemies and launch her torpedoes, as well as sneak up to enemy destroyers and ambush them in the middle and late game. She may be under-gunned compared to most of the competition, but she deals enough damage to handle most other destroyers, and with her concealment advantage she will get the first few salvos off before most enemies can react. Her maneuverability is slightly better than that of Grozovoi, but she's still a bit more sluggish than some of her Tier IX counterparts.
Neustrashimy boasts some of the best torpedoes among all Russian destroyers. The reload is on the long side and they top out at a range of only 10.0 kilometers, but experienced captains will find plenty of ways to get work out of them. Her anti-aircraft suite is a touch worse than that found aboard Grozovoi — largely due to the lack of the third dual-purpose main battery turret — and she packs fewer 45mm barrels in her mid-range aura as well. With a little bit of investment, her AA suite will commonly dissuade enemy carrier planes from repeated attacks, but she will not be able to prevent the initial drop or two against determined carrier captains (even with Defensive AA Fire 

active).
The real strength of
Neustrashimy
lies in her consumables set. Like
Grozovoi
,
Neustrashimy
has a fantastic array of consumables that afford her a lot of flexibility. This allows
Neustrashimy
to play near the front lines, supporting pushes into objectives, whilst having options to deter or disengage from combat when it becomes unfavorable. If timed correctly, the combined use of
Specialized Repair Teams

and
Engine Boost

can increase her longevity in battle, where she can use her advantages to harass enemy counter-pushes, hunt down enemy ships, or steal back capture points at her leisure. In summary, this hybrid-platform allows a lot of freedom on the high seas.
Pros:
Superb concealment not just for a Russian destroyer, but for the ship type as a whole.
Shell arcs have great ballistics, making it comfortable to hit targets at any range.
Neustrashimy's torpedoes are more damaging than either option on Grozovoi.
Offers a good jack-of-all-trades style destroyer while preserving a lot of utility due to her mix of consumables, including Repair Party .
Both turrets turn 360 degrees, allowing for full armament bearing towards the cursor at all times
Specialized Repair Teams  is unique for a destroyer, offering Minotaur-like extraordinary healing
Cons:
With only four guns spread between two turrets, Neustrashimy lacks main battery firepower compared to the other Tier IX Russian destroyers, Udaloi and Tashkent.
The concentration of all of Neustrashimy's main battery guns into two turrets means that losing a turret hurts badly.
Relatively short torpedo range of 10.0 km means captains have to get dangerously close to the radar range of enemy cruisers to get her torpedoes into action.
Large size and lousy turning circle mean that Neustrashimy can be hit easily at range.
High cost of 296,000 coal.
Research
As a premium ship, Neustrashimy doesn't have any upgrades to research.
Optimal Configuration
Upgrades
The recommended upgrades for Neustrashimy are as follows:
Neustrashimy is essentially a slower, stealthier version of Grozovoi with one less turret and worse AA, captains can treat the destroyer in a similar manner albeit with some variation. A more 'generalist' build focusing on preserving the engine module and armament modules (especially since the destroyer only has two turrets) is advised, although the choice in Slot 6 will depend on if captains prefer to take advantage of her torpedoes or stick to improving the gunnery abilities of the ship.
Since Neustrashimy has access to the Defensive AA Fire 

consumable, it is also possible to utilize an AA build with this ship. Captains pursuing this build should equip AA Guns Modification 1
into Slot 3, and if they are willing to sacrifice the potential boost to damage against ships, place Auxiliary Armaments Modification 2
in Slot 6 instead of upgrades to improve gun or torpedo battery performance. Coupled with the appropriate captain skills such as Basic Firing Training and/or Advanced Firing Training, as well as the November Echo Setteseven (

) flag, Neustrashimy can become a very potent anti-aircraft picket.
Commander Skills
Key skills for Neustrashimy commanders include a similar to Grozovoi, due to their superficial similarity; with a higher emphasis on survivability. Due to Neustrashimy's poise as a jack-of-all-trades, captains are at the liberty to tailor their skills to suit their play style, preferring guns or torpedoes as they see fit. Superintendent coupled with premium consumables is almost mandatory in order to get the maximum amount of utility out of the ship.
  Recommended Commander Skills  
Cost
(points)

Attack

Defense



1

 

★★

★

 

 

★★★



2

★★

 

 

 

★★

★★★



3

★★★

 

★★★

 

★★★

★★★



4

 

★

★★

 

★★★

★★

Key: ★★★ - Extremely Useful      ★★ - Frequently Useful      ★ - Occasionally Useful     No stars - Not Useful
Consumables
Neustrashimy can equip the following consumables:
Neustrashimy has an amazing array of consumables, making the Superintendent skill highly recommended on her commander. Extra charges of Defensive AA Fire 

, Specialized Repair Teams 

, and Engine Boost 

become indispensable to the utility and longevity of Neustrashimy.
Camouflage
As a premium ship, Neustrashimy comes with Default permanent camouflage and a set of permanent combat bonuses.
As a premium ship, Neustrashimy comes included with Type 10 camouflage that lowers her detection radius, reduces the accuracy of incoming shells, reduces her repair costs, and increases the amount of experience she earns.
Signals
Special mention should go to November Echo Setteseven (

) and India Delta (

), as these signals prove some passive benefit to Neustrashimy due to the addition of Defensive AA Fire 

and Repair Party 

, respectively.
Note: Use of the Juliet Charlie signal makes detonation impossible.
Gallery
References
See here for links to Update notes.

Available for testing by supertesters in the game starting from Update 0.7.12.
Update 0.8.0.2:

The parameters of the "Repair Party" consumable were changed:
Damage recovery increased from 50% to 60%.
Working time: from 28 to 20 s.
HP recovery rate per second: 2% instead of 0.5%.

Update 0.8.3:

Available for purchase in the Armory for 20,500 Steel.

Update 0.9.2:

Updated model and textures.

Update 0.9.3:

Neustrashimy was removed from sale in the Armory.

Update 0.9.11:

Available for purchase in the Armory for 296,000 Coal.

Update 0.11.3:

Minor fixes to geometry and textures of the ship.