Khabarovsk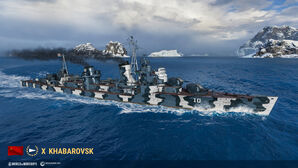 Tech Tree Position
130 mm/55 on a B-2-U mount
4 х 2 

pcs.
Rate of Fire
12 

shots/min.
Reload Time
5 

sec.
Rotation Speed
20 

deg./sec.
180 Degree Turn Time
9 

sec.
Firing Range
11.24 

km.
Maximum Dispersion
99 

m.
HE Shell
HE-46 
Maximum HE Shell Damage
1,900 
Chance of Fire on Target Caused by HE Shell
8 

%
Initial HE Shell Velocity
900 

m./s.
HE Shell Weight
33.4 

kg.
AP Shell
SAP-46 
Maximum AP Shell Damage
2,600 
Initial AP Shell Velocity
900 

m./s.
AP Shell Weight
33.5 

kg.
533 mm Quintuple 2-N
2 х 5 

pcs.
Rate of Fire
0.47 

shots/min.
Reload Time
127 

sec.
Rotation Speed
25 

deg./sec.
180 Degree Turn Time
7.2 

sec.
Torpedo
ET-46 
Maximum Damage
19,500 
Torpedo Speed
53 

knot
Torpedo Range
6 

km.
130 mm/55 on a B-2-U mount
4 х 2 

pcs.
. . . Average Damage per Second
49.2 
. . . Firing Range
5.19 

km.
37 mm 46-K mount
4 х 4 

pcs.
. . . Average Damage per Second
48.8 
. . . Firing Range
3.51 

km.
12.7 mm DShK
4 х 1 

pcs.
. . . Average Damage per Second
14.4 
. . . Firing Range
1.2 

km.
37 mm V-11 mount
2 х 2 

pcs.
. . . Average Damage per Second
18.4 
. . . Firing Range
3.51 

km.
Maximum Speed
43 

knot
Turning Circle Radius
760 

m.
Rudder Shift Time
11.1 

sec.
Surface Detectability Range
10 

km.
Air Detectability Range
3.96 

km.
Battle Levels
Khabarovsk — Soviet Tier X destroyer.
The ship was designed as a destroyer flotilla leader. No destroyer in the world could rival her in terms of speed, while her armour and the power of her artillery were comparable to those of light cruisers. Dual-purpose main guns and a battery of automatic AA guns ensured a strong AA defence.
Modules
Compatible Upgrades
 Slot 1 
 Slot 2 
 Slot 3 
 Slot 4 
 Slot 5 
 Slot 6 
Player Opinion
Performance
The Khabarovsk is the epitome of the "running and gunning" method of Soviet destroyer leaders first introduced at Tier 5 with Podvoisky.
First: the running. Khabarovsk enjoys a top speed of 43 knots which, while outclassed by French counterpart Kléber, is still very remarkable and excellent for a gunboat. Adding the bonuses provided by the Sierra Mike (

) signal and Engine Boost (

) consumable, this ship can reach a top speed close to 49 knots, making itself a frustrating target to hit at range. Khabarovsk also benefits from a very powerful engine and great acceleration. Unfortunately, while very fast in a straight line, the ship is sorely lacking in agility as her turning radius is large and her rudder shift is downright atrocious, meaning upgrades to improve it are all but mandatory to make Khabarovsk wiggly enough to dodge incoming fire, especially from high velocity guns (of which there's an abundance in Tier 8 and above). Also, while she can run, she cannot hide: Khabarovsk has the poorest concealment of all destroyers currently available in World of Warships, making the ship extremely easy to spot, especially if attempting to contest caps (something Khabarovsk is very bad at).
Next: the gunning. She fires the same shells as Tashkent at the same rate of fire per barrel; however, she gains a fourth turret, as well as a slightly higher muzzle velocity. Together this allows her to put a withering storm of fire on any target, and switch targets quickly as conditions dictate. Unfortunately, while her firepower is impressive, her gun range is sorely lacking and needs every available upgrade to keep Khabarovsk at a comfortable range from its targets.
While she does not have the range or maneuverability of Tashkent, she shares similar advantages of a very large health pool for a destroyer and access to Repair Party (

) consumable. Most notable, however, is the armour: Khabarovsk is the most heavily armoured destroyer currently available to players, with a 25mm thick deck and a 50mm thick midsection; this "chestplate" can shatter most cruiser HE shells, and at extreme angles, even bounce battleship AP shells. However, this and her large size for a destroyer can occasionally backfire, arming AP shells that would merely over-penetrate smaller, more lightly-armoured destroyers. Optimal angling will depend on the enemy guns and their shell selection.
Her AA is fairly decent for a destroyer and can shoot down a few planes, but it is in no way enough to deter plane strikes, especially considering the lack of the Defensive AA Fire (

) consumable. That being said, the thickly armoured midsection of the ship can withstand some punishment from plane strikes without losing too much health, provided the player actively attempts to dodge plane strikes as well.
The torpedoes are mostly a situational curiosity. With a 6.0 km range they will see little use in the majority of games. They are also very slow at 53 knots - only slightly faster than the ship they were fired from! However, they do have one special feature: their detection radius is an amazing 0.6 km, meaning that a close pursuer or smoke camper without
Hydroacoustic Search
(

) active will have almost no chance to react in time. Their damage is also respectable, making them potentially lethal ambush weapons.
Pros:
Very fast with a base speed of 43 knots
Powerful main armament of eight guns in four twin turrets with high rate of fire and good HE and AP performance
Very large health pool
Has 25mm of deck armor, a 50mm midsection, and 50mm plates on the bow and stern, excellent to shatter most HE and even bounce some large calliber AP shells
Has access to the Repair Party () consumable
Two quintuple torpedo launchers with the stealthiest torpedoes in the game
Cons:
Very poor base gun range
Abysmal rudder shift time, worse than a heavy cruiser's without upgrades
Worst concealment out of all destroyers in the game
Very slow torpedoes with poor range and slow reload speed
Must give up Smoke Generator () to equip Repair Party ()
Research
As a Tier X ship, Khabarovsk has no additional modules to research.
Optimal Configuration
Upgrades
The recommended upgrades for Khabarovsk are as follows:
Captains who have the rare Engine Boost Modification 1 (

) upgrade and have the Sierra Mike (

) signal equipped are encouraged to replace the Engine Room Protection (

) upgrade, as it extends the Engine Boost (

) consumable duration by 50%, thereby allowing her to maintain a max speed of 48.7 knots for three minutes.
Commander Skills
  Recommended Commander Skills  
Cost
(points)

Attack

Defense



1

★

 

★

★★

 

★★★



2

★★

 

 

 

★★

★★★



3

★★★

 

★★★

 

★

★★★



4

★★★

★★

 

★★★

 

 

Key: ★★★ - Extremely Useful      ★★ - Frequently Useful      ★ - Occasionally Useful     No stars - Not Useful
Consumables
Khabarovsk can equip the following consumables:
Camouflage
Type 1, 2, or 5 camouflage can be equipped for credits; Types 2 or 5 are recommended at a minimum to reduce the accuracy of incoming shells.
Players who wish to spend doubloons can equip Khabarovsk with Type 20 camouflage that lowers her detection radius, reduces the accuracy of incoming shells, reduces her repair costs, and increases the amount of experience she earns.
Signals
Like Tashkent, Victor Lima (

), India X-Ray (

), Sierra Mike (

), and Juliet Charlie (

) are the most recommended signals. Additionally, because Khabarovsk has access to the Repair Party (

) consumable, players using said consumable are thus highly recommended to also mount India Delta (

). Zulu Hotel (

) and Dragon Flag (

) are recommended for captain (re)training. Players can opt to mount Zulu Hotel to stack the effect of the premium permanent camouflage credit earning bonus.
Recommended Signal Flags
Combat

 

 

★★

★

★★

 

★★

★★★

★★

 

 

★★★

 

 

Economic

★

 

★★★

★★

 

Special

 

 

★★

 

 

 

 

 

Key: ★★★ - Extremely Useful       ★★ - Frequently Useful       ★ - Occasionally Useful      No stars - Not Useful
Note: Use of the Juliet Charlie signal makes detonation impossible.
Gallery
References
[1]:Russian Wikipedia page on the Project 47 Destroyer which briefly covers the design history of the Project 24.
[2] War Gaming Wiki Page on the Project 24 design the Khabarovsk is based on.
[3]: Information on the 130 mm/55 B-2-U guns (4th paragraph)