Siroco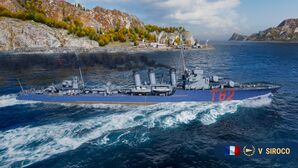 Tech Tree Position
130 mm/40 Mle 1919 on an Mle 1919 mount
4 х 1 

pcs.
Rate of Fire
10 

shots/min.
Reload Time
6 

sec.
Rotation Speed
10 

deg./sec.
180 Degree Turn Time
18 

sec.
Firing Range
11.81 

km.
Maximum Dispersion
103 

m.
HE Shell
130 mm HE OEA Mle 1923 
Maximum HE Shell Damage
1,900 
Chance of Fire on Target Caused by HE Shell
9 

%
Initial HE Shell Velocity
725 

m./s.
HE Shell Weight
34.85 

kg.
AP Shell
130 mm AP OPFA Mle 1923 
Maximum AP Shell Damage
2,300 
Initial AP Shell Velocity
725 

m./s.
AP Shell Weight
32.05 

kg.
550 mm tube lance-torpilles
2 х 3 

pcs.
Rate of Fire
0.8 

shots/min.
Reload Time
75 

sec.
Rotation Speed
25 

deg./sec.
180 Degree Turn Time
7.2 

sec.
Torpedo
550 mm 19D Mle 1 
Maximum Damage
12,233 
Torpedo Speed
57 

knot
Torpedo Range
7 

km.
37 mm/50 Mle 1925 on a CA Mle 1925 mount
2 х 1 

pcs.
. . . Average Damage per Second
3.2 
. . . Firing Range
3 

km.
13.2 mm Hotchkiss Mle 1929 on a CAD Mle 1929 mount
2 х 2 

pcs.
. . . Average Damage per Second
7 
. . . Firing Range
1.2 

km.
Maximum Speed
33 

knot
Turning Circle Radius
550 

m.
Rudder Shift Time
3.1 

sec.
Surface Detectability Range
6.63 

km.
Air Detectability Range
2.7 

km.
Battle Levels
Siroco — French special premium Tier V destroyer.
Siroco, a Bourrasque-class destroyer, was assigned to the 5th Destroyer Division of the 1st Squadron of the 1st Destroyer Flotilla. At the beginning of World War II, the destroyer was protecting convoys and scouting for German submarines. On May 29, during the evacuation of the Allied forces from Dunkirk, the destroyer evacuated 600 people. On the night of May 31, with about 900 evacuees on board, Siroco received a torpedo hit from a German schnellboot, which tore off the destroyer's propellers. The immobilized ship was sunk by German dive bombers and schnellboots.
First available through completing directives from July 25th until August 19th, 2019. Siroco returned on sale from April 17th until May 1st, 2020. Currently available in the Premium Shop.
Modules
Compatible Upgrades
Player Opinion
Performance
At Tier V, Siroco is a versatile ship that will benefit from a skilled commander with many available skill points. Her guns perform relatively well, although her turret traverse is a bit sluggish. She has access to the Main Battery Reload Booster 

consumable, which will enable her to deal significant damage to other destroyers in a quick engagement. Her torpedoes reload quickly and have a moderate range for a Tier V destroyer. With the proper commander skill to upgrade her concealment selected, Siroco has a small window to fire her torpedoes from concealment.
Players will likely find success in employing 'hit-and-run' tactics with
Siroco
. With no access to a smoke generator consumable, players will need to rely on speed, concealment, and range to find high levels of success in their engagements against the enemy.
Siroco
will also benefit from division play, wherein she is escorted by a destroyer with a smoke generator, providing her with the necessary cover to contest objectives.
Pros:
Access to Main Battery Reload Booster .
Decent concealment for her tier, providing a small window to fire torpedoes from stealth.
Good stock gun range.
Agile and fast.
Cons:
No smoke generator.
Sluggish turret traverse.
Slow torpedo speed.
Only one gun per turret.
Poor anti-aircraft armament.
Research
As a premium ship, Siroco doesn't have any upgrades to research.
Optimal Configuration
Upgrades
The recommended upgrades for Siroco are as follows:
Commander Skills
Key skills for Siroco commanders include Preventive Maintenance, Last Stand, and Concealment Expert.
  Recommended Commander Skills  
Cost
(points)

Attack

Defense



1

 

 

★★

 

 

★★



2

 

 

 

 

 

★★



3

★★

 

★★

 

 

★★



4

 

 

 

★★

★★

 

Key: ★★★ - Extremely Useful      ★★ - Frequently Useful      ★ - Occasionally Useful     No stars - Not Useful
Consumables
Siroco equips the following consumables:
Camouflage
As a premium ship, Siroco comes with Default permanent camouflage and a set of permanent combat bonuses.
Signals
Note: Use of the Juliet Charlie signal makes detonation impossible.
Gallery
References
See here for links to Update notes.

Available for testing by supertesters in the game starting from Update 0.8.3.
Update 0.8.6:

Went on sale in the Premium Shop. Also became available from directive №4 of the "French destroyers" event.

Update 0.10.11:

Fixed model and textures of the ship.