Fushun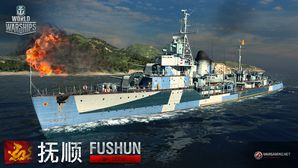 Tech Tree Position
130 mm/50 Model 1936 on a B-13-IIc mount
4 х 1 

pcs.
Rate of Fire
12 

shots/min.
Reload Time
5 

sec.
Rotation Speed
6 

deg./sec.
180 Degree Turn Time
30 

sec.
Firing Range
10.81 

km.
Maximum Dispersion
104 

m.
HE Shell
130 mm HE-46 
Maximum HE Shell Damage
1,900 
Chance of Fire on Target Caused by HE Shell
7 

%
Initial HE Shell Velocity
870 

m./s.
HE Shell Weight
33.4 

kg.
AP Shell
130 mm SAP-46 
Maximum AP Shell Damage
2,500 
Initial AP Shell Velocity
870 

m./s.
AP Shell Weight
33.5 

kg.
533 mm 1-N
2 х 3 

pcs.
Rate of Fire
0.82 

shots/min.
Reload Time
73 

sec.
Rotation Speed
25 

deg./sec.
180 Degree Turn Time
7.2 

sec.
Torpedo
533 mm Mk VIII 
Maximum Damage
16,700 
Torpedo Speed
62 

knot
Torpedo Range
6.39 

km.
37 mm 70-K mount
4 х 1 

pcs.
. . . Average Damage per Second
22.8 
. . . Firing Range
2.01 

km.
Maximum Speed
38 

knot
Turning Circle Radius
610 

m.
Rudder Shift Time
4.9 

sec.
Surface Detectability Range
7.02 

km.
Air Detectability Range
2.86 

km.
Battle Levels
Fushun — Pan-Asian Tier VI destroyer.

Soviet
Gnevny
-class destroyer
Rezkiy
(Резкий), that was transferred to the People's Republic of China Navy in 1954. She was fast and her main battery artillery was powerful enough for a ship of her type.
Modules
Compatible Upgrades
 Slot 1 
 Slot 2 
 Slot 3 
 Slot 4 
Player Opinion
Performance
Fushun is a destroyer that excels at mixed combat. Equipped with decent torpedoes, great guns, and good speed, she is able to flex around the battlefield with ease, and fight any number of targets. Captains who have played Anshan or Gnevny feel right at home in this destroyer.
The guns perform as one might expect from a Russian built destroyer: good velocity, damage, and shell arcs. These traits — plus her Smoke Generator 

— allow the captain to fire away at enemy ships either from cover or open water. Captains should note the turret traverse speed of her guns. They have a slow turn rate of 6 degrees per second, making the Expert Marksman captain skill, almost a necessity. However the rest of her traits more than make up for the cons.
Fushun
's torpedoes are the Pan-Asian standard deep water torpedoes. They have good range, damage, and speed, allowing the captain plenty of target options when it comes to firing them. Her AA is weak, and is the main weakness of the ship, so aircraft should be avoided at all costs. Her speed is great, putting her on par with some of the fastest at tier, the Sierra Mike (

) signal flag can get it up to 39.9 knots.
Pros:
Excellent guns with good ballistics make shooting at range simple.
Good torpedo range allows sneaky torpedo hits.
Has good speed allowing quick getaways, or running down an enemy.
Cons:
Deep water torpedoes that are incapable of damaging destroyers.
Slow turret traverse almost necessitating Expert Marksman.
Inability of her torpedoes means knife fights are to be avoided.
Research
Availability of researchable upgrades for Fushun is as follows:
Hull: Upgrade to Hull (B) for more health, better anti-aircraft armament, and a slight improvement in rudder shift time. Research of this module unlocks progression to Gadjah Mada.
Torpedoes: Upgraded torpedoes offer additional range in exchange for slightly less damage and a longer reload time.
Gun Fire Control System: Upgrade to GFCS VI mod. 2 for an extra 10% range on the main battery.
Hull (B) is the best option to sink early experience gains into. After that, invest in the torpedo upgrade for extra range. The GFCS upgrade can be saved for last.
Optimal Configuration
Upgrades
The recommended upgrades for Fushun are as follows:
Commander Skills
Key skills for Fushun commanders include a standard destroyer core build with Priority Target, Last Stand, Demolition Expert, and Concealment Expert. From there the captains best option in skills to take a full gunnery focused build of Basic Firing Training, Advanced Firing Training, and Expert Marksman considering her close resemblance to the Gnevny or Anshan.
  Recommended Commander Skills  
Cost
(points)

Attack

Defense



1

 

 

 

 

 

★★



2

 

★★

★★

 

 

★★



3

 

★★

★★

 

 

 



4

 

★★

 

 

★★

 

Key: ★★★ - Extremely Useful      ★★ - Frequently Useful      ★ - Occasionally Useful     No stars - Not Useful
Consumables
Fushun can equip the following consumables:
Camouflage
Type 1, 2, or 5 camouflage can be equipped for credits; Types 1 or 5 are recommended at a minimum to reduce detectibility range.
Players who wish to spend doubloons can equip Fushun with Type 16 camouflage that lowers her detection radius, reduces the accuracy of incoming shells, and increases the amount of experience she earns.
Signals
A Russian-based destroyer with good firepower, Fushun makes good use of flags such as India X-Ray (

), Victor Lima (

) to up the fire chance of the guns, and the ever useful Sierra Mike (

) to increase the top speed. Other useful signals include Juliet Charlie (

), to keep the ship from exploding out from under the captain, and November Foxtrot (

) for lowering the consumable recharge time.
Standard economic signals like Equal Speed Charlie London (

) and Zulu Hotel (

) help speed up the ship's grind towards the Gadjah Mada , and earn more XP for the ship's captain.
Recommended Signal Flags
Combat

 

 

★★★

★★

★★★

 

★★

★★★

 

 

 

★★★

 

 

Economic

★

★

★★

★★

★

Special

 

 

★

 

 

 

 

 

Key: ★★★ - Extremely Useful       ★★ - Frequently Useful       ★ - Occasionally Useful      No stars - Not Useful
Note: Use of the Juliet Charlie signal makes detonation impossible.
Gallery
Fushun sails with an allied Aigle.
References
See here for links to Update notes.

Available for testing by supertesters in the game starting from Update 0.6.10.
Introduced in Update 0.6.14.
Update 0.6.15:

A bonus was added to the "Type 16" permanent camouflage - a 10% discount to the cost of post-battle maintenance.

Update 0.7.1:

Disabled national voiceovers for the ship. Now, even if the national voiceover is selected, the voiceover of the player's region or the selected sound mode in the settings will be played.

Update 0.7.6:

The reload time of the Smoke Generator consumable was increased from 120 to 150 seconds (from 80 to 100 seconds for improved consumable).

Update 0.9.6:

Fixed geometry and textures.

Update 0.10.10:

Minor fixes to geometry and textures of the ship.