Yukon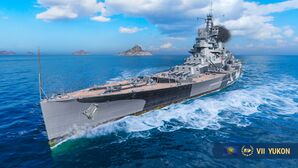 Tech Tree Position
381 mm/45 Mk.VII on a Mk.III mount
3 х 3 

pcs.
Rate of Fire
1.9 

shots/min.
Reload Time
31.5 

sec.
Rotation Speed
4 

deg./sec.
180 Degree Turn Time
45 

sec.
Firing Range
15.65 

km.
Maximum Dispersion
216 

m.
HE Shell
381 mm HE Mk VIIIb 
Maximum HE Shell Damage
5,300 
Chance of Fire on Target Caused by HE Shell
34 

%
Initial HE Shell Velocity
731.5 

m./s.
HE Shell Weight
879 

kg.
AP Shell
381 mm AP Mk XIIIa 
Maximum AP Shell Damage
11,900 
Initial AP Shell Velocity
836 

m./s.
AP Shell Weight
879 

kg.
133 mm/50 QF Mk.I on a Mk.I mount
8 х 2 

pcs.
Firing Range
5.6 

km.
Rate of Fire
9 

shots/min.
Reload Time
6.67 

sec.
HE Shell
133 mm HE Mk IC 
Maximum HE Shell Damage
1,900 
Initial HE Shell Velocity
792 

m./s.
Chance of Fire on Target Caused by HE Shell
8 

%
133 mm/50 QF Mk.I on a Mk.I mount
8 х 2 

pcs.
. . . Average Damage per Second
64.8 
. . . Firing Range
4.5 

km.
40 mm/39 Vickers QF Mk.VIII on a Mk.VI mount
6 х 8 

pcs.
. . . Average Damage per Second
118.8 
. . . Firing Range
2.49 

km.
20 mm Oerlikon Mk.I on a Mk.IIA mount
22 х 1 

pcs.
. . . Average Damage per Second
79.2 
. . . Firing Range
2.01 

km.
40 mm/39 Vickers QF Mk.VIII on a Mk.VII mount
4 х 4 

pcs.
. . . Average Damage per Second
51.6 
. . . Firing Range
2.49 

km.
Maximum Speed
28 

knot
Turning Circle Radius
790 

m.
Rudder Shift Time
9.7 

sec.
Surface Detectability Range
13.18 

km.
Air Detectability Range
9.06 

km.
Battle Levels
Yukon — Commonwealth promo premium Tier VII battleship.
A battleship that is one of the draft designs for a King George V warship equipped with 381 mm main battery guns.

Yukon was first released for sale on 25 June 2021.
Modules
Compatible Upgrades
 Slot 1 
 Slot 2 
 Slot 3 
 Slot 4 
Player Opinion
Performance
Warning. The data presented in the AA Defense sidebar section may be incorrect.
For a graphic summary of ships Tiers VIII thru XI see LittleWhiteMouse's "Actual AA DPS".
A Tier VII Canadian battleship based on HMS Monarch with a powerful healing consumable. She is very short ranged with a slow reload time on her main battery guns. However, she has good handling and concealment characteristics.
Yukon is a damage-sponge. She doesn't so much tank incoming fire as absorb it. Her armor layout is poorly designed for resisting damage. Just about every attack thrown her way will take off big chunks from her hit point pool. However, between her good concealment and rudder shift time, Yukon is fairly apt at hiding and dodging. Furthermore, her Specialized Repair Team is monstrous. Should she be allowed to disengage and heal, she can keep coming back again and again. It is only damage done to her citadel, be it from bombs, torpedoes, or shells that slows Yukon down.
The challenge with playing this ship is dealing with her painful lack of reach.
Yukon
has to get close. Though opening fire at such short-ranges optimizes the performance of her AP shells, she often finds herself as the easiest (if not the closest) target for the Red Team. Fighting in these kind of situations tends to go poorly for
Yukon
if she cannot cripple her opponent with her opening salvo. She does not have the armor or the rate of fire to come out the better in such trades. The best practice is to perform hit and run tactics, putting out a few salvos and then going dark, pulling back to heal, recover, and reposition.
Pros:
Gun caliber is enough for AP shells to overmatch 26mm plating
AP shells have short fuse timers which reduce chances of overpenetration
Decent AA suite, though short-ranged
Excellent concealment for a battleship
Incredibly quick rudder shift for a battleship
Has access to Specialized Repair Teams , can restore large amounts of hitpoints per charge
Cons:
Second worst main battery firing range in her tier spread
Poor main battery traverse speed and firing arcs
Slower than average main battery reload speed
Lacks improved HE penetration compared to UK "sister" Monarch
Poor armor protection, most of the ship is covered in 26mm common plating
Large and exposed citadel block which rises well above the waterline
Incredibly vulnerable to HE penetrations and AP overmatch




LittleWhiteMouse & Chobittsu's Premium Ship Review: Yukon from the NA forums.

Special thanks to AprilWhiteMouse for contributing to this article.
Research
As a premium ship, Yukon has no module upgrade to research.
Optimal Configuration
Yukon benefits most from survivability upgrades. Like most battleships, look to improve the efficiency of her fire resistance.
Upgrades
The recommended upgrades for Yukon:
Commander Skills
It's imperative to focus upon skills that improve Yukon's concealment and healing efficiency. A basic battleship survivability (tank) build works best.
For the first 10 points, it's "pick'em" between Gun Feeder and Emergency Repair Specialist at Tier 1. Then Priority Target gets the nod over Grease the Gears if you don't have the Main Battery Modification 2
upgrade. At Tier 3, Basics of Survivability or Adrenaline Rush. At the four-point tier, where an Elite Commander will want all three 3-star skills, take Concealment Expert first.
  Recommended Commander Skills  
Cost
(points)

Attack

Defense



1

★★

 

 

★★

★

★



2

★★

 

 

★

★★★

 



3

 

 

★★★

★★

 

 



4

 

 

 

★★★

★★★

★★★

Key: ★★★ - Extremely Useful      ★★ - Frequently Useful      ★ - Occasionally Useful     No stars - Not Useful
Consumables
Yukon can equip:
Camouflage
As a premium ship, Yukon comes with Default permanent camouflage and a set of permanent combat bonuses.
Signals
Recommended Signal Flags
Combat

★

★★★

★★★

★

★

★

 

 

★

★★★

★★

★★★

 

 



Note: Use of the Juliet Charlie signal makes detonation impossible.
Gallery
References
See here for links to Update notes.

Available for testing by supertesters in the game starting from Update 0.10.3.
First appeared on sale to players in Update 0.10.5.
Update 0.10.7:

Fixed a bug due to which there was no alternative color scheme for the permanent camouflage.

Update 0.11.0:

Added the HMCS Sackville permanent camouflage.