Zieten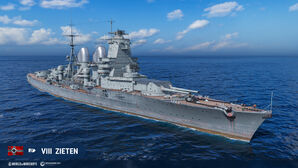 Tech Tree Position
406 mm/52 SK L/52 in a turret
3 х 2 

pcs.
Rate of Fire
2.67 

shots/min.
Reload Time
22.5 

sec.
Rotation Speed
6 

deg./sec.
180 Degree Turn Time
30 

sec.
Firing Range
16.36 

km.
Maximum Dispersion
185 

m.
HE Shell
406 mm Spr.Gr. L/4.4 Kz. 
Maximum HE Shell Damage
4,800 
Chance of Fire on Target Caused by HE Shell
38 

%
Initial HE Shell Velocity
810 

m./s.
HE Shell Weight
1030 

kg.
AP Shell
406 mm P.Spr.Gr. L/4.4 Ausf. B 
Maximum AP Shell Damage
11,500 
Initial AP Shell Velocity
810 

m./s.
AP Shell Weight
840 

kg.
105 mm/65 SK C/33 on a Dop. L. C/31 mount
8 х 2 

pcs.
Firing Range
7.6 

km.
Rate of Fire
17.91 

shots/min.
Reload Time
3.35 

sec.
HE Shell
105 mm Spr.Gr. Kz. 
Maximum HE Shell Damage
1,200 
Initial HE Shell Velocity
900 

m./s.
Chance of Fire on Target Caused by HE Shell
5 

%
150 mm/55 SK C/28 in a casemate
4 х 2 

pcs.
Firing Range
7.6 

km.
Rate of Fire
7 

shots/min.
Reload Time
8.57 

sec.
HE Shell
150 mm Spr.Gr. L/4.5 
Maximum HE Shell Damage
1,700 
Initial HE Shell Velocity
875 

m./s.
Chance of Fire on Target Caused by HE Shell
8 

%
150 mm/55 SK C/28 in a casemate
4 х 1 

pcs.
Firing Range
7.6 

km.
Rate of Fire
7 

shots/min.
Reload Time
8.57 

sec.
HE Shell
150 mm Spr.Gr. L/4.5 
Maximum HE Shell Damage
1,700 
Initial HE Shell Velocity
875 

m./s.
Chance of Fire on Target Caused by HE Shell
8 

%
533 mm Drilling
2 х 3 

pcs.
Rate of Fire
0.67 

shots/min.
Reload Time
90 

sec.
Rotation Speed
25 

deg./sec.
180 Degree Turn Time
7.2 

sec.
Torpedo
G7 T1 Ausf.B 
Maximum Damage
16,533 
Torpedo Speed
50 

knot
Torpedo Range
12 

km.
105 mm/65 SK C/33 on a Dop. L. C/31 mount
8 х 2 

pcs.
. . . Average Damage per Second
132.8 
. . . Firing Range
4.5 

km.
30 mm/45 Flak 103/38 on a twin mount
12 х 2 

pcs.
. . . Average Damage per Second
121.2 
. . . Firing Range
3 

km.
Maximum Speed
31 

knot
Turning Circle Radius
820 

m.
Rudder Shift Time
21.4 

sec.
Surface Detectability Range
14.8 

km.
Air Detectability Range
11.04 

km.
Battle Levels
Zieten — German Tier VIII battleship.
A fast battleship armed with six 406 mm guns. The architecture and arrangement of her guns can be traced back to battlecruiser projects that were designed not long before World War I.

Zieten was first introduced in Early Access in Update 0.10.9.
Modules
Compatible Upgrades
 Slot 1 
 Slot 2 
 Slot 3 
 Slot 4 
 Slot 5 
Player Opinion
Performance
Warning. The data presented in the AA Defense sidebar section may be incorrect.
For a graphic summary of ships Tiers VIII thru XI see LittleWhiteMouse's "Actual AA DPS".
Background
Zieten represents a modernized variation of the GK 4531 large combat ship design study. GK 4531 was designed with three (3) twin 420mm turrets, in game however the gun size is slightly smaller at 406mm. The designs were meant to take priority over future large cruiser and battleship programs. However, the designs showed the sacrifices in armor required to achieve a minimum top speed of 30 knots.
The Ship
Tier VIII Zieten continues many of the distinctive traits of the preceding battlecruisers — high speed for her tier, good concealment for a battleship, and better main battery accuracy, but lower survivability. She also features improved horizontal dispersion on her secondaries. Furthermore she continues to play somewhere between a cruiser and a battleship in terms of protection allowing for some mistakes to be forgiven and others heavily punished.
Maneuverability
Clocking in at a solid 31 knots, Zieten is among the fastest battleships of her tier. This top speed will allow her to react quickly to the changing flow of battle and get into positions in which she can best harass her foes. When stock she is among the worst in tier for rudder shift time at 21.4 seconds but when upgraded this decreases to 15.3 seconds which is respectable. Traditionally having such a high speed would translate into a large turning radius as well but with her this is not the case; at 820 meters Zeiten is among the best of all battleships in this regard.
Armor and survivability
Zieten, like her battlecruiser sisters, sports a 60mm ice breaker on her bow with the rest of her bow consisting of 27mm. The majority of her bow will allow her to tank shells from 380mm guns and lower while in theory the icebreaker is capable of bouncing even shells from Yamato though not something that should be counted on in. Her armor belt starts just at the water line and extends upwards to the casemate measuring in at 250mm in thickness. Her casemate armor runs from her belt to her deck and is only 170mm thick. As with the other German Tier VIII battleships she sports 50mm of deck armor aside from her bow and stern which are both only 32mm thick. Of note Zeiten is the only Tier VIII German battleship to not sport a turtleback armor scheme.
Zieten sadly comes with one of the lowest health pools for the tier at 57,200. This does rise to 62,900 when upgraded but is a rather miniscule improvement. This major drawback does come with some advantages though.
Like the Russian battleships, Zieten uses the Fast Damage Control Team 

rather than the normal Damage Control Party consumable. The significantly faster cooldown leaves her less vulnerable to full duration fires or floods after repairing, but the limited charges can run out quickly in long engagements if not used selectively.
She also has access to the Hydroacoustic Search 

consumable. Due to her semi-weak torpedo protection, the advantage it provides in spotting and dodging enemy torpedoes can be significant. Of note: her Hyrdoacoustic Search consumable spots torpedoes and ships further than her tech tree sister Bismarck, while also lasting twenty seconds longer
Zieten's 11km detection range from the air falls into the normal range for her tier. Better, she has the third lowest detection range by sea of all Tier VIII battleships allowing her to sneak up on enemy ships or break from engagements when needed to recover health.
Armament
Zieten is armed with six 16-in rifles mounted in three twin turrets. While this isn't unusual for a ship of her tier, the layout is. Sporting only one turret forward, the majority of her firepower is concentrated aft. One thing to note is that the rear turret does rotate a full 360 degrees which allows captains to bear a majority of her guns without exposing too much of her sides. Because Zieten is classified as a battlecruiser she does gain battlecruiser dispersion but also suffers from worse sigma than her main tech tree sister Bismarck. She also has a base range of only 16.4km– not great for her tier but the upgraded fire control module brings this to a respectable 18.1km. With a 22.5 second base reload Zieten has the highest reload rate of her tier and is tied for best turret rotation speed at 30 seconds. Sadly this does not help her much as she has the third worst AP and HE damage per minute of her tier. This is mostly a result of the low damage potential of her shells in general which drags down her guns despite all of the aforementioned good traits.
Like any German battleship, Zieten has a solid secondary battery. In her case it comprises eight dual 105mm guns, four single mounted 150mm guns, and four dual mounted 150mm guns. With a good base range of 7.6km captains using the right skills, equipment, and signal flags can extend this range to a solid 11.5km which is among the best in tier. While on paper she appears to be the worst of the Tier VIII Germans in terms of damage per minute she boasts the lowest dispersion value for her secondaries. What this means for captains is that her effective DPM makes her the third strongest of all of the tier VIII battleships in the game as of the writing of this article.
Torpedoes
Sticking with the German national trend she also mounts a pair of quadruple torpedo launchers with one launcher on either side. Of all tier VIII battleships that have torpedoes Zieten sports the slowest yet longest ranged torpedoes. Her torpedoes also have the second lowest torpedo detection range at her tier. This is especially useful for denying key locations on the map to the enemy team or to force enemy captains out of cover. The main drawback to her torpedo armament is the longest in tier reload among all torpedo armed battleships at 110 seconds, beating out Constellation by a full 12 seconds for this title. The damage of her torpedo's is also really good at 16,533 damage per torpedo prior to damage reduction.
Anti-Aircraft Artillery
Stock Zieten is equipped with twelve dual 30mm guns and the dual purpose twin 105mm guns from her secondary battery. The majority of her AA firepower comes from the short ranged 30mm guns dealing only 259 average continuous damage. While this is enough to hurt individual planes it will do little to deter a strike at this tier considering the 3.0km range means most planes are within drop range. Upgrading her hull turns the dual 30mm mounts into quads buffing their continuous damage to 357 but the problem persists. Her 105mm dual purpose guns do have better range reaching out to 5.2km but suffer from an anemic 161 points of continuous damage. As with most German battleships, captains would be advised to stay near allied cruisers to supplement her AA defenses and attempt to use her stealth to avoid drawing attention.
Battle Performance
To realize the full potential of
Zieten
, play her as an oversized cruiser at the beginning of an engagement much as you might with
Roon
. Utilizing her speed and stealth while maintaining range will allow the most opportunities to deal damage early on. This also allows for responding quickly to any changes that may occur during the battle. As the battle progresses shift from a support role to a more aggressive approach utilizing her speed and stealth to whittle down the remaining enemies.
Zieten
is not a ship that'll last long when focused so working with allies and picking fights carefully are key to preserving her limited hitpoints. Having taken care to preserve as much health as possible early on, captains can be more aggressive in the later stages of the match and whittle down foes with a combination of her main guns, her secondaries, and her long range torpedoes.
Pros:
Well protected bow.
360' Y turret
'Large cruiser' dispersion
Secondary guns have improved dispersion values
12km torpedoes on a battleship (best in tier and 2nd best in game) that are stealthy and hit hard.
Best in tier Hydro.
Access to the Fast Damage Control Party
Has a uniquely unique bridge!
Cons:
Small health pool.
Relatively weak side armor.
Stern focused main battery
Slow torpedoes with a long reload.
Lackluster AA.
Limited charges of Fast Damage Control
Gets bullied for her bridge.
Research
Recommended priority of researchable module upgrades:
Focus on upgrading her hull first. This provides several key buffs including more hitpoints, better anti aircraft firepower, and increases her maneuverability. The fire control system is a welcome buff to her range that allows captains to use her stealth and speed more consistently.
Optimal Configuration
Either a standard Battleship tank build or a secondary build will work for Zeiten. At this time it is suggested to with the secondary build to make the most of one of the strongest aspects of the ship.
Upgrades
The recommended upgrades for Zieten are:
Commander Skills
  Recommended Commander Skills  
Cost
(points)

Attack

Defense



1

 

★★

 

 

 

★



2

 

 

 

★★

 

★★



3

 

★★★

★★★

★★

 

★



4

 

★★★

★

★★★

★★★

★★

Key: ★★★ - Extremely Useful      ★★ - Frequently Useful      ★ - Occasionally Useful     No stars - Not Useful
Consumables
Zieten can equip the following consumables:
Signals
Recommended Signal Flags
Combat

★★★

★★

★★★

★

★★

★★

★★

★★★

★

★★

★★★

★★

 

 



Note: Use of the Juliet Charlie signal makes detonation impossible.
Gallery
References
See here for links to Update notes.

Available for testing by supertesters in the game starting from Update 0.10.7.
Update 0.10.9:

Available from sequential bundle #8 of the German Battleships event (for German Tokens).

Introduced into the game as a researchable ship in Update 0.10.11.
Update 0.10.11:

The 150 mm/45 SK L/45 secondary battery guns were replaced with 150 mm/55 SK C/28 guns to maintain unified shell ballistics for her 150 mm secondary battery guns.

Update 0.11.1:

Hydroacoustic Search consumable changed:

Ship detection range decreased from 6 to 5.5 km.
Torpedo detection range decreased from 4 to 3.75 km.