Nelson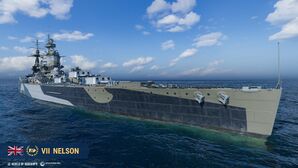 Tech Tree Position
406 mm/45 Mk I
3 х 3 

pcs.
Rate of Fire
2 

shots/min.
Reload Time
30 

sec.
Rotation Speed
4 

deg./sec.
180 Degree Turn Time
45 

sec.
Firing Range
18.21 

km.
Maximum Dispersion
242 

m.
HE Shell
406 mm HE Mk II 
Maximum HE Shell Damage
6,900 
Chance of Fire on Target Caused by HE Shell
46 

%
Initial HE Shell Velocity
788 

m./s.
HE Shell Weight
929 

kg.
AP Shell
406 mm AP Mk IB 
Maximum AP Shell Damage
12,000 
Initial AP Shell Velocity
788 

m./s.
AP Shell Weight
929 

kg.
152 mm/50 Mk XXII
6 х 2 

pcs.
Firing Range
5 

km.
Rate of Fire
5 

shots/min.
Reload Time
12 

sec.
HE Shell
152 mm HE Mk V 
Maximum HE Shell Damage
2,150 
Initial HE Shell Velocity
884 

m./s.
Chance of Fire on Target Caused by HE Shel
9 

%
120 mm/40 QF Mk VIII
6 х 1 

pcs.
Firing Range
5 

km.
Rate of Fire
12 

shots/min.
Reload Time
5 

sec.
HE Shell
120 mm HE Mk VA 
Maximum HE Shell Damage
1,700 
Initial HE Shell Velocity
749 

m./s.
Chance of Fire on Target Caused by HE Shel
8 

%
20 mm Oerlikon Mk IV
39 х 1 

pcs.
. . . Average Damage per Second
140.4 
. . . Firing Range
2.01 

km.
40 mm Vickers 2-pdr. Mk VIII
6 х 8 

pcs.
. . . Average Damage per Second
118.8 
. . . Firing Range
2.49 

km.
120 mm/40 QF Mk VIII
6 х 1 

pcs.
. . . Average Damage per Second
36 
. . . Firing Range
4.5 

km.
Maximum Speed
24 

knot
Turning Circle Radius
750 

m.
Rudder Shift Time
14.9 

sec.
Surface Detectability Range
15.3 

km.
Air Detectability Range
9.89 

km.
Battle Levels
Nelson — British promo premium Tier VII battleship.
This battleship featured an innovative arrangement designed under the restrictions of the Washington Naval Treaty of 1922. The ship was armed with 406mm main guns that were concentrated in three turrets in the ship's bow. She was the first battleship in the Royal Navy to be armored according to the "all or nothing" concept.


Can be unlocked and purchased from the tech tree for 375,000 Free XP 

plus one Credit 

.
Modules
Compatible Upgrades
 Slot 1 
 Slot 2 
 Slot 3 
 Slot 4 
Player Opinion
Performance
HMS Nelson is a Tier VII premium British battleship. She is the second premium ship available that is purchased using Free XP 

instead of  

(the first being Missouri).
Nelson features a main battery of 16-inch guns in a 3x3 configuration with all three turrets forward of the superstructure. Unlike Izumo, and like Lenin, Nelson's turrets all face forward, allowing her to shift fire to either side very easily when bow on. Nelson features decent — if low — penetration values on her armor-piercing rounds. This makes them highly effective against enemy cruisers due to their short fuse arming time, but renders them largely ineffective against more armored battleships at range. However, Nelson also has some of the best high explosive shells available to any battleship, with very high penetration and fire chance values. She is able to utilize her HE rounds to easily burn enemy ships, as well as stripping off AA mounts and damaging other modules.
Nelson also has a unique Repair Party consumable that is similar to those found on Lion, Conqueror and Tier VIII+ British cruisers, enabling her to heal as much as 40% of her total health pool in one use. As such, she is extremely durable with regards to fire and flooding damage. However, Nelson has a rather high citadel, meaning that she will occasionally take citadel damage even while angled towards the enemy (especially through her 25mm bow armor), and is a very easy target when broadside at medium or close range. Her torpedo protection system is also quite weak, and with her slow speed and high detection, she lacks the ability to control engagements the way faster ships can. Nelson's secondaries are not all that great, and her AA is best described as "adequate" and fit only for self defense due to its weak long-range aura.
Overall,
Nelson
is a strong battleship, with excellent firepower for her tier and a high resilience to fire damage balanced by her high citadel, slow speed, and weak torpedo protection.
Pros:
Three forward turrets that all turn frontally, allowing for more flexibility in engagements.
Fairly decent dispersion aids in punishing broadside cruisers and battleships.
Very good HE shells with high fire chance (46%).
Capable of overmatching 25mm plating with AP shells at tier 7.
Rear secondaries are good enough to deal with the occasional destroyer that sneaks up behind the Nelson.
Has access to the special Specialized Repair Teams () consumable that can heal massive amounts of health in a short span of time.
Cons:
Citadel extends well above the waterline, making it easy for other battleships and heavy cruisers to penetrate it.
Slow top speed.
Horrendously poor deceleration.
Underwhelming anti-aircraft suite makes Nelson an easy target for enemy aircraft carriers.
AP shells lack the punch to penetrate some battleship's armor at long range.



Research
As a premium ship, Nelson doesn't have any modules to research.
Optimal Configuration
Upgrades
The recommended upgrades for Nelson are as follows:
Upgrade Slot 1 provides two useful options. For players who wish, for whatever reason, to increase the durability of the AA and secondary batteries, Auxiliary Armaments Modification 1 should be mounted. However, Main Armaments Modification 1 is usually the better choice.
Upgrade Slot 3 provides options for specialization. For increased gunnery accuracy, Aiming Systems Modification 1 should be equipped. For players who wish to increase Nelson's Abysmal long-range AA abilities, AA Guns Modification 2 or should be mounted. Since Nelson's secondary battery is nothing special, Secondary Battery Modification 2 is not recommended.
Upgrade Slot 4 provides two useful options. For increased survivability, Damage Control System Modification 2 is the better choice. Players who enjoy fighting at close ranges or enjoy increased maneuverability may find Steering Gears Modification 2 to be more useful.
Commander Skills
Nelson's suggested Commander Skills are mostly to be expected, and are highly typical for those found on most Battleships. As she doesn't have particularly excellent qualities, such as the secondary armaments found on Scharnhorst and Gneisenau or the anti aircraft abilities of Hood, it is recommended to invest in survivability skills instead.
Recommended Commander Skills
Cost
(points)

Endurance

Attack

Support

Versatility



1

★★

★★

★

Χ

Χ

Χ

★

Χ



2

★

★★

★★

Χ

Χ

Χ

★★★

★



3

★

 

Χ

Χ

★

★★★

 

★★



4

 

★★

 

Χ

★

 

★

★★

Key: ★★★ - Extremely Useful      ★★ - Frequently Useful      ★ - Occasionally Useful     No stars - Meh     

Χ

- Not recommended
Consumables
Nelson equips the following consumables:
Camouflage
As a premium ship, Nelson comes with Type 10 camouflage that lowers her detection radius, reduces the accuracy of incoming shells, and increases the amount of experience she earns.
Signals
As a battleship, Nelson can mount eight signal flags simultaneously. Captains should mount India Delta flags (

) to increase the amount of hit points the repair party consumable can recover. November Foxtrot flags (

) are recommended to reduce the cooldown timers on the ship's consumables. Captains should also mount Sierra Mike flags (

) to help mitigate the ship's slow top speed. Lastly, economic and special signal flags can be used to increase the ship's credit and experience gain per battle.
Recommended Signal Flags
Combat

★

★

 

 

 

★

★★

★★★

★★★

★

★

 

 

 

Economic

★★★

★

★★★

★★

★

Special

★★★

★★

★★★

★★

★★★

 

★★

★★

Key: ★★★ - Extremely Useful       ★★ - Frequently Useful       ★ - Occasionally Useful      No stars - Not Useful
Gallery
References