Normandie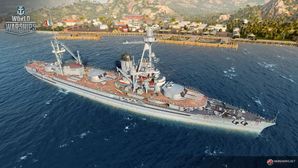 Tech Tree Position
340 mm/45 Mle 1912
3 х 4 

pcs.
Rate of Fire
2 

shots/min.
Reload Time
30 

sec.
Rotation Speed
4 

deg./sec.
180 Degree Turn Time
45 

sec.
Firing Range
17.98 

km.
Maximum Dispersion
242 

m.
HE Shell
340 mm HE OEA Mle 1934 
Maximum HE Shell Damage
4,700 
Chance of Fire on Target Caused by HE Shell
26 

%
Initial HE Shell Velocity
921 

m./s.
HE Shell Weight
431.8 

kg.
AP Shell
340 mm AP OPfK Mle 1930 
Maximum AP Shell Damage
9,500 
Initial AP Shell Velocity
780 

m./s.
AP Shell Weight
585 

kg.
90 mm/50 Mle 1926
6 х 1 

pcs.
Firing Range
5 

km.
Rate of Fire
15 

shots/min.
Reload Time
4 

sec.
HE Shell
90 mm HE OEA Mle 1925 
Maximum HE Shell Damage
1,300 
Initial HE Shell Velocity
850 

m./s.
Chance of Fire on Target Caused by HE Shel
5 

%
139 mm/55 Mle 1910
18 х 1 

pcs.
Firing Range
5 

km.
Rate of Fire
6 

shots/min.
Reload Time
10 

sec.
HE Shell
139 mm HE OEA Mle 1910 
Maximum HE Shell Damage
2,000 
Initial HE Shell Velocity
840 

m./s.
Chance of Fire on Target Caused by HE Shel
8 

%
37 mm/50 CA Mle 1925
12 х 1 

pcs.
. . . Average Damage per Second
19.2 
. . . Firing Range
3 

km.
13.2 mm/76 CAD Mle 1929
4 х 2 

pcs.
. . . Average Damage per Second
14 
. . . Firing Range
1.2 

km.
90 mm/50 Mle 1926
6 х 1 

pcs.
. . . Average Damage per Second
16.2 
. . . Firing Range
3.99 

km.
Maximum Speed
28.03 

knot
Turning Circle Radius
640 

m.
Rudder Shift Time
18.8 

sec.
Surface Detectability Range
16.2 

km.
Air Detectability Range
8.3 

km.
Battle Levels
Normandie — French Tier VI battleship.
The first French battleship design with the main battery guns placed in three quadruple gun turrets. The construction of such turrets was driven by the desire to achieve maximum broadside firepower given the ship's limited size.


Modules
Compatible Upgrades
 Slot 1 
 Slot 2 
 Slot 3 
 Slot 4 
Player Opinion
Performance
As the fastest Tier VI battleship — aside from Dunkerque — captains could be forgiven for considering Normandie a battlecruiser. She is arguably a better version of her premium counterpart Dunkerque, owing to her smaller profile, an extra main battery turret, better firing range, and better dispersion. She can easily chase down any retreating battleship and or cruiser ruthlessly, and give torpedo-based destroyers a hard run for their money. However, she is not without her own demerits.
Although Normandie is very fast and has firepower on par with her Tier VI counterparts, she also poorly armored. Her armor scheme is similar to British counterpart Queen Elizabeth: a thickly armored exterior with a somewhat poorly armored citadel, making long range engagements potentially disastrous, especially when facing off against large caliber guns (380mm and up) such as those of the aforementioned Queen Elizabeth or even Tier VII American battleship Colorado.
In addition to her somewhat weak armor, she also has very poor firing angles for all her turrets; she must expose a tremendous amount of her broadside armor just to able to fire the rearmost turret. However, Normandie's fast rudder shift easily makes up for this handicap, and captains who time their shots well can return to being angled towards their targets after firing a full salvo. In addition to her great rudder shift, Normandie's turning radius is excellent for her speed, on par with the USN New Mexico. Furthermore, her deadly array of secondary batteries can make quick work of enemy destroyers that venture too close—should captains invest in the relevant upgrades and commander skills for a secondary build, they are almost as deadly as Bayern's. Unfortunately, her anti-aircraft suite is virtually useless, with even the notoriously AA-light Fuso sporting more capable flak.
In short,
Normandie
is a moderately-armored battlecruiser with great secondaries, main batteries, rudder shift time, and turning radius, but with below average armor and worst-in-tier anti-aircraft firepower. Her speed and rudder shift make up for her armor, but captains must learn not to always rely on her speed for everything.
Pros:
Main battery guns are decent: large number of barrels, standard rate of fire, best turret traverse for its tech tree ship type, great firing range, and good dispersion.
Long range secondary batteries for a Tier VI battleship.
Best-in-tier rudder shift time.
Excellent handling characteristics. Her turning radius and rudder shift speed give her handling comparable to high tier cruisers.
Excellent speed. Normandie is the fastest of its tech tree type and tier.
Cons:
Lowest health pool of its ship type and tier, barely better than New Mexico's stock hull.
Torpedo protection is weak and her citadel is poorly-armored. Normandie can be easily penetrated by guns of 380mm and above from just about any angle.
Poor main battery firing angles; Normandie has to show almost full broadside to fire all 3 turrets.
Inaccurate, slow-reloading secondaries with small caliber: Bayern's 150mm and New Mexico's 127mm secondaries fire faster. Despite their large volume, Normandie's secondaries inflict little damage.
Worst-in-tier anti-aircraft suite.
Research
Availability of researchable upgrades for Normandie is as follows:
Hull: Upgrade to Hull (B) for additional hit points, quicker rudder shift time, and a cosmetic re-arrangement of her AA guns that doesn't substantially improve her AA armament. Research of this module unlocks progression to Lyon.
Gun Fire Control System: Upgrade to PCA n° 6 Mle 2 for an extra 10% range on the main battery.
Propulsion: Upgrade the propulsion module for a 1.5 knot speed increase.
Early experience gains should go to Hull (B) for the additional hit points. After that, captains should decide which they value more: the extra speed or additional main battery range.
Optimal Configuration
Upgrades
The recommended upgrades for Normandie are as follows:
Due to Normandie's already great rudder shift time — once Hull (B) is installed — players can opt to replace Steering Gears Modification 2 with either Propulsion Modification 1 (

) or Damage Control System Modification 2 (
) (the latter is recommended).
Commander Skills
Key skills for Normandie commanders include Expert Marksman, Basics of Survivability, and Fire Prevention.
Recommended Commander Skills
Cost
(points)

Endurance

Attack

Support

Versatility



1

★★★

★★

★

Χ

Χ

Χ

★

Χ



2

★

★★

★★★

Χ

Χ

Χ

★★

 



3

★★★

 

Χ

Χ

★

★★

 

★★



4

★★

★★★

 

Χ

★

 

 

★★

Key: ★★★ - Extremely Useful      ★★ - Frequently Useful      ★ - Occasionally Useful     No stars - Meh     

Χ

- Not recommended
Consumables
Normandie can equip the following consumables:
Camouflage
Type 1, 2, or 5 camouflage can be equipped for credits; Types 2 or 5 are recommended at a minimum to reduce the accuracy of incoming shells.
Players who wish to spend doubloons can equip Normandie with Type 16 camouflage that lowers her detection radius, reduces the accuracy of incoming shells, reduces her repair costs, and increases the amount of experience she earns.
Signals
Recommended Signal Flags
Combat

★

★★

 

 

 

★

★★

★★

★★★

★★★

★★★

★

Economic

★

★

★★

★★

 

Special

 

★★

★★

 

★

 

 

 

Key: ★★★ - Extremely Useful       ★★ - Frequently Useful       ★ - Occasionally Useful      No stars - Not Useful
Gallery
References