Pommern B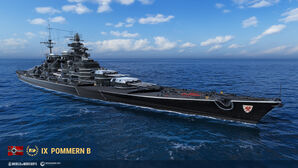 Tech Tree Position
380 mm/52 SK C/34 in a turret
4 х 3 

pcs.
Rate of Fire
1.82 

shots/min.
Reload Time
33 

sec.
Rotation Speed
5 

deg./sec.
180 Degree Turn Time
36 

sec.
Firing Range
21.34 

km.
Maximum Dispersion
273 

m.
HE Shell
380 mm Spr.Gr. L/4.6 
Maximum HE Shell Damage
4,400 
Chance of Fire on Target Caused by HE Shell
34 

%
Initial HE Shell Velocity
820 

m./s.
HE Shell Weight
800 

kg.
AP Shell
380 mm P.Spr.Gr. L/4.4 
Maximum AP Shell Damage
11,600 
Initial AP Shell Velocity
820 

m./s.
AP Shell Weight
800 

kg.
150 mm/55 SK C/28 on a Dop. L. C/34 mount
4 х 2 

pcs.
Firing Range
7.95 

km.
Rate of Fire
8 

shots/min.
Reload Time
7.5 

sec.
HE Shell
150 mm Spr.Gr. L/4.5 
Maximum HE Shell Damage
1,700 
Initial HE Shell Velocity
875 

m./s.
Chance of Fire on Target Caused by HE Shell
8 

%
105 mm/65 SK C/33 on a Dop. L. C/38 mount
8 х 2 

pcs.
Firing Range
7.95 

km.
Rate of Fire
17.91 

shots/min.
Reload Time
3.35 

sec.
HE Shell
105 mm Spr.Gr. Kz. 
Maximum HE Shell Damage
1,200 
Initial HE Shell Velocity
900 

m./s.
Chance of Fire on Target Caused by HE Shell
5 

%
150 mm/55 SK C/28 on a Dop. L. C/34 mount
2 х 2 

pcs.
Firing Range
7.95 

km.
Rate of Fire
8 

shots/min.
Reload Time
7.5 

sec.
HE Shell
150 mm Spr.Gr. L/4.5 
Maximum HE Shell Damage
1,700 
Initial HE Shell Velocity
875 

m./s.
Chance of Fire on Target Caused by HE Shell
8 

%
533 mm Vierling
2 х 4 

pcs.
Rate of Fire
0.67 

shots/min.
Reload Time
90 

sec.
Rotation Speed
25 

deg./sec.
180 Degree Turn Time
7.2 

sec.
Torpedo
G7a T1 
Maximum Damage
13,700 
Torpedo Speed
64 

knot
Torpedo Range
6 

km.
105 mm/65 SK C/33 on a Dop. L. C/38 mount
8 х 2 

pcs.
. . . Average Damage per Second
132.8 
. . . Firing Range
4.5 

km.
30 mm/45 Flak 103/38 on a quadruple mount
16 х 4 

pcs.
. . . Average Damage per Second
228.8 
. . . Firing Range
3 

km.
Maximum Speed
31 

knot
Turning Circle Radius
940 

m.
Rudder Shift Time
17.3 

sec.
Surface Detectability Range
16.76 

km.
Air Detectability Range
12.81 

km.
Battle Levels
Pommern B — German promo premium Tier IX battleship.
A large, well-armed ship with powerful armor protection. It was essentially a draft design for an H-class battleship equipped with 380 mm triple main battery turrets.
First available in late Nov 2021 during the Black Friday event.
Modules
Compatible Upgrades
 Slot 1 
 Slot 2 
 Slot 3 
 Slot 4 
 Slot 5 
 Slot 6 
Player Opinion
Performance
Warning. The data presented in the AA Defense sidebar section may be incorrect.
For a graphic summary of ships Tiers VIII thru XI see LittleWhiteMouse's "Actual AA DPS".

Pommern B, or Pommern Black, is a clone of Pommern with an attractive black skin.
Armor Layout and Survivability
As Pommern B shares the same armor layout and HP pool as her tech tree cousin Friedrich der Große, Pommern B's defense can be considered good for her tier. Her HP pool of 81,900 HP is only surpassed by a few other Tier IX Battleships. Like other Tier IX battleships she has 32mm bow and stern armor, although these areas are notably smaller in comparison. What makes Pommern B stand out is her heavily armored 50mm and 80mm deck. Only heavy cruisers with enhanced HE pen (like Hindenburg) and battleship caliber HE can penetrate the 50mm sections, while only British and German battleship HE will penetrate her 80mm sections. Like other German battleships, Pommern B's citadel is very difficult to hit thanks to her thick armor belt and turtleback armor. Keep in mind this will not stop AP rounds from causing penetration damage, so angling is advised to extend her survivability.
While Pommern B's armor scheme is formidable, enemies can aim at her large superstructure to bypass her armor advantage. Her large size, poor torpedo protection reduction of 25%, and poor maneuverability also puts her at a disadvantage against torpedo attacks. Thankfully her hydroacoustic search somewhat compensates by giving her more time to react to torpedoes, if it is active.
Main Armament
Pommern B mounts 12 of the same 380mm guns found on Bismarck and Tirpitz, giving her an impressive broadside alpha strike against unwary ships. However, these guns are hampered by relatively long reload times, mediocre accuracy, and poor turret firing angles. Pommern B has to expose her own broadside if she wants to fire all her turrets, making her vulnerable if she ill times her shots. Due to the inability to overmatch 27mm armor, these 380mm guns can struggle against angled 27mm armored cruisers like the US and German heavy cruisers. Even with these drawbacks, Pommern B's guns are still dangerous and will punish any broadside target that does not respect her firepower.
Secondary Guns
One of the main draws for buying Pommern B lies in her powerful secondary battery. With a proper secondary build, Pommern B can rain down a hail of secondary fire up to 12km away. Like other German battleships, Pommern B's secondary batteries have enhanced penetration, allowing them to damage even heavily armored battleships. Only other German battleships and the US enhanced secondary battleships can rival her formidable secondary firepower. Only a desperate or foolhardy captain would willingly stay in Pommern B's secondary range for long.
Note that Pommern B has a notable blind spot directly ahead and astern where her secondaries cannot fire. It is recommended to angle your ship at ~30-35 degrees to get the most out of your secondary firepower while remaining angled to the enemy.
Torpedoes
Unique to Pommern B and a few other German battleships, she mounts 6km torpedoes that deal modest damage. As Pommern B's trump card at point-blank range, torpedoes allow her to finish off the enemy ship without risking her HP in a ram. In a kiting position at close range, her torpedoes can also be used to discourage pursuers. Due to the fact her torpedo tubes are mounted above deck, it is not uncommon for them to be destroyed in the heat of battle. Pommern B players should double-check their torpedo tubes' status before committing to a torpedo attack. Players should also be careful not to fire their torpedoes too early, lest they waste their entire salvo and potentially end up rowing back to port.
AA Defense
Pommern B's AA can best be described as inadequate. The majority of her AA firepower is within her short-range 3km radius. Generally, this will not stop even Tier VIII carrier attack aircraft and torpedo bombers from getting off a few strikes. Her AA is somewhat more effective against dive bombers, but again this is unlikely to completely prevent the strike. Worse yet, Pommern B is very susceptible to citadels from AP dive bombers, with some carriers able to eliminate a quarter of her health in one strike. Players should seek AA cover among allies with better defenses if an enemy carrier is operating in the area.
Maneuverability
Unfortunately Pommern B ranks as among the least maneuverable battleships in her tier. While her top speed is above average, she has a slow rudder shift time and one of the largest turning circles among her peers. As she frequently positions near islands, special care must be given while maneuvering lest she find herself beached at a very inconvenient time.
Concealment
Pommern B's concealment also ranks among the worst for Tier IX battleships — 17.3km base surface detection and only going down to 13.6km even when fully built for concealment. Players are encouraged to make intelligent usage of islands to block the enemy's line of sight in order to close the distance. Even with her high surface detection. players may also build their captain and ship for full concealment to make it easier to get close to the enemy.
Play style
Similar to other German battleships,Pommern B specializes in close-range combat where she can bring her powerful secondaries and torpedoes to bear. Her excellent protection can shrug off critical hits, allowing Pommern B to close in and finish off enemies with her powerful torpedoes. Enemies that try to flee can still be run down by her superior secondaries backed up by her respectable main guns. Her hydroacoustic search is also very effective at close range, helping her dodge torpedoes and exposing ships that stray too close. Even outside of her secondaries, Pommern B is still a dangerous ship thanks to her 12x 380mm gun broadside. She can deal significant damage to any ship that carelessly shows broadside in front of her guns.
Of course, Pommern B is not without her flaws. Many players are familiar her excellent close-range performance and will stay at range to farm her down. Pommern B's main battery can struggle against the heavier-armored cruisers as her AP shells will bounce off of any armor 27mm or thicker. Smart players will angle to Pommern B, taking relatively minimal damage while dishing out a lot in return. Finally, her exposed torpedo mounts often get destroyed in battle, potentially robbing her of a valuable tool in a close quarters fight.
While it is tempting to rush
Pommern B
into secondary range, blindly charging in against healthy opposition will only earn a quick trip back to port and a hefty repair bill to show for it. Experienced players will use islands to mask her approach, and assess the level of opposition they expect to face. Against superior opponents, it is best to turn away and kite; pointing the bow away from the enemy while firing to the rear. This allows
Pommern B
to minimize her damage taken and escape should her situation turn for the worse. Ideally kiting will be done within her secondary range, but it may not always be possible. If or when the opposition is sufficiently weakened,
Pommern B
can turn around and run down any opposition still remaining.
Pros:
Large HP pool
Potentially devastating broadside of twelve (12) main guns
Heavily armored hull and deck
Very difficult to hit her citadel due to her turtle back armor
Reasonably fast for such a large battleship with a base speed of 31 knots
Heavy secondary armament with good base range and penetration
Equipped with one quadruple torpedo launcher per side of the ship
Has access to the Hydroacoustic Search  consumable
Cons:
Long main battery reload time — 33 seconds base
Less accurate main battery
Poor main battery firing angles
Ineffective AA defense
Massive and sluggish, with a large turn radius and slow rudder shift
Poor concealment
No access to Spotting Aircraft  or Catapult Fighter 
Research
As a premium ship, Pommern B has no module upgrades to research.
Optimal Configuration
Upgrades
The recommended upgrades for Pommern B are as follows:
Commander Skills
Pommern B can be built in one of two ways: a secondary build and a standard tank build. Either way, the first 10 points are the same for both builds and should be spent enhancing her survivability and main battery: Preventative Maintenance, Grease the Gears, Adrenaline Rush, and Fire Prevention.
  Recommended Commander Skills  
Cost
(points)

Attack

Defense



1

 

★★

 

 

 

★★★



2

★★★

★★

 

 

 

 



3

 

★★

★★★

★★

 

 



4

 

★★

 

★

★★★

★★★

Key: ★★★ - Extremely Useful      ★★ - Frequently Useful      ★ - Occasionally Useful     No stars - Not Useful

For those wanting to use the secondary build, the following sports a good balance of ship survivability and secondary firepower:
Concealment Expert or Close Quarters Combat
Improved Secondary Battery Aiming
Emergency Repair Expert
For players wanting to play Pommern B closer to a typical battleship, the following is a recommended full survivability (tank) build.
Concealment Expert
Emergency Repair Expert
Basics of Survivability
Consumables
Pommern B equips the following consumables:
Like her tech tree counterpart, Pommern B has access to the standard battleship consumables along with the German battleship version of Hydroacoustic Search 

. However, unlike her counterpart she lacks access to any ship-mounted planes.
Camouflage
As a premium ship, Pommern B comes with Default permanent camouflage and a set of permanent combat bonuses.
Signals
Recommended Signal Flags
Combat

★★

★★★

★★★

★

★★

★★

 

★★★

 

★★

★★★

★★★

 

 
Note: Use of the Juliet Charlie signal makes detonation impossible.
Gallery
References
Wargaming
See here for links to Update notes.

Available for purchase in the Premium Store during the Black Friday 2021 sale during Update 0.10.10. Could also drop from Black Friday containers.