Perth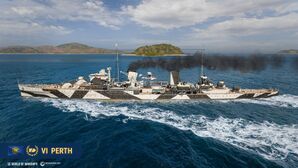 Tech Tree Position
152 mm/50 BL Mk.XXIII on a Mk.XXI mount
4 х 2 

pcs.
Rate of Fire
8 

shots/min.
Reload Time
7.5 

sec.
Rotation Speed
7 

deg./sec.
180 Degree Turn Time
25.71 

sec.
Firing Range
12.81 

km.
Maximum Dispersion
121 

m.
HE Shell
152 mm HE 6crh Mk IV 
Maximum HE Shell Damage
2,100 
Chance of Fire on Target Caused by HE Shell
9 

%
Initial HE Shell Velocity
841 

m./s.
HE Shell Weight
50.8 

kg.
AP Shell
152 mm AP 6crh Mk IV 
Maximum AP Shell Damage
3,100 
Initial AP Shell Velocity
841 

m./s.
AP Shell Weight
50.8 

kg.
102 mm/45 QF Mk.XVI on a Mk.XIX mount
4 х 2 

pcs.
Firing Range
5 

km.
Rate of Fire
20 

shots/min.
Reload Time
3 

sec.
HE Shell
102 mm HE 35 lb 
Maximum HE Shell Damage
1,500 
Initial HE Shell Velocity
811 

m./s.
Chance of Fire on Target Caused by HE Shell
6 

%
IDS_PBGT050_21IN_4TUBE_QR_MK_VII_R
2 х 4 

pcs.
Rate of Fire
0.63 

shots/min.
Reload Time
96 

sec.
Rotation Speed
25 

deg./sec.
180 Degree Turn Time
7.2 

sec.
Torpedo
533 mm Mk IX 
Maximum Damage
15,433 
Torpedo Speed
61 

knot
Torpedo Range
8.01 

km.
102 mm/45 QF Mk.XVI on a Mk.XIX mount
4 х 2 

pcs.
. . . Average Damage per Second
37.6 
. . . Firing Range
5.01 

km.
20 mm Oerlikon Mk.I on a Mk.IIA mount
2 х 1 

pcs.
. . . Average Damage per Second
7.2 
. . . Firing Range
2.01 

km.
12.7 mm Mk.III
5 х 4 

pcs.
. . . Average Damage per Second
10.5 
. . . Firing Range
1.2 

km.
Maximum Speed
32.5 

knot
Turning Circle Radius
700 

m.
Rudder Shift Time
7.6 

sec.
Surface Detectability Range
9.78 

km.
Air Detectability Range
6.44 

km.
Battle Levels
Perth — Commonwealth premium Tier VI cruiser.

This warship was built in the United Kingdom, based on a reworked design of
Leander
-class cruisers with a modified arrangement of the propulsion unit. She was similar to her prototype in terms of armament but had a different armor layout. In 1939, the ship was commissioned into the Royal Australian Navy.
Perth
first went on sale on 18 November 2016 on the NA servers, and on 11 November 2016 on the EU servers.
Modules
Compatible Upgrades
 Slot 1 
 Slot 2 
 Slot 3 
 Slot 4 
Player Opinion
Performance
Warning. The data presented in the AA Defense sidebar section may be incorrect.
For a graphic summary of ships Tiers VIII thru XI see LittleWhiteMouse's "Actual AA DPS".

Perth is a sister ship to Tier VI British cruiser Leander; however, she has some significant differences. Most notably, she carries a high explosive round — like Belfast — allowing her to set enemies on fire with something other than secondaries. Her other primary difference is her smokescreen. Unlike the short deployment time, long-duration typical British cruiser smoke, Perth has a Crawling Smoke Generator 

that deploys smoke continuously for 90 seconds, but each individual cloud of smoke only lasts for 10. This allows Perth to create a mobile smoke screen, staying fully hidden while moving at speeds up to 12.5 knots, for over 2 minutes with all available modifications.
In the negative column,
Perth
's armor-piercing rounds are not the improved AP of the regular tech tree British light cruisers, and her anti-aircraft suite is even weaker than that of stock hull
Leander
. Her short main battery firing range also means she must be played very carefully, or she will be quickly removed from the battle by anything that can citadel her, which is, unfortunately, anything in the game with cruiser-caliber guns or better. When her short firing range is combined with her woefully mediocre anti-aircraft suite,
Perth
's ability to equip either a
Spotting Aircraft

or a
Catapult Fighter

— something
Leander
can't do — becomes an important choice; either will give her some spotting ability outside of her smoke screen, but one will increase her range and the other will help cover her from enemy aircraft.
Pros:
Second lowest detection radius of all Tier VI cruisers.
Crawling Smoke Generator  consumable allows Perth to move at low speeds and take her smoke cloud with her.
Has access to high explosive rounds, giving her more flexibility against angled targets and destroyers.
Good handling characteristics: short rudder shift time, and a reasonably tight turning circle.
Can choose between equipping either a Spotting Aircraft  or Catapult Fighter .
Two fully upgraded Perths can maintain permanent smoke coverage by alternating use of their Crawling Smoke Generator .
Cons:
Low health pool; 27,100 base hp is in the bottom third of Tier VI cruisers.
Bow/stern armor can be overmatched by 283mm+ AP; unlike her sister ship Leander, Perth cannot recover health .
Shortest main battery firing range of all Tier VI cruisers.
Dreadfully bad anti-aircraft suite, and cannot equip Defensive AA Fire .
Requires high resource investment into Special Upgrades and Commander Skills for optimum performance.



Research
As a premium ship, Perth doesn't have any upgrades to research.
Optimal Configuration
Upgrades
The recommended upgrades for Perth are as follows:
More than any other ship in the game, Perth benefits from access to the Special Upgrades that are available through the Arsenal. Captains with access to the following are encouraged to mount them instead in their respective slots: Smoke Generator Modification 1
is first priority; Spotting Aircraft Modification 1
is especially useful on large maps; Hydroacoustic Search Modification 1
will better align your Hydroacoustic search duration with your upgraded smoke duration.
Commander Skills
Perth has more commander skill options available to her than Leander, simply by virtue of the fact she has high explosive shells available to her main battery. The two main specializations are towards DD-hunting or towards damage output.
For DD-hunters, taking Concealment Expert and Radio Location are critical, supplemented by quality of life skills.
For a more damage-oriented build, Pyrotechnician , Inertia Fuse for High Explosive, and Adrenalin Rush are core skills to chose.
Investing commander skill points into improving Perth's anti-aircraft defenses is not recommended.
  Recommended Commander Skills  
Cost
(points)

Attack

Defense



1

 

 

 

 

★★

★★



2

★

 

★★

 

 

 



3

★★

 

★★

 

★★

 



4

 

 

★

★★

★★

 

Key: ★★★ - Extremely Useful      ★★ - Frequently Useful      ★ - Occasionally Useful     No stars - Not Useful
Consumables
Perth can equip the following consumables:
Camouflage
As a premium ship, Perth comes with Default permanent camouflage and a set of permanent combat bonuses.
Signals
X-Ray Papa Unaone and November Foxtrot (

) are the most important signal flags that Perth can equip, followed by Sierra Mike (

) and the flags that increase her HE shell fire chance: India X-Ray (

) and Victor Lima (

). When equipping India X-Ray, adding a Juliet Charlie (

) to eliminate the bonus chance of detonation is a good idea. Sierra Bravo may also be useful to boost Hydroacoustic Search 

duration.
Recommended Signal Flags
Combat

★★

 

★

★

★★

★★

 

 

★

★★

★★★

 

★★★

★★
Note: Use of the Juliet Charlie signal makes detonation impossible.
Gallery
Perth exchanges fire with an enemy Leander-class cruiser.

A final salvo of high explosive shells from the Perth destroys the enemy Sims-class destroyer.

Let it Flourish! Flag. Given to players who purchased a special bundle containing Perth.
References
See here for links to Update notes.

Available to supertesters in the game starting from Update 0.5.12.
First appeared on sale in November 2016.
Update 0.5.16:

Fixed a bug with different operating times for the base and premium Spotter Aircraft consumables.

Update 0.6.0:

Added a box near the main battery gun.
Fixed description of armor parameters without changing combat characteristics.

Update 0.6.1:

Perth was added to the list of ships available in supercontainers.
Improved appearance with the use of special technology for improved rendering of thin elements (mainly rigging).

Update 0.6.7:

Available for purchase for doubloons in the game client.

Update 0.6.10:

Fixed a bug when setting a Smoke Screen.

Update 0.6.12:

Detectability when firing main guns in smoke changed to 4.5 km.

Until the release of Update 0.6.14, all Perth owners were able to exchange it for doubloons in the game client. The ship was withdrawn from sale indefinitely. However, it can still be obtained from containers.
Update 0.6.13:

Fire extinguishing time now 30 s instead of 60 s.
Improved display of thin elements.

Update 0.6.14:

The ability to sell the ship for doubloons was removed from the client.

Update 0.6.15:

A bonus was added to the "Type 10" permanent camouflage: a 10% discount to the cost of post-battle maintenance.

Update 0.7.10:

The range of the Hydroacoustic Search consumable was unified: 4 km for detecting ships, 3 km for detecting torpedoes.

Update 0.8.0:

Minor fixes to geometry and textures.

Update 0.8.7:

The Smoke Generator consumable was renamed the Crawling Smoke Generator.

Update 0.9.2:

Updated hull geometry.
HE shell armor penetration was increased from 24 to 25 mm.

Update 0.9.6:

The value of the in-game turning circle radius was changed to 700 m to correct prior discrepancy.