Dunkerque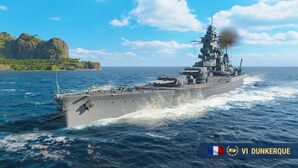 Tech Tree Position
330 mm/50 Mle 1931 on a St.Chamond Mle 1932 mount
2 х 4 

pcs.
Rate of Fire
2.31 

shots/min.
Reload Time
26 

sec.
Rotation Speed
5 

deg./sec.
180 Degree Turn Time
36 

sec.
Firing Range
18.21 

km.
Maximum Dispersion
244 

m.
HE Shell
330 mm HE OEA Mle 1935 
Maximum HE Shell Damage
4,800 
Chance of Fire on Target Caused by HE Shell
35 

%
Initial HE Shell Velocity
885 

m./s.
HE Shell Weight
552 

kg.
AP Shell
330 mm AP OPfK Mle 1935 
Maximum AP Shell Damage
9,700 
Initial AP Shell Velocity
870 

m./s.
AP Shell Weight
560 

kg.
IDS_PFGS008_130_45_MLE_1932_QUAD_PREM
1 х 4 

pcs.
Firing Range
5.6 

km.
Rate of Fire
12 

shots/min.
Reload Time
5 

sec.
HE Shell
130 mm HE OEA Mle 1934 
Maximum HE Shell Damage
1,900 
Initial HE Shell Velocity
840 

m./s.
Chance of Fire on Target Caused by HE Shell
9 

%
130 mm/45 Mle 1932 on an Mle 1932 mount
2 х 4 

pcs.
Firing Range
5.6 

km.
Rate of Fire
12 

shots/min.
Reload Time
5 

sec.
HE Shell
130 mm HE OEA Mle 1934 
Maximum HE Shell Damage
1,900 
Initial HE Shell Velocity
840 

m./s.
Chance of Fire on Target Caused by HE Shell
9 

%
130 mm/45 Mle 1932 on an Mle 1932 mount
2 х 2 

pcs.
Firing Range
5.6 

km.
Rate of Fire
12 

shots/min.
Reload Time
5 

sec.
HE Shell
130 mm HE OEA Mle 1934 
Maximum HE Shell Damage
1,900 
Initial HE Shell Velocity
840 

m./s.
Chance of Fire on Target Caused by HE Shell
9 

%
IDS_PFGS008_130_45_MLE_1932_QUAD_PREM
1 х 4 

pcs.
. . . Average Damage per Second
12.2 
. . . Firing Range
5.19 

km.
130 mm/45 Mle 1932 on an Mle 1932 mount
2 х 4 

pcs.
. . . Average Damage per Second
24.4 
. . . Firing Range
5.19 

km.
130 mm/45 Mle 1932 on an Mle 1932 mount
2 х 2 

pcs.
. . . Average Damage per Second
17.2 
. . . Firing Range
5.19 

km.
13.2 mm Hotchkiss Mle 1929 on a CAQ Mle 1929 mount
8 х 4 

pcs.
. . . Average Damage per Second
40 
. . . Firing Range
1.2 

km.
37 mm/50 CAIL Mle 1933 on a CAD Mle 1933 mount
5 х 2 

pcs.
. . . Average Damage per Second
11.5 
. . . Firing Range
3 

km.
Maximum Speed
29.5 

knot
Turning Circle Radius
730 

m.
Rudder Shift Time
14 

sec.
Surface Detectability Range
16.41 

km.
Air Detectability Range
9.58 

km.
Battle Levels
Dunkerque — French special premium Tier VI battleship.
A high-speed battlecruiser designed to counter German heavy cruisers. The ship had good torpedo protection, carried numerous dual-purpose guns and had powerful horizontal armor. Her main turrets were placed in the fore end thus making any aft firing scenarios impossible.

Dunkerque first went on sale on 22 August 2016 on the NA servers, and on 28 August 2016 on the EU servers.

Modules
Compatible Upgrades
 Slot 1 
 Slot 2 
 Slot 3 
 Slot 4 
Player Opinion
Performance
Warning. The data presented in the AA Defense sidebar section may be incorrect.
For a graphic summary of ships Tiers VIII thru XI see LittleWhiteMouse's "Actual AA DPS".

Survivability
Though Dunkerque has an average HP pool for her tier, she is severely let down by her lightly protected hull. While her 26mm armor-plated exterior will shrug off smaller HE rounds, any DD or CL with IFHE equipped or any heavy cruiser or larger caliber guns will easily punch through her armor. Though her 26mm armor can bounce 356mm and smaller AP rounds, any AP shell 380mm or larger will overmatch her armor and deal damage to the ship. Like all other BBs, Dunkerque players should take care to avoid showing broadside to the enemy, lest they give a lucky enemy BB a free "Devastating Strike" achievement. Due to the poor survivability of Dunkerque, players must exercise caution in where they position. Islands are a good way to limit enemy focus fire by blocking shots and potentially line of sight.
Main Armament
Compared to other BBs, Dunkerque carries fewer guns that deal less damage than her peers, resulting in having the weakest broadside salvo at her tier. She compensates for this by having the fastest reload of all T6 BBs as well as her unique all-forward turret arrangement. She can use all of her guns while presenting a narrow bow-in profile to the enemy. On the other hand, cunning enemies can take advantage of Dunkerque 's inability to fire directly astern. She does have respectable rear-firing angles, so proper angling can somewhat mitigate this weakness. The 8x 330mm guns themselves are closer to a battlecruiser in terms of performance. While her AP shells have relatively low alpha damage, they have the shortest flight time to target and one of the highest penetrations among her Tier 6 counterparts. Enemies should not underestimate her guns, lest they take devastating citadel hits.
Secondary Armament
Like many other Tier 6 BBs, Dunkerque 's secondary battery is fairly unimpressive. Her secondaries have excellent rear firing arcs at the cost of a significant blind spot in the front. Though the guns have higher range and slightly better firepower than her contemporaries, their poor accuracy limits their usefulness. Considering Dunkerque 's poor survivability in close range, she probably won't live long for her secondaries to become effective. It is not recommended to invest her secondaries if players want to maximize her overall performance.
AA Defense
Dunkerque e's AA leaves a lot to be desired, generally insufficient to stop CV strikes. Both torpedo bombers and dive bombers have no trouble striking though her weak AA, often making multiple runs on an isolated Dunkerque. Because of this, she relies on outmaneuvering the planes or allied AA to survive against enemy CV attacks.
Maneuverability
Dunkerque ranks among the fastest Tier 6 BB, tied with her tech tree cousin Normandie at 29.5kts base top speed. Her excellent speed is very versatile, whether it is flanking the enemy, rushing an important position, or running away from superior enemy forces. At full speed, some enemies may underlead her for the first salvoes, potentially saving her from damage taken in the long run. The rest of her maneuverability stats are less impressive, sporting an average turning radius and rudder shift time for a Tier 6 BB. Still, this is enough for Dunkerque to evade torpedoes or to angle to bounce lower caliber AP rounds.
Concealment
With a base surface concealment of 16.7km and best concealment of 14.8km, Dunkerque ranks among the most visible BBs at her tier, only surpassed by the Fuso. With a high detection radius and poor armor, Dunkerque players will find it more difficult to close in on their enemies. Players should take advantage of islands and other sight obstructions whenever possible to position closer to the enemy.
Play style
Dunkerque is unique from the other Tier VI battleships with her high top speed and entirely forward-facing armament. She plays extremely similar to the other French BBs with all-forward facing armament in that she can sit bow to minimize her profile while bringing all her guns to bear. Dunkerque can position next to tall islands, giving enemies only a small bow to target. Should she come under heavy focus fire, she can back up and use the island to block shots and buy time for her repair party to kick in.
Should there be no suitable islands, Dunkerque can perform well at longer distances thanks to her fast shells and high AP penetration. Though she lacks any rear main guns, her forward guns have good firing angles to the rear. She can take a kiting position similar to other BBs so long as she angles correctly. This position is more flexible as Dunkerque can fully utilize her speed advantage to escape if she comes under heavy fire.
Though Dunkerque is serviceable at close range, she must be wary of BBs with 380mm or larger guns that can overmatch her bow. A well-aimed strike at Dunkerque 's bow can knock out or even permanently disable her main guns. Her citadel is also somewhat vulnerable, so players must ensure the flanks are protected before the fight starts.
Perhaps Dunkerque 's greatest advantage over other BBs is her ability to reposition thanks to her excellent top speed. She can quickly exploit enemy weak points without slowing down thanks to her forward armament. Should her flank win, Dunkerque can run down any surviving ships and press home on the other flank's broadside before the enemy can properly respond. Conversely, Dunkerque can also use her speed to quickly reinforce a failing flank, preventing a collapse or buying time for other ships to respond.
Pros:
Fastest main battery rate of fire among Tier 6 battleships
Good main battery traverse speed
Excellent AP/HE shell velocity, good AP penetration
All-forward turret placement allows Dunkerque to retain her firepower while presenting a small, angled profile
Above average secondary firepower
Fastest Tier VI BB, with a base speed of 29.5 knots
Cons:
Only two main turrets, losing one can be an extreme disadvantage
Main battery accuracy is fairly subpar
Extensively covered in 26mm common plating, vulnerable to HE spam and overmatch from 380mm and larger calibers
Poor AA defenses, vulnerable to plane attacks
Extremely limited secondary firing arcs when engaging targets from the front
Poor concealment
Research
As a premium ship, Dunkerque doesn't have any upgrades to research.
Optimal Configuration
Upgrades
The recommended upgrades for Dunkerque are as follows:
Commander Skills
  Recommended Commander Skills  
Cost
(points)

Attack

Defense



1

★

 

 

 

 

★★★



2

★★

 

 

★★

★★

 



3

 

 

★★★

★★

 

 



4

 

 

 

★★

★★★

★★★

Key: ★★★ - Extremely Useful      ★★ - Frequently Useful      ★ - Occasionally Useful     No stars - Not Useful
Consumables
Dunkerque can equip the following consumables:
Camouflage
As a premium ship, Dunkerque comes with Default permanent camouflage and a set of permanent combat bonuses.
Dunkerque also has an alternate Premium camouflage called "Fleur d'acier" that was rewarded from the missions "The Colors Of Dunkerque" and/or "Flower of Steel".
Signals
Combat signals that increase her durability are must-haves for Dunkerque: India Delta (

) and India Yankee (

) are highly recommended, and Juliet Yankee Bissotwo (

) is not a bad idea, either. November Echo Setteseven (

) can help shore up her naturally weak anti-aircraft armament, especially when paired with the Basic Firing Training commander skill.
Note: Use of the Juliet Charlie signal makes detonation impossible.
Gallery
Dunkerque opens fire upon an enemy, supported by a friendly Warspite.

An Anshan destroyer moves to support the French battleship.

A Dunkerque uses an island to help cover its maneuvers. In the background, a friendly Fuso class battleship presses the attack.

Flag of Dunkerque. Given to players who purchased a special bundle containing Dunkerque.
References
See here for links to Update notes.

Available for testing by supertesters in Update 0.5.9.
First appeared on sale in September 2016.

Introduced in Update 0.5.10.

Update 0.5.12:

Corrected positioning of some AA guns.
Fixed visualization of certain small decorative objects at low and medium graphics settings.

Update 0.6.1:

Improved appearance of the ship with the use of special technology for improved rendering of thin elements (mainly rigging)
Added to the list of ships available in supercontainers
Fixed armor layout of secondary turret barbettes and added a 120mm horizontal plate between the turret and its barbette for all three quad turrets housing 130mm secondary guns.
Fixed flickering of middle secondary turret when in the "Armor Layout" viewer.

Update 0.6.3:

Improved the characteristics of the ship-borne aircraft: The aircraft's tier changed from Tier VI to VII, its hit points increased from 1,180 to 1,350 and average damage per second increased from 45 to 51.
Added practice guns to the main gun turrets, which won't affect combat performance.

Update 0.6.4:

Adjusted conning tower aft bulkhead armor from 300mm to 250mm.
Available for in game purchase with doubloons.

Update 0.6.12:

Visibility when firing main guns in smoke was changed to 14.2 km
Detection range of the Loire 130 aircraft was increased from 4km to 7km in air, and to 8km by sea.

Update 0.6.13:

Improved display of thin elements.

Update 0.6.15:

For permanent camoflauges "Type 10" and "Fleur d'acier", added a new effect of -10% to the cost of the ship's post-battle service.

Update 0.7.4.1:

Was added to its nation's tech tree and is available for purchase with doubloons.

Update 0.7.7:

Became unavailable in the game client for purchase with doubloons.

Update 0.7.8:

Minor fixes to geometry and textures on the ship.

Update 0.7.11:

Became available in the game client for purchase for doubloons.

Update 0.8.0:

Main battery reload time reduced from 28 to 26 s.

Update 0.8.1:

Fixed geometry and textures.

Update 0.10.0:

The firing range of the secondary battery was increased to 5.6 km.

Update 12.0:

Updated the Mid-Autumn Festival permanent camouflage.