Odin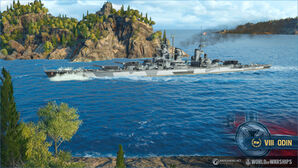 Tech Tree Position
305 mm/56 SK C/39 in a turret
3 х 3 

pcs.
Rate of Fire
2.61 

shots/min.
Reload Time
23 

sec.
Rotation Speed
6 

deg./sec.
180 Degree Turn Time
30 

sec.
Firing Range
19.09 

km.
Maximum Dispersion
250 

m.
HE Shell
305 mm Spr.Gr. L/4.9 
Maximum HE Shell Damage
3,600 
Chance of Fire on Target Caused by HE Shell
27 

%
Initial HE Shell Velocity
865 

m./s.
HE Shell Weight
415 

kg.
AP Shell
305 mm P.Spr.Gr. L/3.8 
Maximum AP Shell Damage
9,400 
Initial AP Shell Velocity
865 

m./s.
AP Shell Weight
415 

kg.
128 mm/61 KM40 in a turret
6 х 2 

pcs.
Firing Range
7.7 

km.
Rate of Fire
17.65 

shots/min.
Reload Time
3.4 

sec.
HE Shell
128 mm Spr.Gr. Kz. 
Maximum HE Shell Damage
1,500 
Initial HE Shell Velocity
900 

m./s.
Chance of Fire on Target Caused by HE Shell
5 

%
150 mm/60 SK C/25 on a Drh Tr C/25 mount
2 х 3 

pcs.
Firing Range
7.7 

km.
Rate of Fire
8.57 

shots/min.
Reload Time
7 

sec.
HE Shell
150 mm Spr.Gr. L/4.4 Kz. 
Maximum HE Shell Damage
1,700 
Initial HE Shell Velocity
960 

m./s.
Chance of Fire on Target Caused by HE Shell
8 

%
533 mm Vierling
2 х 4 

pcs.
Rate of Fire
0.67 

shots/min.
Reload Time
90 

sec.
Rotation Speed
25 

deg./sec.
180 Degree Turn Time
7.2 

sec.
Torpedo
G7a T1 
Maximum Damage
13,700 
Torpedo Speed
64 

knot
Torpedo Range
6 

km.
128 mm/61 KM40 in a turret
6 х 2 

pcs.
. . . Average Damage per Second
74.4 
. . . Firing Range
5.19 

km.
20 mm/65 C/38 on a twin mount
4 х 2 

pcs.
. . . Average Damage per Second
16.8 
. . . Firing Range
2.01 

km.
20 mm/65 C/38 on a Flak 35 Vierling L/38 mount
6 х 4 

pcs.
. . . Average Damage per Second
36 
. . . Firing Range
2.01 

km.
55 mm/77 Gerät 58 on a twin mount
8 х 2 

pcs.
. . . Average Damage per Second
195.2 
. . . Firing Range
3.99 

km.
Maximum Speed
30 

knot
Turning Circle Radius
790 

m.
Rudder Shift Time
14.1 

sec.
Surface Detectability Range
15.3 

km.
Air Detectability Range
9.86 

km.
Battle Levels
Odin — German promo premium Tier VIII battleship.
One of the draft designs for a relatively small, high-speed battleship that preceded the construction of the Scharnhorst-class ships. This ship was primarily distinguished by a more powerful main battery comprising 305 mm guns.
Modules
Compatible Upgrades
 Slot 1 
 Slot 2 
 Slot 3 
 Slot 4 
 Slot 5 
Player Opinion
Performance
Odin is a German Tier VIII premium battleship.
Despite being at the same tier as Tirpitz, Odin is better compared to Tier VII Scharnhorst due to their characteristics compared to same tier opponents.
The main armament of Odin is very small for a battleship at that tier. Nine 305mm guns, distributed among three triple turrets, is comparable to supercruisers of a higher tier like Alaska or Kronshtadt. The smaller gun size comes with a few advantages but also with disadvantages. With a lower caliber comes with a fast reload, much faster than that of any Tier VIII battleship. The smaller shells also mean that a lower fuze threshold results in less scenarios where a shell would strike an armor plate without arming. The problem with such a small caliber is that the penetration compared to other battleship is noticably behind the curve. For example Odin's same tier counterpart Bismarck can penetrate the citadel belt of Yamato at ranges up to 15km, whereas Odin would have to close to 8.5km to achieve the same. Due to the overmatch mechanic Odin will also struggle to deal with angled cruisers. One option is to utilize HE shells, which thanks to their improved HE penetration will often be able to penetrate the plating of opposing ships. However the low fire chance as well as a mediocre HE shell Alpha make this method rather inefficient in the long run. The handling of the main battery very much reflects that of Scharnhorst, only at a higher tier.
Just like Scharnhorst and all the other high tier German battleships, Odin offers an impressive array of secondary guns. Unlike same tier counterparts however she has access to the 128mm secondary gun which can penetrate up to 32mm of armor, allowing them to also deal direct damage against battleships. However due to a lower number of guns the shell output is lower, and the arrangement of the 150mm guns in two triple turrets makes their firing angles overall less favorable. As a trump card in close range engagements Odin also carries two quadruple torpedo launchers with the standard 6km torpedoes. Outside of close quarters combat their presence allows the player to estimate a target's speed and heading, making them a useful addition to Odin's gameplay.
Odin's protection is in a lot of aspects very similar to that of Scharnhorst, which unfortunately includes her hitpool. Having the lowest hitpool at her tier by a fair margin Odin must be careful when running risk of getting hit by high Alpha strikes like torpedoes or AP divebombers. The distributed armor scheme, coupled with a turtleback give Odin good resiliance against AP and HE fire, while an internal deck within the bow make Odin basically immune to citadels through the bow following a shell from Musashi or Yamato overmatching through the 32mm bow. Due to the low hitpool, players who wish to make use of Odin's brawling capabilities in the mid and late game must try to be more conservative with their health than they would be with other German battleships.
Thanks to Odin's concealment this can be done better than in ships like Bismarck. Her ability to disengage more comfortably make it easier to escape unfavorable situations and get into more advantageous positions, while also creating a narrow window between the maximum range of her secondaries and the surface detection range. Her rather average maneuverability however will not be of much use when it comes to avoiding unnecessary damage.
A useful tool on Odin is her Hydroacoustic Search 

, which provides her with much needed warning against incoming torpedoes when used appropriately. When getting to closer ranges it can also help catching undetected ships behind islands or within smoke screen cover.
In terms of playstyle Odin should focus on damaging cruisers first and foremost. Her guns are most suited for that purpose and in the initial stages of a match the ranges are typically too long for her to engage battleships effectively. The fast reload and the ability to overmatch destroyers allows for spontaneous salvos at those, to help allied destroyers at gaining control over the objective. Against aircraft carriers Odin has a potent AA defense, however against determined and skilled carrier players that may not be enough to effectively defend herself.
Once the battle has progressed to the point where targets can be engaged in 1 vs 1 duels without unpleasant surprises, and assuming the player is confident that the remaining hitpoints are sufficient, Odin can move in for close quarters engagements. Here her secondary battery as well as the Hydroacoustic search and the torpedoes come into play, and allow Odin to outbrawl most battleships. Such pushes however should be timed carefully, as pushing into crossfires or into superior forces will result in Odin being sent back to port in little to no time.
Pros:
Fastest main battery reload speed among Tier 8 battleships and quick turret traverse speed
Strong secondary armament with good range and high penetration (does not require IFHE)
Odin is one of the few battleships armed with torpedoes, with two quadruple launchers in the aft section
Strong AA suite
Excellent armor - icebreaker bow, thick deck and upper belt armor, and citadel turtleback protection
Good concealment for a battleship
Access to the Hydroacoustic Search  consumable
Cons:
Lowest hitpoint pool in tier/class, lower than some Tier 6 battleships
Smallest main battery caliber in tier/class, low AP alpha damage and very poor overmatching capability
Horrible main battery HE damage output and fire chance for a battleship
Stern-placed torpedoes have subpar firing arcs and are short ranged
Rudder shift and turn radius are merely average despite Odin's small size
Optimal Configuration
Upgrades
The recommended upgrades for Odin are as follows:
Commander Skills
  Recommended Commander Skills  
Cost
(points)

Attack

Defense



1

 

★★

 

 

 

 



2

★★

 

 

 

 

 



3

 

★★

★★

 

 

 



4

 

★★

★★

 

 

★★

Key: ★★★ - Extremely Useful      ★★ - Frequently Useful      ★ - Occasionally Useful     No stars - Not Useful
Consumables
Odin can equip the following consumables:
The short range of Odin makes the usage of the Spotting Aircraft 

recommendable, to temporarily extend the range of the main guns to 22.92km.
Camouflage
As a premium ship, Odin comes included with Type 10 camouflage that lowers her detection radius, reduces the accuracy of incoming shells, reduces her repair costs, and increases the amount of experience she earns.
Signals
Recommended Signal Flags
Combat

 

★★

 

 

 

 

★★

★★

★★★

 

 

 

 

 

Economic

★★★

★★

★★

★★

★★

Special

★★

★★

★★

★★

★★

★★

★★

★★

Key: ★★★ - Extremely Useful       ★★ - Frequently Useful       ★ - Occasionally Useful      No stars - Not Useful
Note: Use of the Juliet Charlie signal makes detonation impossible.
Gallery
References
See here for links to Update notes.

Available for testing by supertesters in the game starting from Update 0.8.10.
Available via completing the dockyard in Update 0.9.5.
Update 0.9.7:

Minor fixes to geometry and textures.

Update 0.10.0:

Increased accuracy of secondary battery guns.
The firing range of the secondary battery was increased to 7.6 km.