Monarch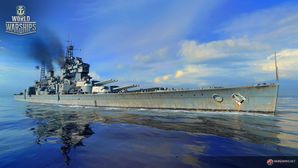 Tech Tree Position
381 mm/45 Mk.VII on a Mk.III mount
3 х 3 

pcs.
Rate of Fire
2.4 

shots/min.
Reload Time
25 

sec.
Rotation Speed
4 

deg./sec.
180 Degree Turn Time
45 

sec.
Firing Range
17.45 

km.
Maximum Dispersion
234 

m.
HE Shell
381 mm HE Mk VIIIb 
Maximum HE Shell Damage
6,300 
Chance of Fire on Target Caused by HE Shell
35 

%
Initial HE Shell Velocity
836 

m./s.
HE Shell Weight
879 

kg.
AP Shell
381 mm AP Mk XIIIa 
Maximum AP Shell Damage
11,900 
Initial AP Shell Velocity
836 

m./s.
AP Shell Weight
879 

kg.
133 mm/50 QF Mk.I on a Mk.I mount
8 х 2 

pcs.
Firing Range
6.6 

km.
Rate of Fire
9 

shots/min.
Reload Time
6.67 

sec.
HE Shell
133 mm HE Mk IC 
Maximum HE Shell Damage
1,900 
Initial HE Shell Velocity
792 

m./s.
Chance of Fire on Target Caused by HE Shell
8 

%
133 mm/50 QF Mk.I on a Mk.I mount
8 х 2 

pcs.
. . . Average Damage per Second
64.8 
. . . Firing Range
4.5 

km.
40 mm/39 Vickers QF Mk.VIII on a Mk.VI mount
6 х 8 

pcs.
. . . Average Damage per Second
118.8 
. . . Firing Range
2.49 

km.
20 mm Oerlikon Mk.I on a Mk.IIA mount
22 х 1 

pcs.
. . . Average Damage per Second
79.2 
. . . Firing Range
2.01 

km.
40 mm/39 Vickers QF Mk.VIII on a Mk.VII mount
4 х 4 

pcs.
. . . Average Damage per Second
51.6 
. . . Firing Range
2.49 

km.
Maximum Speed
26.6 

knot
Turning Circle Radius
790 

m.
Rudder Shift Time
21 

sec.
Surface Detectability Range
14.58 

km.
Air Detectability Range
10.01 

km.
Battle Levels
Monarch — British Tier VIII battleship.
One of the preliminary versions of the King George V-class ships armed with 381 mm main battery guns. She had features characteristic of a next-generation battleship, namely relatively high speed, thick horizontal armor, and dual-purpose artillery.


Modules
Compatible Upgrades
 Slot 1 
 Slot 2 
 Slot 3 
 Slot 4 
 Slot 5 
Player Opinion
Performance
Warning. The data presented in the AA Defense sidebar section may be incorrect.
For a graphic summary of ships Tiers VIII thru XI see LittleWhiteMouse's "Actual AA DPS".

Tier VIII's Monarch plays much like predecessor King George V a tier below, with noticeable improvements in the calibre of her guns and anti-aircraft suite.
Unlike the King George V with her ten 14-inch guns, Monarch is equipped with a more competitive main battery comprised of nine 15-inch guns in three triple-barrel turrets. Each barrel reloads in a mere 25 seconds, faster than even Bismarck's eight 15-inch guns. However, Monarch's secondary battery leaves something to be desired, unlike her German peer; it isn't worth investing upgrades or commander skill points in improving. Her anti-aircraft battery has a somewhat similar story, with a weak long-range bubble but a fairly strong mid-range one. Monarch won't be able to deter determined airstrikes on her own — especially from equal tiered aircraft carriers or higher — but she can make them costly with Advanced Firing Training and/or AA Guns Modification 1.
Out of all the Tier VIII battleships, Monarch also has the least health, lagging behind her contemporaries by a good six thousand hit points or more. She also has a large superstructure which is easy to hit with high explosive shells; she is more akin to a butterfly than royalty and should seek to avoid the limelight. Her health and squishy superstructure mean that Monarch does not take hits very well, and should not attempt to tank damage from multiple sources simultaneously.
While Monarch's guns stack up damage rather well, don't count on racking up citadels on enemy battleships. The comparatively lower caliber of Monarch's guns (15 inches vs. the 16 inches found on North Carolina and Amagi) hurt her penetration against contemporary battleships. Instead of shooting at their waterlines, captains should shift their aim a little higher in order to strike an enemy battleship above their main belt armour. Unfortunately, her main guns can only reach out to a range of 18.1 kilometres. It is a good thing she has access to the Spotting Aircraft 

consumable, which can extend her range out by 20% for a short time.
It is not
Monarch
's guns that make her fearsome, however. Fully kitted out in a concealment build,
Monarch
can have a detection range of 11.5 kilometres, making her the stealthiest battleship in her tier spread. This concealment mitigates her relative fragility and the limited range of her main guns. It allows
Monarch
to pick-and-choose her fights; to control her engagements to a higher degree, and run away when needed. All in all, this is what makes
Monarch
unique. It turns an otherwise average and uninspiring battleship into one that can move around and impact the outcome of a match with a greater degree of flexibility than many of her contemporaries.
Pros:
Main battery has a quick reload time of only 25 seconds.
Good belt armor that offers decent citadel protection when angled.
Good medium-range anti-aircraft bubble.
Best-in-tier concealment for a battleship.
High fire chance with HE shells.
Enhanced repair party compared to most battleships, capable of repairing up to 75% of normal penetration damage.
Cons:
Gun dispersion is worse than German counterpart Bismarck.
Tall superstructure will attract (and eat) a lot of damage.
Very pitiful gun range, that even some cruisers out range her.
15-inch guns don't quite have the same punch as most of her contemporaries at Tier VIII, most of it's damage comes from HE shells, with it's AP practically worthless at any range.
Long-range AA bubble is weak.
Bad firing angles on her stern "X" turret.
Hull plating is on the thin side for Tier VIII battleships; her 32mm deck plating is extremely vulnerable to penetrations from light cruisers with IFHE and heavy cruisers with HE shells. Combine that with a small hit point pool making her very fragile.
Not agile, despite good rudder shift.
Research
Captains should prioritize Monarch's upgraded Fire Control System module first, vastly improving upon her 16.5 km stock range. Then, take her Hull upgrade for an extra 7,000 hit points and improved rudder shift time. Save the improved Propulsion module for last.
Optimal Configuration
Upgrades
The recommended upgrades for Monarch are as follows:
Commander Skills
  Recommended Commander Skills  
Cost
(points)

Attack

Defense



1

★★

 

 

★★

 

 



2

★★

 

 

 

★★

 



3

 

 

★★

 

 

 



4

 

 

 

★★

★★

 

Key: ★★★ - Extremely Useful      ★★ - Frequently Useful      ★ - Occasionally Useful     No stars - Not Useful
Consumables
Monarch can equip the following consumables:
Captains have a choice between a Spotting Aircraft 

or Catapult Fighter 

; the former is more effective due to the limited main battery range of Monarch.
Signals
Recommended Signal Flags
Combat

★★★

★★

★★★

★★

★

★

 

★★

★★

★★

★★★

★★★

 

 



Note: Use of the Juliet Charlie signal makes detonation impossible.
Gallery
Monarch fires a full broadside against an enemy Fuso.

Monarch's secondaries open up on a nearby enemy Bismarck.

Monarch eliminates an enemy Atago.
References
See here for links to Update notes.

Introduced into the game as a researchable ship in Update 0.6.10.
Update 0.6.12:

Detectability when firing main guns in smoke changed to 13.35 km.
Fixed minor visual issues with geometry and textures.

Update 0.6.14:

Antennas on Type 279 masts were replaced with the current RDF Type 281 and RDF Type 281b. The changes do not affect the game balance in any way.

Update 0.6.15:

Added a bonus to the Congratulatory permanent camouflage: a 10% discount to the cost of post-battle maintenance.

Update 0.8.6:

The citadel was raised to occupy some of the casemate area.
The Repair Party consumable was changed:

Casemate (non-citadel) damage restoration was increased from 60% to 75%.
HP regen per second changed from 0.5% to 0.6%.
Cooldown reduced from 120 s to 90 s.

Update 0.8.10:

40-mm / 39 QF Mark VIII AA guns were renamed to 40-mm / 39 QF Mk VIII AA guns.

Update 0.10.0:

The firing range of the secondary battery was increased to 6.6 km.

Update 0.10.6:

Base firing range increased from 16.5 to 17 km.

Update 0.10.10:

Main battery base firing range increased from 17 to 17.5 km.
Main battery maximum firing range with Gun Fire Control System increased from 18.7 to 19.2 km.