Sejong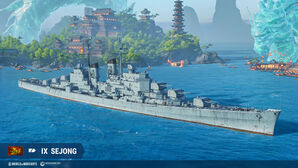 Tech Tree Position
127 mm/54 Mk.42 on a twin mount
6 х 2 

pcs.
Rate of Fire
10.91 

shots/min.
Reload Time
5.5 

sec.
Rotation Speed
40 

deg./sec.
180 Degree Turn Time
4.5 

sec.
Firing Range
12.75 

km.
Maximum Dispersion
120 

m.
HE Shell
127 mm HE Mk.41 
Maximum HE Shell Damage
1,800 
Chance of Fire on Target Caused by HE Shell
9 

%
Initial HE Shell Velocity
808 

m./s.
HE Shell Weight
31.75 

kg.
AP Shell
127 mm AP/SC Mk38 Mod 2 
Maximum AP Shell Damage
2,100 
Initial AP Shell Velocity
808 

m./s.
AP Shell Weight
31.75 

kg.
533 mm Mk31
4 х 4 

pcs.
Rate of Fire
0.45 

shots/min.
Reload Time
133 

sec.
Rotation Speed
25 

deg./sec.
180 Degree Turn Time
7.2 

sec.
Torpedo
Mk16 mod. 2 
Maximum Damage
17,900 
Torpedo Speed
67 

knot
Torpedo Range
12 

km.
127 mm/54 Mk.42 on a twin mount
6 х 2 

pcs.
. . . Average Damage per Second
209.4 
. . . Firing Range
5.19 

km.
20 mm Oerlikon on a Mk.4 mount
14 х 1 

pcs.
. . . Average Damage per Second
50.4 
. . . Firing Range
2.01 

km.
40 mm/56 Bofors on a Mk.2 mount
8 х 4 

pcs.
. . . Average Damage per Second
127.2 
. . . Firing Range
3.51 

km.
20 mm Oerlikon on a Mk.24 mount
6 х 2 

pcs.
. . . Average Damage per Second
36.6 
. . . Firing Range
2.01 

km.
Maximum Speed
33 

knot
Turning Circle Radius
670 

m.
Rudder Shift Time
10.8 

sec.
Surface Detectability Range
11.97 

km.
Air Detectability Range
7.41 

km.
Battle Levels
Sejong — Pan-Asian Tier IX cruiser.
A variant of the light cruiser project developed in the United States during World War II, armed with 127 mm dual-purpose guns of a new generation.
Modules
Compatible Upgrades
 Slot 1 
 Slot 2 
 Slot 3 
 Slot 4 
 Slot 5 
 Slot 6 
Player Opinion
Performance
Warning. The data presented in the AA Defense sidebar section may be incorrect.
For a graphic summary of ships Tiers VIII thru XI see LittleWhiteMouse's "Actual AA DPS".
At Tier IX, Sejong continues the HE and torpedo spam play style developed over the rest of the line. A variant of the American CL-154 project, Sejong shares many similarities with her American cousin X Austin and Pan Asian successor X Jinan, as well as other destroyer-caliber cruisers like VII Atlanta and Flint. Combining a fast-firing main battery and four heavy-hitting quadruple deepwater torpedo launchers with flexible Pan Asian smokescreens and a Torpedo Reload Booster, Sejong can stall capital ship pushes and quickly deal with destroyers that get too close.
Armament
Sejong is armed with twelve 127mm guns in six twin turrets, with similar characteristics to those found on Austin. But while Austin's HE shells have similar stats, Sejong's lose speed more quickly due to higher drag, and thus have longer flight times and higher shell arcs. Her turret traverse and reload are among the fastest of any cruiser, but her small caliber limits the damage she can do to battleships and heavily armored cruisers. In those cases, she relies on superstructure hits and setting fires. Although her fire chance per shell is one of the lowest for Tier IX – only 9% – with twelve shells per salvo and a fast reload she can still set fires consistently. Sejong has AP shells, but their low penetration makes them ineffective at almost all ranges. In most situations, her HE shells will be the best choice. With her floaty shells, hitting longer range or agile targets can be a challenge. But her fast reload makes her a big threat to any destroyer that gets caught too close.
In addition to her main battery, Sejong carries two quadruple deepwater torpedo launchers per side. Like those found on the Pan Asian destroyer line, they have a low detection range but can't hit destroyers. Sejong's are faster than those of any other Tier IX cruiser, with an excellent range as well as high damage and flood chance. They're ideal for area denial or against isolated battleships and cruisers, as well as providing a painful deterrent against pushing ships if she has to run. With her torpedo reload booster, she can have up to 32 torpedoes in the water at the same time.
Consumables
Sejong features the standard consumable suite for high tier Pan Asian cruisers. In addition to the normal cruiser Repair Party and Damage Control Party, she has access to the Defensive AA Fire consumable, a Smokescreen with a relatively short cooldown period, and the Torpedo Reload Booster consumable. Unlike most other high tier cruisers, Sejong does not have access to the Hydroacoustic Search consumable, leaving her more vulnerable to enemy torpedoes.
Sejong's smokescreen consumable is identical to those found on the preceding cruisers. Like the Pan Asian destroyer smoke generator, it has a good action time and average dispersion time, but the downtime between one smokescreen expiring and the next being available is just 40 seconds. However, Sejong only has three charges compared to Chung Mu's five.
While she doesn't get the extended smoke times of US smokescreens, the shorter cooldown means less waiting for the next if she has to abandon a smokescreen early.
Maneuverability
Sejong is one of the most agile cruisers at Tier IX, with an excellent rudder shift and turning circle. Unlike the preceding ships, Sejong is one of the slowest in her tier. Although her handling is slightly worse than VIII Harbin, players familiar with the lower tier cruisers should still feel comfortable in Sejong.
If absolutely necessary, players can use her excellent agility to survive in the open. But her floaty shells, lack of health and armor, and slow speed make this a risky and less effective last resort if island or smoke cover is available.
Survivability
Like her predecessors, Sejong is the exact opposite of durable. She has the second smallest health pool of any Tier IX cruiser, and one of the lowest out of all Tier VIII to X cruisers. Sejong inherits Austin's armor, including a 32mm main belt that can provide some protection against battleship AP and smaller caliber cruiser shells. However, she also shares Austin's relative lack of armor elsewhere, with 16mm bow, stern, and deck plating and a vulnerable citadel that extends well above the waterline.
Sejong's excellent concealment also aids in her survival. When fully upgraded, her surface detection can get as low as 9.7km. Although some Tier VIII cruisers can still outspot her, she is one of the stealthiest cruisers at Tier IX or X. She can sneak around the map and get closer to a cap or move between island cover before getting spotted. Her low 5.5km smoke firing penalty also allows her to farm from smoke with less risk of enemy destroyers spotting her.
Players should not rely on Sejong's health or armor to keep her alive. Staying undetected, along with a player's ability to dodge incoming fire when spotted, will be her main sources of protection.
Anti-aircraft
As an anti-aircraft focused cruiser, Sejong has an impressive anti-aircraft suite to deter enemy planes. Although she doesn't have the 6.9km reach of ships like IX Seattle or Neptune, her long range defenses and flak are still some of the strongest at Tier IX. Although Seattle's flak deals slightly more damage per individual explosion, Sejong produces more flak per salvo than any other Tier IX cruiser. Her mid range defenses are below average for the tier, but in exchange they have some of the longest range. Although her close range defenses lack the extended reach of Dmitri Donskoi and Dalian, only Alaska's deal more damage.
Like the other tech tree cruisers, Sejong mounts the Defensive AA Fire consumable by default, which can increase her defenses even further.
Her long range defenses and high flak count offer more than enough protection to deter attacking planes and cover nearby allied ships. A determined carrier will still be able to get a strike through, but it will be costly.
Battle performance
Just as with
Austin
,
Flint
, and other small caliber cruisers,
Sejong
prefers to play around island cover. With her high shell arcs, she can comfortably fire over her protective island armor to provide support in a cap or farm battleships. Her smokescreens allow her to produce an 'island' on demand if necessary, but her lack of hydro leaves her more vulnerable to incoming torpedoes.
Pros:
Fast main battery reload and turret traverse
Uses deepwater torpedoes, with high damage and low detection
Reasonably fast torpedo reload
Strong AA defenses, further boosted by the Defensive AA Fire  consumable
Very agile
Good concealment
Has access to the Smoke Generator  consumable
Has access to the Torpedo Reload Booster  consumable
Cons:
Very thin armor plating and vulnerable citadel
Very low health
Small main battery shell caliber, making it more difficult to damage capital ships
Slow shell velocity makes hitting targets at range more difficult
Deepwater torpedoes can't hit destroyers
Lower top speed
Does not have access to the Hydroacoustic Search  consumable
Research
Availability of researchable upgrades for Sejong is as follows:
Hull: Upgrade to Sejong (B) for more health, improved maneuverability, and AA (see above for cost). Research of this module unlocks progression to Jinan.
Gun Fire Control System: Upgrade to Mk9 mod. 2 for an extra 10% range on the main battery.
Optimal Configuration
Upgrades
The recommended upgrades are:
Slot 3 presents the biggest choice in defining Sejong's play style. Players that wish to boost her gun performance should select Aiming Systems Modification 1
or the coal Smoke Generator Modification 1
upgrade. Those that wish to play Sejong as a torpedo cruiser should instead select Torpedo Tubes Modification 1
to increase her torpedo speed and reduce the risk of her torpedo tubes getting knocked out or destroyed.

In slot 6, players can opt for Gun Fire Control System Modification 2
to increase Sejong's lackluster firing range. However, her floaty shells and long flight times will limit the usefulness of that extra range to farming battleships and stationary cruisers.
Commander Skills
  Recommended Commander Skills  
Cost
(points)

Attack

Defense



1

 

★★

 

 

★★

★



2

★★★

★★

 

 

★★

 



3

★★★

★★

★★★

 

★★★

★★★



4

★

 

★★

★

★★★

 

Key: ★★★ - Extremely Useful      ★★ - Frequently Useful      ★ - Occasionally Useful     No stars - Not Useful
Consumables
Sejong equips the following consumables:
Signals
Recommended Signal Flags
Combat

★★

 

★

 

★★★

★★★

★★

 

★★

★★

★★

★★★

★★

★★
Note: Use of the Juliet Charlie signal makes detonation impossible.
Gallery
References
See here for links to Update notes.

Available for testing by supertesters in the game starting from Update 0.10.10.
Added to early access in Update 0.11.0, Sejong could drop from 1 of 60 random bundles available in the Armory for 1000 doubloons each.
Update 0.11.1:

Minor corrections to geometry and textures of the ship.

Introduced into the game as a researchable ship in Update 0.11.2.