Huanghe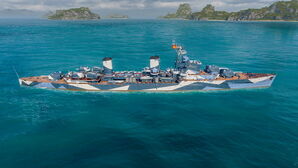 Tech Tree Position
152 mm/57 B-38 on an MK-4 mount
3 х 2 

pcs.
Rate of Fire
8.57 

shots/min.
Reload Time
7 

sec.
Rotation Speed
7 

deg./sec.
180 Degree Turn Time
25.71 

sec.
Firing Range
13.18 

km.
Maximum Dispersion
123 

m.
HE Shell
152 mm OFU-35 
Maximum HE Shell Damage
2,200 
Chance of Fire on Target Caused by HE Shell
12 

%
Initial HE Shell Velocity
950 

m./s.
HE Shell Weight
55 

kg.
AP Shell
152 mm AP-35 
Maximum AP Shell Damage
3,300 
Initial AP Shell Velocity
950 

m./s.
AP Shell Weight
55 

kg.
100 mm/70 on an SM-5-1s mount
4 х 2 

pcs.
Firing Range
5 

km.
Rate of Fire
15 

shots/min.
Reload Time
4 

sec.
HE Shell
100 mm HE-55 
Maximum HE Shell Damage
1,400 
Initial HE Shell Velocity
1000 

m./s.
Chance of Fire on Target Caused by HE Shell
6 

%
533 mm Triple
2 х 3 

pcs.
Rate of Fire
0.76 

shots/min.
Reload Time
79 

sec.
Rotation Speed
25 

deg./sec.
180 Degree Turn Time
7.2 

sec.
Torpedo
533 mm 53-51 
Maximum Damage
14,400 
Torpedo Speed
60 

knot
Torpedo Range
8.01 

km.
100 mm/70 on an SM-5-1s mount
4 х 2 

pcs.
. . . Average Damage per Second
78 
. . . Firing Range
5.01 

km.
20 mm Oerlikon on a Mk.4 mount
8 х 1 

pcs.
. . . Average Damage per Second
28.8 
. . . Firing Range
2.01 

km.
37 mm V-11 mount
8 х 2 

pcs.
. . . Average Damage per Second
73.6 
. . . Firing Range
3.51 

km.
Maximum Speed
33 

knot
Turning Circle Radius
570 

m.
Rudder Shift Time
6.7 

sec.
Surface Detectability Range
9.25 

km.
Air Detectability Range
6.44 

km.
Battle Levels
Huanghe — Pan-Asian promo premium Tier VI cruiser.

A
British
light cruiser (HMS
Aurora
) intended to carry out close reconnaissance and counter-destroyer missions. In 1948, the ship was transferred to the Republic of China (Taiwan) but defected to the People's Liberation Army Navy (PLAN) a year later, becoming its most powerful combat unit. In the early 1950s, a plan was drawn up for the refurbishment of the cruiser by replacing her weapons and equipment with Soviet-made models.
Huanghe
was first released for sale worldwide on 30 November 2017.
Modules
Compatible Upgrades
 Slot 1 
 Slot 2 
 Slot 3 
 Slot 4 
Player Opinion
Performance
Warning. The data presented in the AA Defense sidebar section may be incorrect.
For a graphic summary of ships Tiers VIII thru XI see LittleWhiteMouse's "Actual AA DPS".

Huanghe is one of three Tier VI light cruisers that are designed around the Crawling Smoke Generator 

consumable: the other two being Perth and Mysore. Of these three, Huanghe distinguishes itself with excellent stealth, maneuverability, and anti-aircraft suite. However, the ship's advantages are balanced by her very low survivability and middling damage potential.
Playing Huanghe should be familiar to Perth veterans, as they both have the same creeping smoke screen thanks to the shared Crawling Smoke Generator 

consumable. When moving at quarter speed (12.5 knots), the Huanghe can remain hidden in the continuously billowing smoke while moving towards or away from critical positions. In combination with her excellent 8.3km max. stealth, 530m turning circle, 950 m/s shell velocity, 4.2km smoke fire penalty, and her Hydroacoustic Search 

, the Huanghe is one of the best cap supporting/contesting cruisers at her tier.
These advantages are counterbalanced by the lowest health pool for any cruiser at the tier. With only 3x2 152mm guns in her main battery, she is also somewhat under-gunned for her tier, and her triple torpedo launchers are one less torpedo per broadside than
Perth
. As with her Commonwealth counterpart, the
Huanghe
requires a significant investment in special modifications and captain points in order to unlock her full potential.
Pros:
Lowest detection radius of all Tier VI cruisers (8.33km fully upgraded).
Crawling Smoke Generator  consumable allows Huanghe to move at low speeds and take her smoke cloud with her.
Powerful HE rounds with excellent shell velocity and fire chance.
Quick rudder shift time and destroyer-like turning circle allow her to dodge long range fire more easily than most cruisers.
Good mid-range torpedoes with wide firing angles.
Best long range anti-aircraft suite (flak clouds and DPS) of any Tier 6 cruiser.
No citadel under the forward turrets, allowing Huanghe to fire four guns around a corner while taking only minor damage.
Two fully upgraded Huanghes can alternate use of Crawling Smoke Generator  to maintain permanent smoke coverage.
Cons:
Has the lowest amount of hit points of all Tier VI cruisers.
The ship is lightly armored and often takes high damage from enemy armor piercing shells.
Main battery firing range among the shortest at her tier with no options for enhancement.
3x2 152mm main battery with mediocre reload struggles to put out damage quickly.
Magazine under the forward turrets is unprotected by armor, making Huanghe very vulnerable to detonation.



Research
As a premium ship, Huanghe doesn't have any upgrades to research.
Optimal Configuration
Upgrades
The recommended upgrades for Huanghe are as follows:
Huanghe benefits from access to the Special Upgrades that are available through the Arsenal. Captains should prioritize Smoke Generator Modification 1
, as it offers a significant upgrade to the Crawling Smoke Generator 

. The Hydroacoustic Search Modification 1
is also useful, as it will better align your Hydroacoustic search duration with your upgraded smoke duration.
Commander Skills
Due to her increased stealth and limited damage output, the Huanghe tends to be more of a DD-hunter than a pure damage dealer (unlike the Perth that can be either). The main consideration is whether the player wishes to invest in the AA-suite in order to protect themselves and allies.
For the DD-hunting role, taking Concealment Expert and Radio Position Finder are critical, supplemented by quality of life skills such as Superintendent, Vigilance, Expert Marksman, Expert Loader. These could be rounded off by skills that increase survivability while detected: Survivability Expert, Last Stand, Preventative Maintenance, and/or Incoming Fire Alert.
For a more damage-oriented build, Demolition Expert, Inertial Fuse for High Explosive, and Adrenalin Rush are core skills to chose. Jack of All Trades combined with a November Foxtrot signal (

) will reduce the timers on her crucial consumable cooldowns.
For an AA-oriented build (recommended only if regular teamplay with DDs is anticipated), selecting Basic Firing Training, Advanced Firing Training and mounting (

) will be necessary.
  Recommended Commander Skills  
Cost
(points)

Attack

Defense



1

 

 

 

 

★★

★★



2

 

 

★★

 

 

 



3

★★

 

★★

 

★★

 



4

 

 

 

★★

★★

 

Key: ★★★ - Extremely Useful      ★★ - Frequently Useful      ★ - Occasionally Useful     No stars - Not Useful
Consumables
Huanghe can equip the following consumables:
Huanghe's Crawling Smoke Generator 

is the same as Perth's in terms of performance. Torpedo Reload Booster 

is not recommended due to the lack of torpedoes the ship has, thus leaving Hydroacoustic Search 

as the only preferable option for Slot 2.
Camouflage
As a premium ship, Huanghe comes with Default permanent camouflage and a set of permanent combat bonuses.
Signals
X-Ray Papa Unaone and November Foxtrot (

) are the most important signal flags that Huanghe can equip, followed by Sierra Mike (

) and the flags that increase her HE shell fire chance: India X-Ray (

) and Victor Lima (

). When equipping India X-Ray, adding a Juliet Charlie (

) to eliminate the bonus chance of detonation is a good idea. (

) will be helpful in augmenting the already powerful AA-suite; Sierra Bravo may also be useful to boost Hydroacoustic Search 

duration.
Note: Use of the Juliet Charlie signal makes detonation impossible.
Gallery
Flag of Huanghe. Given to players who purchased a special bundle containing Huanghe.
References
</references>
See here for links to Update notes.

Available for testing by supertesters in the game starting from Update 0.6.11.
First appeared on sale in November 2017.
Update 0.6.13:

Fire extinguishing time now 30 s instead of 60 s.
Improved display of thin elements.

Update 0.6.15:

Minor fixes to textures and ship geometry.
A bonus was added to the "Type 10" permanent camouflage - a 10% discount to the cost of post-battle maintenance.

Update 0.7.1:

Disabled national voiceovers for the ship. Now, even if the national voiceover is selected, the voiceover of the player's region or the selected sound mode in the settings will be played.

Update 0.7.9:

Added to the game client for purchase for doubloons.

Update 0.7.10:

The range of the Hydroacoustic Search consumable was unified - 4 km for detecting ships, 3 km for detecting torpedoes.

Update 0.8.0:

The Lunar New Year permanent camouflage was made available for the ship, able to be obtained through Lunar New Year 2019 containers.

Update 0.8.0.3:

Fixed a bug with the special Lunar New Year camouflage that caused the guns to appear floating in the air.

Update 0.8.7:

Smoke Generator consumable renamed to Crawling Smoke Generator.

Update 0.9.2:

HE shell penetration increased from 24 mm to 25 mm.

Update 0.9.3:

Minor fixes to textures and ship model.

Update 0.10.10:

Minor fixes to geometry and textures of the ship.