Bougainville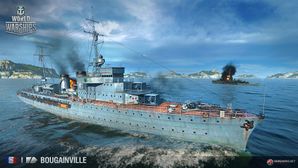 Tech Tree Position
139 mm/40 Mle 1927
3 х 1 

pcs.
Rate of Fire
12.5 

shots/min.
Reload Time
4.8 

sec.
Rotation Speed
10 

deg./sec.
180 Degree Turn Time
18 

sec.
Firing Range
9.48 

km.
Maximum Dispersion
86 

m.
HE Shell
139 mm HE OEcl M1925 
Maximum HE Shell Damage
1,400 
Chance of Fire on Target Caused by HE Shell
9 

%
Initial HE Shell Velocity
700 

m./s.
HE Shell Weight
40.2 

kg.
37 mm/50 CA Mle 1925
4 х 1 

pcs.
. . . Average Damage per Second
6.4 
. . . Firing Range
0.36 

km.
8 mm Mle 1914
6 х 1 

pcs.
. . . Average Damage per Second
7.8 
. . . Firing Range
0.3 

km.
Maximum Speed
19 

knot
Turning Circle Radius
350 

m.
Rudder Shift Time
3.7 

sec.
Surface Detectability Range
8.28 

km.
Air Detectability Range
4.77 

km.
Battle Levels
Bougainville — French Tier I cruiser.
The largest and most powerful representative of the aviso type, the French Navy equivalent of sloops and gunboats. This warship was intended for colonial service abroad and carried armament that was quite good for her size.


Modules
Compatible Upgrades
Player Opinion
Performance
The gateway to the Marine Nationale in World of Warships starts here with Tier I's Bougainville. She represents a class of avisos (dispatch boats) that were constructed in the 1930s, and her most redeeming quality is that captains won't have to play her for very long.
Bougainville is unquestionably the weakest of the Tier I cruisers. She has a long rudder shift time and slow top speed to go with a weak main battery armament and almost no armor protection to speak of. Her speed and rudder shift time combine to make her handle sluggishly for a Tier I ship — especially compared to the likes of Black Swan or Orlan. She can be easily citadeled at nearly any angle, even by high explosive rounds.
Spending time playing
Bougainville
isn't enjoyable, but at least captains won't have to suffer very long. It is fortunate, then, that Tier II's
Jurien de la Gravière
is a more enjoyable ship.
Pros:
Largest health pool of all Tier I ships.
Highest shell damage of all Tier I ships.
High damage per minute.
Highest AA DPS of all Tier I ships (not that she will ever see an enemy aircraft carrier).
Research
Bougainville
only has one upgrade to research: a 10% range boost offered via an improved Fire Control System module. It is best not to bother investing any experience there and devote all experience gains into unlocking
Jurien de la Gravière
as soon as possible.
Optimal Configuration
Upgrades
With only one upgrade slot, options are limited. Captains who wish to invest the credits for the game or three they will spend in Bougainville are advised to equip Magazine Modification 1 (

) in Upgrade Slot 1.
Commander Skills
Recommended Commander Skills
Cost
(points)

Endurance

Attack

Support

Versatility



1

 

★★★

★

Χ

 

Χ

 

Χ



2

★★

 

★★★

Χ

Χ

Χ

★★

★



3

★★

★

Χ

Χ

★★★

 

★★

 



4

 

 

 

Χ

★★★

 

 

 

Key: ★★★ - Extremely Useful      ★★ - Frequently Useful      ★ - Occasionally Useful     No stars - Meh     

Χ

- Not recommended
Consumables
Bougainville only has access to the Repair Party consumable. Spending credits on the premium version is really a waste and not recommended.
Camouflage
Type 1, 2, or 5 camouflage can be equipped for credits; Types 2 or 5 are recommended at a minimum to reduce the accuracy of incoming shells.
Signals
Recommended Signal Flags
Combat

 

 

★★

 

★★

 

 

★

 

 

 

 

Economic

 

 

★★★

★★

 

Special

 

 

 

 

 

 

 

 

Key: ★★★ - Extremely Useful       ★★ - Frequently Useful       ★ - Occasionally Useful      No stars - Not Useful
Gallery