Duguay-Trouin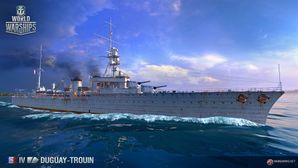 Tech Tree Position
155 mm/50 Mle 1920 on an Mle 1921 mount
4 х 2 

pcs.
Rate of Fire
5 

shots/min.
Reload Time
12 

sec.
Rotation Speed
8 

deg./sec.
180 Degree Turn Time
22.5 

sec.
Firing Range
13.65 

km.
Maximum Dispersion
127 

m.
HE Shell
155 mm HE OEA Mle 1920 
Maximum HE Shell Damage
2,200 
Chance of Fire on Target Caused by HE Shell
11 

%
Initial HE Shell Velocity
870 

m./s.
HE Shell Weight
59 

kg.
AP Shell
155 mm AP OPFA Mle 1920 
Maximum AP Shell Damage
3,300 
Initial AP Shell Velocity
870 

m./s.
AP Shell Weight
56.5 

kg.
550 mm tube lance-torpilles
4 х 3 

pcs.
Rate of Fire
0.71 

shots/min.
Reload Time
84 

sec.
Rotation Speed
25 

deg./sec.
180 Degree Turn Time
7.2 

sec.
Torpedo
550 mm 19D 
Maximum Damage
12,233 
Torpedo Speed
57 

knot
Torpedo Range
6 

km.
8 mm Hotchkiss Mle 1914 on a single mount
6 х 1 

pcs.
. . . Average Damage per Second
7.8 
. . . Firing Range
0.99 

km.
75 mm/50 Mle 1922 on an Mle 1922 mount
4 х 1 

pcs.
. . . Average Damage per Second
6.8 
. . . Firing Range
3 

km.
Maximum Speed
33 

knot
Turning Circle Radius
670 

m.
Rudder Shift Time
10.9 

sec.
Surface Detectability Range
12.92 

km.
Air Detectability Range
5.57 

km.
Battle Levels
Duguay-Trouin — French Tier IV cruiser.
The world's first large warship designed and built after World War I. The ship had virtually no armor protection but carried very powerful torpedo armament. An innovation that was implemented on this type of ship was the arrangement of her main guns in twin-gun superfiring turrets.
Modules
Compatible Upgrades
Player Opinion
Performance
One of the fastest cruisers at Tier IV, Duguay-Trouin boasts powerful short-ranged torpedoes, fast shells, and a great main battery firing range. She is roughly analogous to Tier V Russian cruiser Kirov: a poorly armored, speedy cruiser with good shells and shell velocity, large detectability radius, and very long main battery range.
Overall, Trouin's profile is rather large and her main battery reload is on the slow side for 155mm guns, though the guns are comfortable to fire. Her rudder shift is worst-in-tier and her concealment is quite poor, which makes her an easy and obvious target for enemy ships. Additionally, her armor is virtually non-existent (like all other Tier IV cruisers). She has plenty of speed and a generous torpedo armament, though the range on them means that they are best suited for ambushes from behind islands or against distracted battleships.
Her rudder, along with the other French cruisers, tends to feel prone to incapacitations; captains may wish to equip
Engine Room Protection
and/or invest points into Level 2 commander skill
Last Stand
to help compensate.
Pros:
AB-XY turret layout is excellent for its tier.
Decent main battery shells.
Fast shell velocity.
Decent turret traverse.
Many torpedoes and good torpedoes for the tier and ship type.
Fast ship speed.
Can equip Hydroacoustic Search .
Cons:
Poorly armored (like most other Tier IV cruisers).
Slow main battery reload for 155mm guns.
Poor anti-aircraft capabilities (like most other Tier IV cruisers).
Slow rudder shift.
Poor concealment.
Research
Quickly research Hull (B) for increased health pool and better rudder shift. Then research the second Fire Control System module (PCA n° 4 Mle 2).
Optimal Configuration
Upgrades
Duguay-Trouin has two available upgrade slots. The following choices are recommended:
Commander Skills
Last Stand is critical as all French cruisers are prone to steering damage.
  Recommended Commander Skills  
Cost
(points)

Attack

Defense



1

★★

 

 

 

 

★★



2

★★

 

★★

 

★★

 



3

 

 

★★

 

★★

 



4

 

★★

 

 

★★

 

Key: ★★★ - Extremely Useful      ★★ - Frequently Useful      ★ - Occasionally Useful     No stars - Not Useful
Consumables
Duguay-Trouin equips the following consumables:
Signals
As a Tier IV cruiser with a good fire chance, Victor Lima (

), India X-Ray (

), and Juliet Charlie (

) are the most recommended for extra fire damage. Victor Lima & India X-Ray increase the fire chance while also increasing chances of you getting flooding and being detonated, thus Juliet Charlie is used to counter the de-buff effect. November Foxtrot (

) can assist in reducing cooldowns for the consumables slightly, but may be life-saving (such as having Hydroacoustic Search ready and activated in time to evade enemy torpedo salvo). Sierra Mike can also be handy for getting around to places, as this increases Duguay-Trouin's speed to a good 34.7 kts.
Note: Use of the Juliet Charlie signal makes detonation impossible.
Gallery
References
See here for links to Update notes.

Available for testing by supertesters in the game starting from Update 0.6.3.
Introduced in Update 0.6.4.
Update 0.6.9:
Update 0.6.12:

Detectability when firing main guns in smoke changed to 6.78 km.

Update 0.6.13:

Fire extinguishing time now 30 s instead of 60 s.

Update 0.7.0:

Fixed textures and geometry.

Update 0.7.1:

Fixed geometry and textures of the ship. These changes do not affect the in-game characteristics of the ship.

Update 0.7.10:

The range of the Hydroacoustic Search consumable was unified - 4 km for detecting ships, 3 km for detecting torpedoes.

Update 0.8.5:

Credit earnings decreased by 5%.

Update 0.9.2:

The armor thickness was changed: the central part was reinforced from 13 to 16 mm.

Update 0.9.7:

Hydroacoustic Search consumable is available for installation on the stock hull.

Update 0.10.5:

Fixed geometry and textures of the ship.