En. Gabolde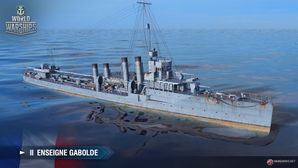 Tech Tree Position
IDS_PFGM059_100_45_MLE_1921
3 х 1 

pcs.
Rate of Fire
11.54 

shots/min.
Reload Time
5.2 

sec.
Rotation Speed
20 

deg./sec.
180 Degree Turn Time
9 

sec.
Firing Range
8.9 

km.
Maximum Dispersion
88 

m.
HE Shell
100 mm HE OEA Mle 1910 
Maximum HE Shell Damage
1,400 
Chance of Fire on Target Caused by HE Shell
6 

%
Initial HE Shell Velocity
780 

m./s.
HE Shell Weight
13.5 

kg.
AP Shell
100 mm AP Mle 1910 
Maximum AP Shell Damage
1,600 
Initial AP Shell Velocity
780 

m./s.
AP Shell Weight
13.5 

kg.
550 mm tube lance-torpilles
2 х 2 

pcs.
Rate of Fire
1.71 

shots/min.
Reload Time
35 

sec.
Rotation Speed
25 

deg./sec.
180 Degree Turn Time
7.2 

sec.
Torpedo
550 mm 19V 
Maximum Damage
7,433 
Torpedo Speed
52 

knot
Torpedo Range
6.99 

km.
Maximum Speed
31 

knot
Turning Circle Radius
450 

m.
Rudder Shift Time
2.8 

sec.
Surface Detectability Range
5.76 

km.
Air Detectability Range
2.07 

km.
Battle Levels
Enseigne Gabolde — French Tier II destroyer.
An experimental destroyer equipped with a new type of turbine. The ship was laid down before the start of World War I, and was completed after the war ended. Based on the experience gained during wartime, the ship was armed with more powerful armament—in particular, formidable 550 mm torpedo tubes.

This ship entered the tech tree on 24 Aug 2019.
Modules
Compatible Upgrades
Player Opinion
Performance
Enseigne Gabolde starts the French destroyer line and shares with her successors a high speed and an absence of the Smoke Generator consumable. Her respectable main battery range of 8.90 km right out of the box allows captains to engage from a distance and quickly retreat. However, Enseigne Gabolde's high detectability range, the second largest for destroyers of her tier, coupled with her lack of Smoke Generator, pressures captains to pay close attention to the minimap in anticipation of enemy ambushes.
Enseigne Gabolde is a very effective support ship. Her three main battery guns of two bow superfiring turrets plus a third aft turret are well-supported by her two double tube torpedo launchers. Her torpedo launchers have a wide, easy to use arc and reload in a decent 35 seconds. The torpedoes themselves have a respectable speed of 52 knots and long reach of 7 km that allows Enseigne Gabolde to torpedo while unseen, further reinforcing and encouraging her support role. To fully maximize all of Enseigne Gabolde's capabilities, captains must utilize both her torpedoes and her main battery guns.
Captains who find
Enseigne Gabolde'
s smoke-free, run-and-gun play style enjoyable will surely benefit from what the rest of the French destroyer line has to offer. Care must be taken to stay at range and allow for options to retreat as a Smoke Generator is not available to soften the impact from mistakes.
Pros:
Fast torpedo reload.
Fastest turret traverse of all Tier II destroyers.
2nd highest artillery range of all Tier II destroyers (behind Storozhevoi)
Cons:
Does not have access to the Smoke Generator  consumable.
High detectability range (2nd highest of all Tier II destroyers).
Difficult to get all 3 turrets to bear.
Research
Availability of researchable upgrades for Enseigne Gabolde is as follows:
Hull: Upgrade to Hull (B) for improved health pool and better maneuverability. Research of this module unlocks progression to Fusilier.
Gun Fire Control System: Upgrade to PCA n° 2 Mle 2 for an extra 10% range on the main battery.
It is recommended for captains to first research the Hull upgrade for
Enseigne Gabolde
. Captains may decide to then proceed immediately to the next ship on the tech tree,
Fusilier
, or to research the PCA n° 2 Mle 2 upgrade for extra range on the main battery guns and increased competitiveness.
Optimal Configuration
Upgrades
The recommended upgrades for Enseigne Gabolde are as follows:
Commander Skills
Key skills for Enseigne Gabolde commanders include Preventive Maintenance and Last Stand.
  Recommended Commander Skills  
Cost
(points)

Attack

Defense



1

★★

 

 

 

 

★★



2

 

 

 

 

 

★★



3

★★

 

★★

 

 

★★



4

 

 

 

★★

★★

 

Key: ★★★ - Extremely Useful      ★★ - Frequently Useful      ★ - Occasionally Useful     No stars - Not Useful
Consumables
Enseigne Gabolde equips the following consumables:
Signals
Note: Use of the Juliet Charlie signal makes detonation impossible.
Gallery
References
See here for links to Update notes.

Available for testing by supertesters in the game starting from Update 0.8.3.
Mar 26, 2019:

Preliminary characteristics.

May 27, 2019:

Changed parameters of AP and HE shells:

Drag coefficient decreased from 0.557 to 0.3143.
Mass decreased from 14 to 13.5.
Initial velocity increased from 740 to 780 m/s.
HE shell damage decreased from 1,450 to 1,400.
HE shell fire chance increased from 4% to 6%.

July 19, 2019:

The chance of the engine and steering gears being incapacitated was decreased.
Main battery reload time decreased from 6 to 4.8 s.
Torpedo tubes reload time decreased from 57 to 35 s.
Maximum torpedo damage decreased from 12,233 to 7,433.
Torpedo range increased from 6 to 7 km.
Introduced in Update 0.8.7.
Update 0.8.9:

Torpedo speed decreased from 57 to 52 knots.
Main battery reload time increased from 4.8 to 5.2 s.

Update 0.9.4:

Minor fixes to textures and ship model.

Update 0.10.5:

Fixed geometry and textures of the ship.