Prinz Eugen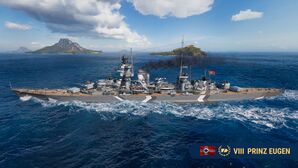 Tech Tree Position
203 mm L/60 SK C/34
4 х 2 

pcs.
Rate of Fire
4.62 

shots/min.
Reload Time
13 

sec.
Rotation Speed
8 

deg./sec.
180 Degree Turn Time
22.5 

sec.
Firing Range
17.52 

km.
Maximum Dispersion
153 

m.
HE Shell
203 mm Spr.Gr. L/4.7 Kz. 
Maximum HE Shell Damage
2,500 
Chance of Fire on Target Caused by HE Shell
13 

%
Initial HE Shell Velocity
925 

m./s.
HE Shell Weight
122 

kg.
AP Shell
203 mm P.Spr.Gr. L/4.4 
Maximum AP Shell Damage
5,900 
Initial AP Shell Velocity
925 

m./s.
AP Shell Weight
122 

kg.
105 mm L/65 Dop. L. C/31
6 х 2 

pcs.
Firing Range
5 

km.
Rate of Fire
17.91 

shots/min.
Reload Time
3.35 

sec.
HE Shell
105 mm Spr.Gr. Kz. 
Maximum HE Shell Damage
1,200 
Initial HE Shell Velocity
900 

m./s.
Chance of Fire on Target Caused by HE Shel
5 

%
533 mm Drilling
4 х 3 

pcs.
Rate of Fire
0.88 

shots/min.
Reload Time
68 

sec.
Rotation Speed
25 

deg./sec.
180 Degree Turn Time
7.2 

sec.
Torpedo
G7a T1 
Maximum Damage
13,700 
Torpedo Speed
64 

knot
Torpedo Range
6 

km.
40 mm L/56 Flak 28
18 х 1 

pcs.
. . . Average Damage per Second
135 
. . . Firing Range
3.51 

km.
20 mm Flakzwilling 38
2 х 2 

pcs.
. . . Average Damage per Second
8.4 
. . . Firing Range
2.01 

km.
20 mm Flakvierling 38
6 х 4 

pcs.
. . . Average Damage per Second
36 
. . . Firing Range
2.01 

km.
105 mm L/65 Dop. L. C/31
6 х 2 

pcs.
. . . Average Damage per Second
99.6 
. . . Firing Range
4.5 

km.
Maximum Speed
32 

knot
Turning Circle Radius
770 

m.
Rudder Shift Time
10.9 

sec.
Surface Detectability Range
14.94 

km.
Air Detectability Range
7.49 

km.
Battle Levels
Prinz Eugen — German promo premium Tier VIII cruiser.
One of a series of Admiral Hipper-class ships and one of the most powerful heavy cruisers of the 1930s. During World War II, she was equipped with strong anti-aircraft guns and an enhanced fire control system.


Modules
Compatible Upgrades
 Slot 1 
 Slot 2 
 Slot 3 
 Slot 4 
 Slot 5 
Player Opinion
Performance
When released, Prinz Eugen was substantially a clone of her sister ship in the tech tree — Admiral Hipper — with (almost) identical guns, armor, and torpedoes. The two ships barely differed at all. As of Update 0.7.4, however, each ship has now been given their own identity. Admiral Hipper now boasts a faster main battery reload and improved maneuverability, while Prinz Eugen gains access to the Repair Party (

) consumable, allowing her to gain a significant edge in survivability.
Other than reload speed, the main battery rifles are the same between each ship. They have excellent range and relatively flat trajectories, but with only eight of them and a low fire chance they can sometimes seem inadequate against tougher enemies. The torpedoes are the standard 6.0 km range, 13,700 damage G7a T1 torpedoes familiar to veterans of the German cruiser branch — mounted in two triple launchers per side just like Hipper — with fairly generous firing angles.
Defensively, Prinz Eugen has a very strong anti-aircraft suite for her tier, similar to Hipper's Hull (C), though her rudder responds more slowly. Eugen's armor scheme is also slightly different than her sister's, the most notable difference being the angled section of her turtleback being 40mm thick versus Hipper's 30mm. This prevents it from being overmatched and further increases her survivability against enemy battleships. Unfortunately, her detection range is notably worse than that of Admiral Hipper (a full 0.7 km worse).
Prinz Eugen brings a similar play style to that of her tech-tree sister, with a small trade-off in the more traditional cruiser-style stats of rate of fire and maneuverability in exchange for greater survivability. Captains who enjoy playing Admiral Hipper will find Prinz Eugen to be enjoyable and comfortable to play; captains who did not care for Hipper are advised to invest their money or doubloons elsewhere.
Pros:
Excellent main battery range, accuracy, and shell velocity.
Top-of-the-line armor piercing rounds with excellent penetration, capable of punishing damage against beam-on targets regardless of class.
Quick turret traverse speed.
German armor scheme makes her resilient to damage when angled at medium and close ranges.
Generous torpedo firing arcs.
One of the best anti-aircraft suites in her tier (only Mikhail Kutuzov is better).
Powerful torpedo armament; if Prinz Eugen is allowed to deploy her torpedoes, they can be devastating.
Can equip the Repair Party () consumable, giving her increased longevity over most other Tier VIII cruisers.
Cons:
Only eight (8) rifles in her main battery limits her damage output.
Main battery rate of fire is among the lowest of Tier VIII cruisers.
Average top speed; most other Tier VIII ships can keep up with her or simply run her down.
Heavy torpedo armament is only suitable for close-range engagements and ambushes.
Vulnerable citadel via long-range plunging fire (due to lack of deck armor).
High explosive shell damage and fire chance are below average.
Large detection radius makes Concealment Expert and Concealment System Modification 1 () must-haves.
Exceptionally vulnerable to long-range plunging fire.
Research
As a Premium ship, Prinz Eugen doesn't have any upgrades to research.
Optimal Configuration
Upgrades
The recommended upgrades for Prinz Eugen are as follows:
Virtually all builds of Prinz Eugen find themselves mounting Main Armaments Modification 1 in Slot 1 and Steering Gears Modification 2 in Slot 4. After that, captains have some critical choices to make. Concealment System Modification 1 is the most popular pick for Slot 5 in order to help curtail her large detection radius; combined with a captain with the Level 4 skill Concealment Expert, her detectability range drops under 11.5 km. Conversely, Steering Gears Modification 3 (
) is a strong option in the same slot for captains who prefer quicker rudder response. Captains with access to either Hydroacoustic Search Modification 1 (

) or Defensive AA Fire Modification 1 (

) are encouraged to plug those in Slot 2 depending on which consumable they opt to equip. The upgrade in Slot 3 is largely dependent on how captains intend to invest commander skill points on Prinz Eugen and the role they want her to fulfill in a given game.
Generalist Build: The easy choice for Slot 3 is Aiming Systems Modification 1 (

), which improves her shell dispersion and provides a minor buff to her secondary battery. This is the recommended pick for captains who don't wish to specialize the ship in anti-aircraft defenses.
Anti-Aircraft Build: Prinz Eugen's already outstanding AA suite can be made even more potent by equipping AA Guns Modification 1, and maximized by assigning a captain with Advanced Firing Training. This pair of upgrades pushes the firing radius of her 105mm dual-purpose guns out to 6.5 km, providing excellent anti-aircraft protection for herself and teammates when utilizing Defensive AA Fire (

). This does mean sacrificing the exceptional German Hydroacoustic Search (

), however, and is a setup that is largely wasted in games without an aircraft carrier present.
Commander Skills
Prinz Eugen — like her sister ship, Admiral Hipper — prefers to hold opponents at arms' length. Brawling is not recommended unless the situation is heavily favorable, and the skills of her commander should be tailored to such a strategy. At this end of the German cruiser line the ships begin to play — and handle — more like small battleships, and players will frequently find their commander skill choices echoing those popularly found on battleships: Priority Target at Level 1 and Expert Marksman at Level 2. Concealment Expert is also highly recommended at Level 4, as is Advanced Firing Training for captains pursuing an Anti-Aircraft Build. Level 4 also offers Manual Control for AA Armament to captains wishing to go all-in on their Anti-Aircraft Build; this is a very strong skill for high-tier German cruisers and battleships due to the AA potency of their dual-purpose 105mm guns.
Level 3 is where captains are offered some customization in their build. Captains preferring the Anti-Aircraft Build will want to opt for Basic Firing Training. Those pursuing the Generalist Build are better off opting for Demolition Expert; Vigilance is also a decent choice.
Recommended Commander Skills
Cost
(points)

Endurance

Attack

Support

Versatility



1

★★★

★★

★★

 

 

 

★★

 



2

★

★★

★★

 

 

 

★★★

★



3

★

 

 

 

★★

★★★

★★★

★★



4

 

★

 

 

★

 

 

★★★

Key: ★★★ - Extremely Useful       ★★ - Frequently Useful       ★ - Occasionally Useful      No stars - Meh    

Χ

- Not recommended
Consumables
Prinz Eugen can equip the following consumables:
Given her visibility and need to preserve her hit points for the late game, captains are encouraged to invest in Damage Control Party II (

) and Repair Party II (

). The choice between Defensive AA Fire (

) and Hydroacoustic Search (

) depends largely on how her commander's skill points are invested. Captains who have heavily invested into the Anti-Aircraft Build may wish to go all-in with Defensive AA Fire II (

), or shore up their vulnerability to enemy torpedo strikes with Hydroacoustic Search II (

). Conversely, captains who opted for the more Generalist Build approach can likewise go either way depending on who their division-mates are.
Camouflage
As a Premium ship, Prinz Eugen comes included with Type 30 camouflage that is unique to her. It lowers her detection radius, reduces the accuracy of incoming shells, increases the amount of experience she earns, and provides an additional bonus to the experience earned by her commander.
An alternate Adler camouflage is available for purchase as well, with all of the above bonuses and an added bonus of increasing her credit earnings by 10%.
Signals
Prinz Eugen should focus her signal layout on maximizing commander experience gains (for training and/or re-training) and credit gains (since she's a Premium ship). To that end, Zulu (

), Wyvern (

), Zulu Hotel (

), and Dragon Flag (

) all earn hefty recommendations. Sierra Mike (

) will help improve her average speed, while Anti-Aircraft Build captains will want to throw on November Echo Setteseven (

) as well. India X-Ray (

) and Victor Lima (

) are also recommended to increase the fire chance of her high explosive shells against angled cruisers and battleships.
Recommended Signal Flags
Combat

★★

 

★★

 

★★

 

★

★★★

★★★

 

★★

★

Economic

★★

★★

 

★★★

 

Special

★★

 

★★★

 

 

 

 

 

Key: ★★★ - Extremely Useful       ★★ - Frequently Useful       ★ - Occasionally Useful      No stars - Not Useful
Gallery
In the ultimate betrayal, the Prinz Eugen torpedoes an enemy Bismarck-class battleship.

Flag of Prinz Eugen. Given to players who purchased a special bundle containing Prinz Eugen.