Ägir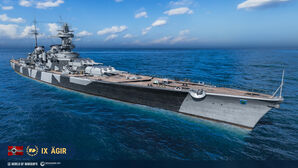 Tech Tree Position
305 mm/56 SK C/39 in a turret
3 х 3 

pcs.
Rate of Fire
3 

shots/min.
Reload Time
20 

sec.
Rotation Speed
6 

deg./sec.
180 Degree Turn Time
30 

sec.
Firing Range
18.5 

km.
Maximum Dispersion
203 

m.
HE Shell
305 mm Spr.Gr. L/4.9 
Maximum HE Shell Damage
3,600 
Chance of Fire on Target Caused by HE Shell
27 

%
Initial HE Shell Velocity
865 

m./s.
HE Shell Weight
390 

kg.
AP Shell
305 mm P.Spr.Gr. L/3.8 
Maximum AP Shell Damage
9,100 
Initial AP Shell Velocity
865 

m./s.
AP Shell Weight
390 

kg.
128 mm/61 KM40 in a turret
9 х 2 

pcs.
Firing Range
7.95 

km.
Rate of Fire
16.67 

shots/min.
Reload Time
3.6 

sec.
HE Shell
128 mm Spr.Gr. Kz. 
Maximum HE Shell Damage
1,500 
Initial HE Shell Velocity
900 

m./s.
Chance of Fire on Target Caused by HE Shell
5 

%
533 mm Vierling
2 х 4 

pcs.
Rate of Fire
0.67 

shots/min.
Reload Time
90 

sec.
Rotation Speed
25 

deg./sec.
180 Degree Turn Time
7.2 

sec.
Torpedo
G7 Steinbutt 
Maximum Damage
13,700 
Torpedo Speed
65 

knot
Torpedo Range
6 

km.
128 mm/61 KM40 in a turret
9 х 2 

pcs.
. . . Average Damage per Second
111.6 
. . . Firing Range
5.19 

km.
55 mm/77 Gerät 58 on a twin mount
9 х 2 

pcs.
. . . Average Damage per Second
219.6 
. . . Firing Range
3.99 

km.
20 mm/65 C/38 on a Flak 35 Vierling L/38 mount
6 х 4 

pcs.
. . . Average Damage per Second
36 
. . . Firing Range
2.01 

km.
20 mm/65 C/38 on a Flak 35 Vierling L/38 mount
4 х 4 

pcs.
. . . Average Damage per Second
24 
. . . Firing Range
2.01 

km.
Maximum Speed
33.5 

knot
Turning Circle Radius
880 

m.
Rudder Shift Time
14 

sec.
Surface Detectability Range
14.67 

km.
Air Detectability Range
10.74 

km.
Battle Levels
Ägir — German Tier IX cruiser.
One of the variants for the project of a high-speed, super-heavy O-class cruiser with excellent protection and armament of nine 305 mm main battery guns.

Ägir was introduced with Update 0.9.5 — sold directly and available for 1,000,000 Free XP

.
Modules
Compatible Upgrades
 Slot 1 
 Slot 2 
 Slot 3 
 Slot 4 
 Slot 5 
 Slot 6 
Player Opinion
Performance
Warning. The data presented in the AA Defense sidebar section may be incorrect.
For a graphic summary of ships Tiers VIII thru XI see LittleWhiteMouse's "Actual AA DPS".

Ägir is a Tier IX German super-cruiser and takes the spot of being one of the two first German Tier IX Premiums introduced into World of Warships.
Ägir's survivability starts off with her armor scheme. Similarly to her half-sister, Siegfried, Ägir has a distributed armor scheme that covers the entire midsection. So not only is the side protected around the waterline by a 190mm belt, but there is also a 90mm upper belt that is highly resilient against incoming HE fire and can be used to bounce any AP shell coming at Ägir. The weather deck, while still superior to all same tier counterparts minus Alaska, sits only at 30mm which means that Ägir can only bounce certain battleships' AP shells while any shell larger than 430mm (e.g. République (431 mm), Georgia, Vermont, Ohio, Kremlin, Preussen, Thunderer (all 457 mm), Musashi, Yamato, ARP Yamato (all 460 mm), Incomparable (508 mm), and Shikishima (510 mm)) can overmatch the deck. Behind the main armor belt sits an 80mm turtleback, which adds to Ägir's citadel protection especially at closer ranges.
Ägir's health pool sits comfortably at 62,850, which is comparing favorably against most of her competition. To add on top, Ägir has the strongest torpedo defense of any super-cruiser at her tier. The Repair Party 

does not hold any advantages or disadvantages over the competition.
In terms of gunnery Ägir offers a strong AP performance. With decent AP penetration and high Alpha strike, coupled with good accuracy, Ägir can hit broadside targets at most ranges and inflict heavy damage in particular on cruisers. Against battleships however the usage of AP shells against the main belt is only viable at ranges up to 10km. Beyond that normal penetrations can still be achieved by shooting the upper belt, inflicting serious, but not devastating damage. Unfortunately Ägir's HE shells leave a lot to be desired. While the fire chance and penetration is decent, the Alpha strike makes it an inefficient tool over prolonged periods of time. They should be regarded as a back-up, for the situations when the AP shells can not be used due to the opponent angling and there being no alternative target.
Another downside are the firing angles. While they are usable when firing forward with 36° for a full broadside, towards the rear this increases to 41° making Ägir vulnerable to AP shells penetrating. One way to mitigate this is constant maneuvering between salvos, angling in and out as needed. The main battery range while not disastrously low at 18.5km can not be extended as Ägir is lacking access to the Spotting Aircraft 

consumable.
Ägir also has access to a pair of torpedo launchers, with one mounted on each side of the ship. These fire the standard cruiser torpedoes with 6km range and are of limited usefulness outside of brawling scenarios. However, they can be used to determine a ship's heading and speed at range by using the torpedo lead indicator. Against aircraft carriers Ägir can offer a potent AA defense, which while not guaranteed to stop the first strike can be helpful when preventing a followup strike.
A good surface detection range compared to the competition with as little as 11.86km when fully specced for it allow Ägir to be flexible when it comes to disengaging out of unfavorable scenarios, while the average maneuverability mean that she won't be at a disadvantage when it comes to dodging. Being a German cruiser, Ägir can offer Hydroacoustic Search 

which is superior to that of other nations with increased run time and detection ranges.
In terms of play style
Ägir
should focus on engaging cruisers from open water. The excellent survivability can ensure
Ägir
stays in the fight for a long time as long as the player keeps their surroundings in check, and the hard hitting salvos will help the team gain the upper hand. Helping out teammates by spotting torpedoes via
Hydroacoustic Search

and adding her own part into the AA fire,
Ägir
can also keep allies in the fight for longer. When facing battleships she should try to hit the upper belt for normal penetrations, and if that can not be done resort to HE. Destroyers while an undesirable target can be damaged with the HE shells that can knock out modules, but this task should be left to more suitable ships.
Pros:
Good main battery traverse speed and shell velocity
Excellent durability for a cruiser, with a large hitpoint pool and well armored midsection
The only large cruiser at T9 equipped with torpedoes, along with sister ship Siegfried
Good AA suite
Access to a long range, long lasting Hydroacoustic Search  consumable
Fast, with an unmodified top speed of 33.5 knots
Good concealment when fully upgraded for it
Cons:
Extremely poor HE damage output
Bad main battery firing angles
Torpedoes are short ranged
Large bow section is 27mm thick, can be easily damaged and/or overmatched by most tier IX and X battleships
Deck armor is 30mm at its thickest, vulnerable to large caliber overmatch and HE spam
Large turn radius and sluggish rudder shift
Has battleship timers on floods and fires
Research
As a premium ship, Ägir has no upgrades to research.
Optimal Configuration
Upgrades
The recommended upgrades for Ägir are as follows:
While it is generally recommended to use Main Battery Modification 3
in the sixth slot for the faster reload, players can also choose to use Gun Fire Control System Modification 2
if they feel like the main battery range is too short for the average engagement.
Commander Skills
  Recommended Commander Skills  
Cost
(points)

Attack

Defense



1

★★

 

 

 

★

 



2

 

 

 

 

★★★

 



3

 

 

★★★

★★★

★★★

 



4

 

 

★

 

★★★

 

Key: ★★★ - Extremely Useful      ★★ - Frequently Useful      ★ - Occasionally Useful     No stars - Not Useful
Consumables
Ägir equips the following consumables:
Camouflage
As a premium ship, Ägir comes with Default permanent camouflage and a set of permanent combat bonuses.
Signals
Note: Use of the Juliet Charlie signal makes detonation impossible.
Gallery
References
Wargaming
Wikipedia
See here for links to Update notes.

Available for testing by supertesters in the game starting from Update 0.9.1.
Update 0.9.5:

Added to the tech tree for 1,000,000 Free Experience.

Update 0.10.0:

The firing range of the secondary battery was increased to 7.95 km.