Kolberg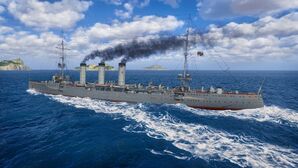 Tech Tree Position
IDS_PGGM012_105MM_SK_L45
12 х 1 

pcs.
Rate of Fire
15 

shots/min.
Reload Time
4 

sec.
Rotation Speed
10 

deg./sec.
180 Degree Turn Time
18 

sec.
Firing Range
10.08 

km.
Maximum Dispersion
109 

m.
HE Shell
105 mm Spr.Gr. L/3.89 
Maximum HE Shell Damage
1,200 
Chance of Fire on Target Caused by HE Shell
5 

%
Initial HE Shell Velocity
715 

m./s.
HE Shell Weight
18 

kg.
AP Shell
105 mm P.Spr.Gr. L/3.8 
Maximum AP Shell Damage
2,300 
Initial AP Shell Velocity
715 

m./s.
AP Shell Weight
18.2 

kg.
Maximum Speed
27 

knot
Turning Circle Radius
470 

m.
Rudder Shift Time
7.5 

sec.
Surface Detectability Range
9.43 

km.
Air Detectability Range
3.94 

km.
Battle Levels
Kolberg — German Tier III cruiser.
The last protected cruiser in the German Navy. The ship was developed from the Dresden-class multipurpose cruisers. In contrast to her predecessors, she had larger dimensions, a higher speed and a more powerful artillery. During modernization, Kolberg received two deck-mounted torpedo tubes in addition to her primary armament.


Modules
Compatible Upgrades
Player Opinion
Performance
Warning. The data presented in the AA Defense sidebar section may be incorrect.
For a graphic summary of ships Tiers VIII thru XI see LittleWhiteMouse's "Actual AA DPS".

Similar to her immediate predecessor Dresden, Kolberg uses rapid-firing, light 105mm guns for her main armament. Not much is different between the two ships besides Kolberg having slightly more range and health once she's fully upgraded.
The catch is that — as a Tier III ship — Kolberg will see tougher opponents. Cruisers such as St. Louis and Bogatyr will make quick work of Kolberg in an even fight; Kolberg will also start to see more enemy battleships. She must be played more intelligently and more cautiously than Dresden, maximizing island cover, smoke clouds, and other obstacles to obstruct enemy lines of sight and minimize the number of ships that have shots on her at any given time. She is relatively nimble and can adjust her course and speed to help avoid incoming rounds from battleships, but enemy cruisers that are allowed to close with her will likely spell her doom.
What Kolberg excels at is killing enemy destroyers. She is faster and more agile than the likes of St. Louis — allowing her to better keep pace with destroyers and dodge their torpedoes — and her faster-firing guns make her an extreme threat. In this role, some Kolberg captains will also stay back near friendly battleships to help discourage enemy destroyers from charging allied capital ships.
Kolberg
is a bit more challenging than the average Tier III cruiser, but as long as she is played to her strengths and focuses her efforts on enemy destroyers and wounded cruisers, her rapid-firing guns provide endless amusement.
Pros:
Rapid fire guns similar to Dresden.
Decently maneuverable, about in the middle in terms of speed.
Good rudder shift time.
Cons:
Falls off very hard against Tier IV cruisers.
Guns are practically worthless against armored targets.
Short range.
The Hull B upgrade lacks the torpedo tubes mentioned in the ship's in-game official description.
Research
Availability of researchable upgrades for Kolberg is as follows:
Main Battery: There is no main battery module upgrade, but access to the beginning of the German battleship branch (Nassau) stems from here.
Hull: Upgrade to Hull (B) for additional health and improved rudder shift time. Research of this module unlocks progression to Karlsruhe.
Gun Fire Control System: Upgrade to FKS Typ 3 mod. 2 for an extra 10% range on the main battery.
Kolberg
only has two module upgrades to purchase, and which is chosen first is kind of a toss-up. The health gain from Hull (B) is so small that the range bonus from the Fire Control System upgrade might be more appealing to some captains. It's impossible to make a recommendation here; each captain should choose what suits their preferences best.
Optimal Configuration
Upgrades
The recommended upgrades for Kolberg are as follows:
Commander Skills
  Recommended Commander Skills  
Cost
(points)

Attack

Defense



1

★★

 

 

 

★

 



2

★★

 

 

 

★★★

 



3

★★★

 

★★★

 

 

 



4

 

 

★

 

★★★

 

Key: ★★★ - Extremely Useful      ★★ - Frequently Useful      ★ - Occasionally Useful     No stars - Not Useful
Consumables
Kolberg can equip the following consumables:
Signals
Note: Use of the Juliet Charlie signal makes detonation impossible.
Gallery
References
See here for links to Update notes.

Available for testing by supertesters in the game starting from Update 0.5.0.1.
Introduced into the game as a researchable ship in Update 0.5.0.3.
Update 0.5.1:

AP shells armor penetration was increased.
The detectability when firing was increased by 90 m from ships and by 60 m from enemy aircraft.

Update 0.5.2:

When calculating the engine and magazines' protection from the fragmentation of HE, the angling of the armoring will be taken into account, result being the likelihood of the engine compartment being damaged by HE shells of 6" (152mm) and below dropped to zero.
Experience earnings increased by +11%.
Credit earnings increased by +10%.

Update 0.5.8:

The hull armored model was refined.

Update 0.5.16:

The position of the side lights on the bow of the ship was corrected.

Update 0.6.3:

Base firing range increased from 8,272 to 10,080 m.

Update 0.6.11:

Fixed a bug that caused the main guns to pass through elements of the ship when in restricted firing angles.
Improved appearance with the use of special technology for improved rendering of thin elements.

Update 0.6.12:

Detectability when firing main guns in smoke changed to 3.5 km.

Update 0.6.13:

Fire extinguishing time now 30 s instead of 60 s.

Update 0.10.9:

Ship flag was changed to Kaiserliche Marine flag for historical reasons.