Emden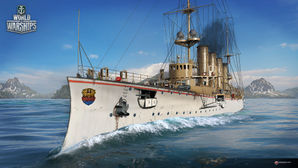 Tech Tree Position
105 mm L/40 SK C/04
10 х 1 

pcs.
Rate of Fire
15 

shots/min.
Reload Time
4 

sec.
Rotation Speed
10 

deg./sec.
180 Degree Turn Time
18 

sec.
Firing Range
9.93 

km.
Maximum Dispersion
101 

m.
HE Shell
105 mm Spr.Gr. L/3.85 
Maximum HE Shell Damage
1,200 
Chance of Fire on Target Caused by HE Shell
4 

%
Initial HE Shell Velocity
710 

m./s.
HE Shell Weight
17.5 

kg.
AP Shell
105 mm P.Spr.Gr. L/3.9 
Maximum AP Shell Damage
1,700 
Initial AP Shell Velocity
710 

m./s.
AP Shell Weight
17.4 

kg.
7.92 mm MG 08
4 х 1 

pcs.
. . . Average Damage per Second
6.8 
. . . Firing Range
0.99 

km.
Maximum Speed
24 

knot
Turning Circle Radius
420 

m.
Rudder Shift Time
4.9 

sec.
Surface Detectability Range
9.54 

km.
Air Detectability Range
3.62 

km.
Battle Levels
Emden — German promo premium Tier II cruiser.
This ship served as a multipurpose protected cruiser of the German Navy. Compared with the lead ship, she had a different type of propulsion. She carried numerous rapid-fire artillery of a relatively small caliber, and was well protected for a ship of her type.

The ship was given to players for free during the 2015 holiday season by completing a three part mission series.
Modules
Compatible Upgrades
Player Opinion
Performance
Sister ship to Tier II tech tree cruiser Dresden, Emden has a storied history worthy of more than a few films and books. Her incarnation in World of Warship is faithful to the legendary raider, and a fun premium for her tier.
With a main battery comprised exclusively of 105mm guns, Emden will frequently spew out dozens and dozens of shells for minimal damage. However, she not only has two fewer guns than Dresden, but they also have about a kilometer less range. Her guns are effective against enemy destroyers, but that effectiveness falls off quickly against cruisers and battleships. Her armor piercing shells lack adequate velocity and power to penetrate anything but other lightly-armored cruisers, and even then only at point-blank ranges (5.0 km or less). Max AP damage is 500 less than her sister ship's shells while the arc on both their shells is fairly high; landing hits at maximum range will require a significant amount of lead, and AP damage at such ranges will be low or non-existent. Smart captains can use her shell arc to her advantage, however, by using islands as cover and firing over them. Her main battery is weaker than that of Dresden as well; she has fewer guns overall and weaker armor-piercing shells.
Most players won't spend a ton of time in
Emden
— enough to make some quick credits or re-train a commander — which makes her faults and weaknesses easy to overlook. Overall, she is a fragile ship with relatively weak guns that excels at eliminating enemy destroyers but struggles against most anything else.
Pros:
Insanely fast reload.
Great turret turning time.
Excellent at killing enemy destroyers.
Her 105 mm main battery guns can be upgraded with Basic and advanced firing training.
Is essentially a clone of Dresden in every way that matters; players familiar with her sister ship will have no problem playing her.
Cons:
Shortest firing range of all Tier II cruisers.
HE shells do extremely small amounts of damage and AP is practically worthless.
High shell arc.
Fairly low health pool for her tier.
Her secondary battery is only cosmetic and doesn't actually fire at enemy ships.



Research
As a premium ship, Emden doesn't have any upgrades to research.
Optimal Configuration
Upgrades
The recommended upgrades for Emden are as follows:
Commander Skills
Key skills for Emden commanders include Preventative Maintenance, Adrenaline Rush, Basic Firing Training, and Concealment Expert. Additional skill points should be invested in Last Stand, Priority Target, Expert Marksman, High Alert, and Demolition Expert.
Recommended Commander Skills
Cost
(points)

Endurance

Attack

Support

Versatility



1

★★

★★★

★

Χ

Χ

Χ

★

Χ



2

★★

 

★★

Χ

Χ

Χ

★★★

★★



3

★

★★

Χ

Χ

★★★

 

★★

★★



4

 

 

 

Χ

★★

 

 

★★★

Key: ★★★ - Extremely Useful      ★★ - Frequently Useful      ★ - Occasionally Useful     No stars - Meh     

Χ

- Not recommended
Consumables
Emden equips the following consumables:
Camouflage
As a premium ship, Emden comes included with Type 9 camouflage that lowers her detection radius, reduces the accuracy of incoming shells, and increases the amount of experience she earns.
Signals
Recommended Signal Flags
Combat

 

 

★★★

 

★★★

 

 

★★★

 

 

 

★

Economic

 

 

★★★

★★

 

Special

 

 

★★

 

★

 

 

 

Key: ★★★ - Extremely Useful       ★★ - Frequently Useful       ★ - Occasionally Useful      No stars - Not Useful
Gallery
References