Leander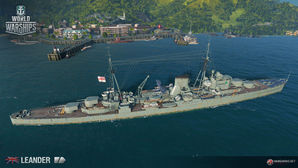 Tech Tree Position
152 mm/50 BL Mk.XXIII on a Mk.XXI mount
4 х 2 

pcs.
Rate of Fire
7.5 

shots/min.
Reload Time
8 

sec.
Rotation Speed
7 

deg./sec.
180 Degree Turn Time
25.71 

sec.
Firing Range
11.97 

km.
Maximum Dispersion
123 

m.
Chance of Fire on Target Caused by HE Shell
0 

%
AP Shell
152 mm AP 6crh Mk IV 
Maximum AP Shell Damage
3,100 
Initial AP Shell Velocity
841 

m./s.
AP Shell Weight
50.8 

kg.
102 mm/45 QF Mk.XVI on a Mk.XIX mount
4 х 2 

pcs.
Firing Range
4.96 

km.
Rate of Fire
20 

shots/min.
Reload Time
3 

sec.
HE Shell
102 mm HE 35 lb 
Maximum HE Shell Damage
1,500 
Initial HE Shell Velocity
811 

m./s.
Chance of Fire on Target Caused by HE Shell
6 

%
IDS_PBGT050_21IN_4TUBE_QR_MK_VII_R
2 х 4 

pcs.
Rate of Fire
0.57 

shots/min.
Reload Time
106 

sec.
Rotation Speed
25 

deg./sec.
180 Degree Turn Time
7.2 

sec.
Torpedo
533 mm Mk VII 
Maximum Damage
15,733 
Torpedo Speed
59 

knot
Torpedo Range
7.02 

km.
102 mm/45 QF Mk.XVI on a Mk.XIX mount
4 х 2 

pcs.
. . . Average Damage per Second
37.6 
. . . Firing Range
5.01 

km.
20 mm Oerlikon Mk.I on a Mk.IIA mount
5 х 1 

pcs.
. . . Average Damage per Second
18 
. . . Firing Range
2.01 

km.
40 mm/39 Vickers QF Mk.VIII on a Mk.VI mount
2 х 8 

pcs.
. . . Average Damage per Second
39.6 
. . . Firing Range
2.49 

km.
12.7 mm Mk.III
2 х 4 

pcs.
. . . Average Damage per Second
4.2 
. . . Firing Range
1.2 

km.
Maximum Speed
32.5 

knot
Turning Circle Radius
710 

m.
Rudder Shift Time
11 

sec.
Surface Detectability Range
9.95 

km.
Air Detectability Range
6.44 

km.
Battle Levels
Leander — British Tier VI cruiser.
A new generation light cruiser designed to serve as a scout both within a squadron and independently. In contrast to her predecessors, the ship's main advantage was that her main guns were placed in gun turrets. The ship also had stronger AA defenses and better armor protection.
Modules
Compatible Upgrades
 Slot 1 
 Slot 2 
 Slot 3 
 Slot 4 
Player Opinion
Performance
Warning. The data presented in the AA Defense sidebar section may be incorrect.
For a graphic summary of ships Tiers VIII thru XI see LittleWhiteMouse's "Actual AA DPS".

Tier VI brings a new shift in British light cruiser game play, as Leander takes the lessons learned from Caledon through Emerald and applies them to a more well-equipped vessel. Leander is fairly stalwart cruiser for her tier, capable of mercilessly smashing enemy destroyers, holding her ground against her cruiser contemporaries, and providing fire support as needed.
Captains familiar with Tier VI American cruiser Dallas will feel at home in Leander. She exemplifies a ship that friendly destroyers love to ride shotgun with and enemy destroyers try their hardest to avoid (or destroy). Leander can take a fair bit of punishment from lighter enemy units due to her access to the Repair Party 

consumable, and while she lacks Aoba's big guns and envies the range of Budyonny and Nürnberg, she's a fairly solid cruiser for her tier. Her upgraded torpedoes go a long way towards closing the gap between her and her contemporaries when they are used well. Her torpedo firing arcs are excellent.
Unfortunately, Leander needs to get almost suicidally close — her stock range is a paltry 12.0 km — in order to get her main battery into action, greatly increasing the risk involved when she engages enemy destroyers who have support nearby. While she can mount a Spotting Aircraft 

to temporarily increase her range, doing so requires her to give up Smoke Generator 

and a chunk of her longevity with it.
Leander
is a ship that functions best with friends close by, especially given her vulnerability to battleships. She has very little she can threaten them with as long as they angle well against her armor-piercing rounds and avoid her torpedoes.
Pros:
Lowest detection radius of all non-premium Tier VI cruisers
3rd fastest gun reload of all tier VI cruisers at 8.0 seconds.
Powerful torpedos with decent range, speed, and damage.
Very deadly against destroyers and cruisers who end up at close range due to the high gun accuracy.
Has access to Smoke Generator  that allows her to keep shooting at a target while being undetected.
Has access to the Repair Party  to help mitigate damage taken from enemy shells.
Better secondary battery than other same-tier cruisers.
Decent rudder shift time to dodge shells, especially with the thin armor.
Cons:
Shortest main battery range of all Tier VI cruisers.
Extremely thin armor everywhere, cannot tank damage with armor from any angle.
Lack of high explosive shells makes damaging enemy capital ships very challenging.
Anti-aircraft suite is on par with Aoba and Budyonny, but cannot be made more potent with Defensive AA Fire .
Damage from armor piercing salvos is consistent, but not spectacular. Leander has a very low alpha-strike damage potential.
Heavily relies on Smoke Generator  and distracted enemy ships to farm damage.
Research
Availability of researchable upgrades for Leander is as follows:
Hull: Upgrade to Hull (B) for additional health, a small increase in AA, and improved rudder shift time. Research of this module unlocks progression to Fiji.
Torpedoes: The 533 mm Mk IX torpedoes reload faster, travel farther, move faster, have a higher flood chance, and hit nearly as hard as the stock 533 mm Mk VII torpedoes.
Gun Fire Control System: Upgrade to Mk VI mod. 2 for an extra 10% range on the main battery.
Given the paltry stock range of her main battery, the Fire Control System upgrade should be the first place experience gains are invested. After that, grab Hull (B) and the Torpedo upgrade (in that order).
Optimal Configuration
Upgrades
The recommended upgrades for Leander are as follows:
Slot 1 allows players to mount one of two viable options. Main Armaments Modification 1 is a generally viable choice, but players wishing to specialize for anti-aircraft duties should mount Auxiliary Armaments Modification 1

.
Slot 3 offers choices for specialization in different roles. Aiming Systems Modification 1 should be equipped for ship to ship combat. AA Guns Modification 1
is a good choice to provide additional defense against aircraft.
Commander Skills
  Recommended Commander Skills  
Cost
(points)

Attack

Defense



1

★

★

 

 

★★

★



2

 

★

★★

 

★

★



3

 

★

★★★

 

★★★

★



4

★★

★★

★

 

★★★

★

Key: ★★★ - Extremely Useful      ★★ - Frequently Useful      ★ - Occasionally Useful     No stars - Not Useful
Consumables
Leander can equip the following consumables:
Leander is comparatively lightly armored for a Tier VI cruiser — especially compared to her contemporaries Budyonny and Dallas — and will need to make good use use of the Repair Party 

and Smoke Generator 

consumables. Catapult Fighter 

is not recommended due to the little protection it provides and Spotting Aircraft 

would provide only a small bonus to her already meager range.
Signals
Again, due to Leander's weak armor scheme, captains are encouraged to mount the following signals for better survivability: India Delta (

) and November Foxtrot (

).
Note: Use of the Juliet Charlie signal makes detonation impossible.
Gallery
References
See here for links to Update notes.

Available to supertesters in the game starting from Update 0.5.11.
Introduced into the game as a researchable ship in Update 0.5.13.
Update 0.5.16:

Fixed a bug with different operating times for the base and premium versions of the Spotting Aircraft consumable.

Update 0.6.12:

Detectability when firing main guns in smoke changed to 4.6 km.

Update 0.6.13:

Fire extinguishing time now 30 s instead of 60 s.
The Smoke Generator active time was increased from 7 to 15 s.
Improved display of thin elements.

Update 0.6.15:

A bonus was added to the permanent camouflages "Type 16", "Type 12": a 10% discount to the cost of post-battle service.

Update 0.7.5:

Models and textures were slightly improved.

Update 0.7.7:

The range of the MK VII torpedo was increased from 6 to 7 km.

Update 0.7.10:

The range of the Hydroacoustic Search consumable was unified - 4 km for detecting ships, 3 km for detecting torpedoes.

Update 0.8.5:

Credit earnings decreased by -5%.

Update 0.9.2:
Update 0.9.6:

The value of the in-game turning circle radius was changed to 710 m to correct prior discrepancy.

Update 0.10.4:

The time for the dissipation of smoke for the Smoke Generator consumable was reduced from 99 to 96 s.
Main battery reload time increased from 7.5 to 7.7 s.

Update 0.10.6:

Main battery reload time increased from 7.7 to 8 s.

Update 0.10.8:

Fixed issues with the ship model and textures.

Update 0.10.10:

Alternate color scheme for the Ajax 1940 camouflage is available again.
Minor change to the secondary battery firing range (unlisted change).

Update 0.11.1:

The colors of icons for the color schemes of the permanent camouflage were fixed.

Update 0.11.7:

Minor fixes to the model and textures of the ship.