Weymouth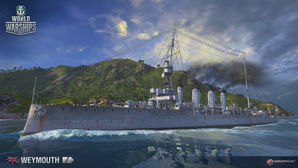 Tech Tree Position
152 mm/45 BL Mk.XI on a PVI mount
8 х 1 

pcs.
Rate of Fire
6.52 

shots/min.
Reload Time
9.2 

sec.
Rotation Speed
7 

deg./sec.
180 Degree Turn Time
25.71 

sec.
Firing Range
10.58 

km.
Maximum Dispersion
106 

m.
Chance of Fire on Target Caused by HE Shell
0 

%
AP Shell
152 mm AP 100 lb 
Maximum AP Shell Damage
2,800 
Initial AP Shell Velocity
773 

m./s.
AP Shell Weight
45.36 

kg.
40 mm/39 Vickers QF Mk.II on a single mount
1 х 1 

pcs.
. . . Average Damage per Second
5.6 
. . . Firing Range
2.01 

km.
Maximum Speed
26 

knot
Turning Circle Radius
560 

m.
Rudder Shift Time
8.2 

sec.
Surface Detectability Range
9.96 

km.
Air Detectability Range
4.27 

km.
Battle Levels
Weymouth — British Tier II cruiser.
This medium-size cruiser had weak armor protection, but boasted powerful artillery and quite a high speed. She was conceived as a "trade protection" cruiser and was designated for countering lightly-armed enemy ships of the same type.
Modules
Compatible Upgrades
Player Opinion
Performance
Warning. The data presented in the AA Defense sidebar section may be incorrect.
For a graphic summary of ships Tiers VIII thru XI see LittleWhiteMouse's "Actual AA DPS".
Weymouth
introduces captains to the 152mm rifle, which remains the standard armament of the British cruiser line all the way to Tier X. The ballistics of the shells at this tier is not particularly great, but is satisfactory given the speed and maneuverability of opposing ships captains are likely to encounter at Tiers II and III. The ship itself is nothing spectacular — decent handling and plenty of gun barrels — and while it begins to give captains a taste of what a cruiser line without high explosive looks like, having no other damage options available besides armor-piercing rounds is somewhat frustrating. Thankfully,
Weymouth
is the last ship in the branch not to have torpedoes available.
Pros:
Solid rate of fire on main battery guns.
Largest health pool of non-premium Tier II cruisers.
Longest firing range of non-premium Tier II cruisers.
Best armor in her tier (for what it is worth).
Cons:
Not terribly maneuverable; much longer rudder shift time than her contemporaries.
Large detectability radius.
Lack of high explosive shells and torpedoes makes her damage output somewhat inconsistent.
Unattractive as a keeper ship - her limited qualities deter the development of any useful build.
Research
The Fire Control System upgrade is less expensive than Hull (B), and is a significant boost to Weymouth's range. Invest experience there first, then pick up the second hull.
Optimal Configuration
Upgrades
The recommended upgrade for Weymouth is:
Commander Skills
  Recommended Commander Skills  
Cost
(points)

Attack

Defense



1

★

 

 

 

★★

★



2

 

 

 

 

★★

 



3

 

 

★★

 

★★

★



4

★★

★★

★

 

★★★

 

Key: ★★★ - Extremely Useful      ★★ - Frequently Useful      ★ - Occasionally Useful     No stars - Not Useful
Consumables
As a Tier II ship, Weymouth only has access to the Damage Control Party 

consumable.
Signals
Hotel Yankee can be equipped by players looking to run down and ram enemy destroyers to death. India Yankee is helpful when fighting other ships that spew copious quantities of high explosive shells (such as
St. Louis
or
Dresden
).
Gallery
An armor piercing shell fired from Weymouth is about to impact a Sampson class destroyer.
References
See here for links to Update notes.

Available to supertesters in the game starting from Update 0.5.11.
Introduced into the game as a researchable ship in Update 0.5.13.
Update 0.5.14:

Draft increased by 21 cm.

Update 0.6.2:

The national flag was moved from the stern to the mast.

Update 0.6.3:

Base firing range increased from 9,763 to 10,580 m.

Update 0.6.9:

Improved appearance with the use of a special technology for improved rendering of thin elements (rigging).

Update 0.6.12:

Detectability when firing main guns in smoke changed to 4.6 km.

Update 0.6.13:

Fire extinguishing time now 30 s instead of 60 s.

Update 0.9.4:

Added the "Repair Party" consumable.
Main battery reload time increased from 8.57 to 8.9 s.

Update 0.9.5:

Main battery reload time increased from 8.9 s to 9.2 s.

Update 0.9.6:

The value of the in-game turning circle radius was changed to 560 m to correct prior discrepancy.

Update 0.10.5:

Fixed geometry and textures of the ship.

Update 0.11.9:

Minor fixes to geometry and textures of the ship.