Petropavlovsk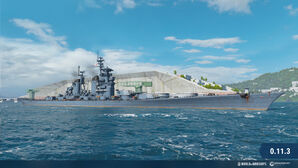 Tech Tree Position
220 mm/65 SM-6
3 х 3 

pcs.
Rate of Fire
4.62 

shots/min.
Reload Time
13 

sec.
Rotation Speed
4.7 

deg./sec.
180 Degree Turn Time
38.3 

sec.
Firing Range
18.45 

km.
Maximum Dispersion
190 

m.
HE Shell
220 mm HE Model 1944 
Maximum HE Shell Damage
3,050 
Chance of Fire on Target Caused by HE Shell
14 

%
Initial HE Shell Velocity
995 

m./s.
HE Shell Weight
207 

kg.
AP Shell
220 mm AP Model 1944 
Maximum AP Shell Damage
6,350 
Initial AP Shell Velocity
995 

m./s.
AP Shell Weight
207 

kg.
130 mm/60 BL-109A
6 х 2 

pcs.
Firing Range
5 

km.
Rate of Fire
15 

shots/min.
Reload Time
4 

sec.
HE Shell
HE-42 
Maximum HE Shell Damage
1,800 
Initial HE Shell Velocity
950 

m./s.
Chance of Fire on Target Caused by HE Shel
8 

%
57 mm ZIF-75 mount
6 х 4 

pcs.
. . . Average Damage per Second
150 
. . . Firing Range
3.99 

km.
130 mm/60 BL-109A
6 х 2 

pcs.
. . . Average Damage per Second
167.4 
. . . Firing Range
5.7 

km.
Maximum Speed
32.5 

knot
Turning Circle Radius
990 

m.
Rudder Shift Time
12.1 

sec.
Surface Detectability Range
14.9 

km.
Air Detectability Range
8.6 

km.
Battle Levels
Petropavlovsk — Soviet Tier X cruiser.
Another heavy cruiser variant of Project 82 that was reworked, taking into account the experience gained during World War II. In addition to her 220 mm main battery guns, the ship received powerful dual-purpose artillery.
Modules
Compatible Upgrades
 Slot 1 
 Slot 2 
 Slot 3 
 Slot 4 
 Slot 5 
 Slot 6 
Player Opinion
Performance
Topping off the Russian Heavy Cruiser line, Petropavlovsk replaces Moskva as the Tier X Cruiser representative of her nation alongside her light cruiser counterpart Alexander Nevsky.
To start off, Petropavlovsk is a very well protected ship compared to her contemporaries. Despite having a large citadel, the ship comes with layered armor, a 50mm Midship deck, and a 50mm ice-breaker which makes her resilient against High Explosive Shells and Armor Piercing shells (Provided she's properly angled when against AP). This is compounded with a relatively large health pool and a very low freeboard which can make aiming for the ship's citadel fairly difficult. Her guns, however, are the major selling point of this ship. Despite sharing the same caliber and number of guns as her predecessor, the ballistics and performance of these guns are a major improvement over them. The shell velocity of almost 1000 meters per second makes aiming in this ship much easier. Combine that with shorter AP fuse times, and Captains will be able to devastate any enemy ship foolish enough to show their broadside. The turrets themselves are also a benefit in that they are able to turn a full 360 degrees to stay on target despite their slow traverse speed. Concealment-wise she's fairly excellent as with a full stealth build Petropavlovsk's concealment can be brought down to 11.7km, which allows her to "stealth-radar" enemies with her 12km Surveillance Radar (

). The Anti-Air capabilities of this ship are also exceptional, with good range and damage to make airstrikes difficult (but not impossible).
Despite many things going for this ship, there are also some downsides. Petropavlovsk shares the same dispersion gimmick as the Russian Battleship Line, meaning the further away a target gets the less accurate the guns will be compared to her contemporaries, which will hamper her long-range performance by a margin. The ship is also very sluggish, with a massive turning circle that makes repositioning or turning away fairly difficult and sometimes hazardous if the sides are exposed for too long. Despite the ability to stealth-radar, it only lasts long enough to get off two salvos at the most before it expires. This, combined with her fairly mediocre High Explosive shells, makes her less of a threat to Destroyers when compared to her contemporaries that are equipped with longer-lasting radar or more guns (Though the excellent ballistics might offset this disadvantage slightly by making it easier to land hits on Destroyers).
Petropavlovsk
offers a fairly unique playstyle, which allows her to excel when Captains are able to use all of her many positive traits; namely her concealment, her protection, and her guns. Use her stealth to intelligently position to support the team or disengage from a fight, her protection to tank enemy fire either nose-in or angling away, and her guns to either wreak havoc on enemy broadsides with her amazing AP, or keep them on edge using her unique turrets while carefully maneuvering away. Overall this ship shouldn't be played as a long-range sniper due to the wonky long-range dispersion, and should instead be brought to bear to deal with opponents at close-range when the team needs assistance and/or it's safe to do so.
Pros:
Extremely high velocity guns
Armor-piercing ammunition has excellent penetration and maintains it over distance
Shares the same short fuse on her Armor-piercing as Stalingrad
Has the ability to stealth radar
Hull sits very low in the water (Lower than some Destroyers!)
Turrets turn 360 degrees
Armor is fairly reliable when angled, small icebreaker bow armor plate and 50mm deck protects against both AP and HE respectively.
Cons:
Her radar lasts for a very limited amount of time
High explosive damage output is very lacking with low alpha damage and mediocre fire chance
Turret traverse is extremely slow
Poor handling, with a large turning circle
Modified dispersion curve which significantly worsens at long ranges
Citadel extends above the waterline
Completely lacks any torpedo armament
Icebreaker isn't high enough above water to completely protect Petropavlovsk from nose-in citadels, and with a 25mm nose, every single battleship in her matchmaking spread barring one will still be able to citadel her from the nose.
While billed with 'improved penetration angles', they are nowhere near as good as those on Stalingrad or Des Moines, instead having just 5 degrees better than the majority of cruisers, which is barely noticeable to captains
Research
As a Tier X, Petropavlovsk doesn't have any upgrades to research.
Optimal Configuration
Upgrades
The recommended upgrades for Petropavlovsk are as follows:
Commander Skills
Recommended Commander Skills
Cost
(points)

Endurance

Attack

Support

Versatility



1

★★★

★★

★★

Χ

Χ

Χ

★

Χ



2

★

★★

★★★

Χ

Χ

Χ

★★★

★



3

★★

 

Χ

Χ

★

★★★

★★

★★



4

 

★★

 

Χ

 

 

★★

★★★

Key: ★★★ - Extremely Useful      ★★ - Frequently Useful      ★ - Occasionally Useful     No stars - Meh     

Χ

- Not recommended
Consumables
Petropavlovsk can equip the following consumables:
References