Moskva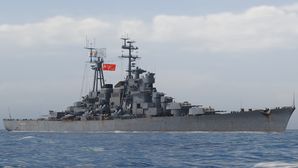 Tech Tree Position
220 mm/65 on an SM-6 mount
3 х 3 

pcs.
Rate of Fire
5.8 

shots/min.
Reload Time
10.35 

sec.
Rotation Speed
5.5 

deg./sec.
180 Degree Turn Time
32.73 

sec.
Firing Range
19.44 

km.
Maximum Dispersion
167 

m.
HE Shell
HE-23 
Maximum HE Shell Damage
3,100 
Chance of Fire on Target Caused by HE Shell
17 

%
Initial HE Shell Velocity
985 

m./s.
HE Shell Weight
176 

kg.
AP Shell
AP-23 
Maximum AP Shell Damage
5,800 
Initial AP Shell Velocity
985 

m./s.
AP Shell Weight
176 

kg.
130 mm/60 on a BL-109A mount
4 х 2 

pcs.
Firing Range
7.3 

km.
Rate of Fire
15 

shots/min.
Reload Time
4 

sec.
HE Shell
HE-42 
Maximum HE Shell Damage
1,800 
Initial HE Shell Velocity
950 

m./s.
Chance of Fire on Target Caused by HE Shell
8 

%
130 mm/60 on a BL-109A mount
4 х 2 

pcs.
. . . Average Damage per Second
111.6 
. . . Firing Range
5.7 

km.
45 mm SM-20-ZIF mount
6 х 4 

pcs.
. . . Average Damage per Second
123.6 
. . . Firing Range
3.51 

km.
25 mm 110-PM on a 4М-120 mount
6 х 4 

pcs.
. . . Average Damage per Second
50.4 
. . . Firing Range
3.09 

km.
Maximum Speed
34.5 

knot
Turning Circle Radius
1 050 

m.
Rudder Shift Time
10.9 

sec.
Surface Detectability Range
17.46 

km.
Air Detectability Range
9.38 

km.
Battle Levels
Moskva — Soviet Tier X cruiser.
A ship designed and intended to destroy light enemy cruisers and fight against heavy cruisers (Project 66). Unlike her foreign counterparts, she boasted bigger dimensions and better armor protection. The cruiser's main battery surpassed foreign guns in maximum range and destructive power but had a lower rate of fire.

Moskva is available in the Armory for 244,000 Coal

.
Modules
Compatible Upgrades
 Slot 1 
 Slot 2 
 Slot 3 
 Slot 4 
 Slot 5 
 Slot 6 
Player Opinion
Performance
Warning. The data presented in the AA Defense sidebar section may be incorrect.
For a graphic summary of ships Tiers VIII thru XI see LittleWhiteMouse's "Actual AA DPS".

A premium Russian heavy cruiser, Moskva is considered to be more of a battleship than a cruiser. Her play style is unique at its tier, especially given the difficulty of controlling the ship.
Moskva to many players can be considered a contradicting ship. While having only a slightly larger caliber than the standard 203mm/8" gun caliber of most heavy cruisers, Moskva's main batteries have a long base range of 19.4km, with HE shell capabilities similar to that of the IJN heavy cruisers, and AP shells comparable to a battleship's in terms of raw damage and penetration; it is quite possible to citadel battleships below 10 km. She has belt and bow plating of 50mm; respectable for a cruiser; protecting her from even Yamato's shells when properly angled. In addition, Moskva has a high top speed of 34.5 knots, and has a huge health pool, comparable to a Tier VIII battleship. However, Moskva is not without significant weaknesses.
Given the size of Moskva, she has the worst concealment of all cruisers, equal to that of Yamato. This makes her easily avoided by destroyers, given that her radar range is that of the typical VMF 12km. In addition, while Moskva has 50mm belt plating, she also has a very high citadel section. Moreover, she has a horrendous turning circle radius of 1000m and mediocre rudder shift time, making sharp turns impossible and hard-to-port or -starboard potentially punishing. She also has the worst anti-aircraft suite of any Tier X cruiser; while she has good long range AA when you build for it (captain skills and upgrades), she has so few AA guns that a couple of HE salvos will delete her AA defenses, making Defensive AA Fire of low value. This means that, when coupled with her large turning circle radius, she will easily be punished by opportunistic enemy battleships or heavy cruisers. These flaws mean that poor positioning is generally a death sentence. Even though Moskva seemingly has significantly better survivability than most cruisers, an enemy team can quickly eliminate her if they catch her in a poor position.
Overall,
Moskva
is a double edged ship. On one hand, her armor, firepower, and survivability make her practically a battlecruiser in a cruiser slot, favoring good players and proper positioning. On the other hand, her large profile, clumsy handling, poor AA, and high citadel means that bad players will have a hard time if they play too arrogantly. Tame her power and she will serve you well, but if you are unworthy she will be a stronger enemy than the opponent.
Pros:
Extremely large hitpoint pool, comparable to a Tier 8 battleship
One of the longest gun ranges among all cruisers
High top speed of 34.5 knots
Outstanding shell velocity, good accuracy, and flat arcs
Powerful AP shells with excellent penetration, enough to citadel battleships at mid range
Good AA suite that with the option of Defensive AA Fire  consumable
Thick armor for a cruiser, very durable when properly angled
Has access to the Surveillance Radar  consumable
Fires last standard cruiser duration, not large cruiser duration
Cons:
Enormous ship with abysmal concealment
Very large turn radius of over 1000 meters
Poorly armored turrets can be easily disabled or even destroyed
Doesn't have any torpedo armament
AA suite susceptible to HE hits
Very large and exposed citadel block, its outer plating is the ship's belt armor
Cannot withstand concentrated enemy fire despite its armor and health being similar to a battleship's
The exposed citadel, huge size, poor concealment and large turn radius make disengaging a challenge
Optimal Configuration
Upgrades
The recommended upgrades for Moskva are as follows:
Commander Skills
Moskva plays as a fire-support vessel, but has enough HP to tank quite a few hits if necessary. As a result, commanders should be trained in a similar fashion as battleships, but keep in mind you cannot tank hits for an extended period of time.
  Recommended Commander Skills  
Cost
(points)

Attack

Defense



1

★★★

 

★

★★★

★★★

 



2

 

 

★★★

 

★

 



3

★★★

 

★★★

★★★

★★★

★



4

★★★

 

 

 

★★

 

Key: ★★★ - Extremely Useful      ★★ - Frequently Useful      ★ - Occasionally Useful     No stars - Not Useful
Consumables
Moskva can equip the following consumables:
Camouflage
As a premium ship, Moskva comes with Default permanent camouflage and a set of permanent combat bonuses.
Signals
Note: Use of the Juliet Charlie signal makes detonation impossible.
Gallery
References
See here for links to Update notes.

Available for testing by supertesters in the game starting from Update 0.5.3.2.
Introduced into the game in Update 0.5.4.
Update 0.5.4.1:

Repair Party consumable added.
Increased the height of the main armor belt. Now it also protects the underwater part of the ship.

Update 0.5.6:

The firing range of the secondary battery was increased by 1.5 km (from 5 to 6.5).
The area of ​​the dispersion ellipse of secondary battery shells was reduced by 25%.

Update 0.5.7:

The corresponding radars now rotate with the ship's guns.

Update 0.5.10:

On low graphics settings, the display of some decorative objects was fixed.

Update 0.6.3:

Sigma value increased from 2 to 2.05.

Update 0.6.4:
Update 0.6.12:

Detectability when firing main guns in smoke was changed to 12.66 km.

Update 0.6.13:

Fire extinguishing time now 30 s instead of 60 s.

Update 0.7.3:

Added a special space camouflage. Until the release of Update 0.7.4, camouflage can be purchased in the game client for 8,000 doubloons.

Update 0.7.6:

The thickness of the bow and stern armor belts was increased from 25 to 50 mm.
The turning circle radius displayed in port was changed from 760 m to 1050 m.

Update 0.7.10:

The range of the Hydroacoustic Search consumable was unified - 5 km for detecting ships, 3.5 km for detecting torpedoes.

Update 0.8.5:

Credit earnings increased by 5%.

Update 0.9.5:

Given the status of "special" ship.
Transferred from the tech tree to the "Ships for Resources" section of the Armory for a cost of 244,000 Coal.
Small changes to geometry and textures.

Update 0.9.6:

The value of the in-game turning circle radius was changed to 1050 m to correct prior discrepancy.

Update 0.10.0:

The firing range of the secondary battery was increased to 7.3 km.

Update 0.11.11:

Minor updates to geometry and textures.