Aurora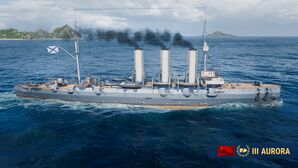 Tech Tree Position
152 mm/45 Model 1892 on a Canet mounting
14 х 1 

pcs.
Rate of Fire
7 

shots/min.
Reload Time
8.57 

sec.
Rotation Speed
5.5 

deg./sec.
180 Degree Turn Time
32.73 

sec.
Firing Range
11.24 

km.
Maximum Dispersion
99 

m.
HE Shell
152 mm HE 109 lb 
Maximum HE Shell Damage
2,100 
Chance of Fire on Target Caused by HE Shell
8 

%
Initial HE Shell Velocity
753 

m./s.
HE Shell Weight
49.76 

kg.
AP Shell
152 mm AP 91 lb 
Maximum AP Shell Damage
2,700 
Initial AP Shell Velocity
792.5 

m./s.
AP Shell Weight
41.4 

kg.
76.2 mm Model 1914/15 on an AA mounting
6 х 1 

pcs.
. . . Average Damage per Second
9 
. . . Firing Range
3 

km.
Maximum Speed
19 

knot
Turning Circle Radius
410 

m.
Rudder Shift Time
6.4 

sec.
Surface Detectability Range
10.3 

km.
Air Detectability Range
4.37 

km.
Battle Levels
Aurora — Soviet premium Tier III cruiser.
The last ship in the Pallada class of protected cruisers, Aurora was surpassed in speed by other ships of her type and time. The ship was modernized to receive significantly enhanced armament. As a result, she became superior in artillery firepower to World War I cruisers with similar displacement.

Aurora is now preserved as a military museum ship in St. Petersburg, Russia. She was first released for sale on the NA servers on 30 June 2015.


Modules
Compatible Upgrades
Player Opinion
Performance
Warning. The data presented in the AA Defense sidebar section may be incorrect.
For a graphic summary of ships Tiers VIII thru XI see LittleWhiteMouse's "Actual AA DPS".
Aurora is a protected cruiser armed with 14 152 mm guns in shielded single mounts. The ship can be compared to the American St. Louis as both ships have similar layouts. However, Aurora suffers from having worse armor and fewer hit points than St. Louis. Furthermore, the top speed of 19 knots makes Aurora one of the slower ships in her tier. Aurora is able to present a broadside of 8 guns at a time to the enemy with a range of 11.2 km. However, it should be noted that the shell arcs for this ship can be rather high.
Overall, Aurora is a workable ship for players looking for a low tier premium cruiser. However, its sluggish maneuverability and lackluster guns may be frustrating for some players.
Pros:
Large number of guns on each broadside.
Large HP pool for her tier.
Cons:
Slow speed and sluggish acceleration.
AP ammo rarely effective.
Practically absent anti-aircraft suite.
High shell arc and slow shell velocity.
No secondaries.
Poor armor protection.
Short main battery firing range of only 11.2 km.
Research
As a Premium ship, Aurora doesn't have any upgrades to research.
Optimal Configuration
Upgrades
The recommended upgrades for Aurora are as follows:
Commander Skills
  Recommended Commander Skills  
Cost
(points)

Attack

Defense



1

★★★

 

★

★★★

★★★

 



2

★★★

 

★

 

★

 



3

★★★

 

★★★

★

★★

★★★



4

★★

 

 

 

★★★

 

Key: ★★★ - Extremely Useful      ★★ - Frequently Useful      ★ - Occasionally Useful     No stars - Not Useful
Consumables
Aurora can equip the following consumables:
Camouflage
As a premium ship, Aurora comes with Default permanent camouflage and a set of permanent combat bonuses.
Signals
Note: Use of the Juliet Charlie signal makes detonation impossible.
Gallery
References
See here for links to Update notes.

Added to the game in Update 0.3.0.
Update 0.3.1.1:

The rudder speed was returned to the values ​​of Update 0.3.0 after the mechanics of ship movement were reworked in Update 0.3.1.

Update 0.5.0.1:

The 7.62-mm Maxim machine gun was replaced by the 76.2-mm Lender cannon, the range of the AA defense increased to 2 km, and the damage doubled.

Update 0.5.3.2:

Type 6 camouflage renamed Type 9.

Update 0.5.6:

Went on sale for doubloons in the game client (before it was only available in the premium store).

Update 0.5.8:

The armor model of the hull was refined.
The sector of rotation of the main battery turret #1 is now 360 °.

Update 0.6.3:

The appearance was improved with the use of a special technology for improved rendering of thin elements (rigging, etc.).

Update 0.6.12:

Detectability when firing main guns in smoke changed to 4.82 km.

Update 0.6.13:

Fire extinguishing time now 30 s instead of 60 s.

Update 0.6.15:

A bonus was added to the "Type 9" permanent camouflage: a 10% discount to the cost of post-battle service.

Update 0.7.6:

Turning radius displayed in port changed from 400 to 410 m

Update 0.7.7:

Became available in the game client for purchase for doubloons (no mention of removal).

Update 0.9.2:

Gun traverse speed increased from 5.0 to 5.1 degrees per second.

Update 0.9.3:

Gun traverse speed increased from 5.1 to 5.3 degrees per second.

Update 0.9.4:

Gun traverse speed increased from 5.3 to 5.5 degrees per second.

Update 0.11.6:

Minor fixes to the model and textures of the ship.
Was made temporarily unavailable for purchase in the Armory due to technical issues.

Update 0.11.10:

Minor fixes to the geometry and textures of the ship.