Murmansk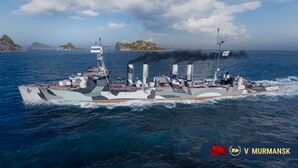 Tech Tree Position
IDS_PRGM016_6IN53_MK13_SINGLE
6 х 1 / 2 х 2 

pcs.
Rate of Fire
8.57 

shots/min.
Reload Time
7 

sec.
Rotation Speed
7.5 

deg./sec.
180 Degree Turn Time
24 

sec.
Firing Range
14.81 

km.
Maximum Dispersion
135 

m.
HE Shell
152 mm HE/HC Mk34 mod. 1 
Maximum HE Shell Damage
2,200 
Chance of Fire on Target Caused by HE Shell
12 

%
Initial HE Shell Velocity
914 

m./s.
HE Shell Weight
47.7 

kg.
AP Shell
152 mm AP/SC Mk27 mod. 8 
Maximum AP Shell Damage
3,100 
Initial AP Shell Velocity
914 

m./s.
AP Shell Weight
47.7 

kg.
533 mm Triple
2 х 3 

pcs.
Rate of Fire
0.87 

shots/min.
Reload Time
69 

sec.
Rotation Speed
25 

deg./sec.
180 Degree Turn Time
7.2 

sec.
Torpedo
53-39 
Maximum Damage
14,400 
Torpedo Speed
55 

knot
Torpedo Range
8.01 

km.
20 mm Oerlikon on a Mk4 mount
14 х 1 

pcs.
. . . Average Damage per Second
60.2 
. . . Firing Range
2.01 

km.
40 mm Bofors on a Mk1 mount
3 х 2 

pcs.
. . . Average Damage per Second
33.9 
. . . Firing Range
3.51 

km.
76 mm Mk.21 on a Mk22 mod. 2 mount
6 х 1 

pcs.
. . . Average Damage per Second
16.8 
. . . Firing Range
3.51 

km.
Maximum Speed
34 

knot
Turning Circle Radius
590 

m.
Rudder Shift Time
3.8 

sec.
Surface Detectability Range
12.76 

km.
Air Detectability Range
5.86 

km.
Battle Levels
Murmansk — Soviet special premium Tier V cruiser.
A fast scout cruiser with torpedo armament built in the U.S.A. and transferred to the Soviet Navy in 1944. In contrast to Soviet-built ships, Murmansk boasted more advanced AA defenses. However, some of her guns were casemate mounted. This impractical and obsolete firepower arrangement resulted in decreased artillery performance.

Murmansk was first released for sale worldwide on 30 June 2015.


Modules
Compatible Upgrades
Player Opinion
Performance
Warning. The data presented in the AA Defense sidebar section may be incorrect.
For a graphic summary of ships Tiers VIII thru XI see LittleWhiteMouse's "Actual AA DPS".
One of the most potent cruisers at Tier V, Murmansk is a formidable opponent in anyone's hands. Featuring a deadly gun range of 14.8km by default with its main guns, Murmansk also has the ability to carry a Spotting Aircraft 

. Deploying this aircraft can increase her gun range by a further 20%, enabling her to out-range the majority of the ships at her tier. With torpedoes that have a range of 8.0 km, she also isn't bad when it comes to close range engagements. It is recommended though that captains use and abuse the range abilities of this premium cruiser to maximize their survival. By broadsiding at range, she can bring 5 turrets to bear on the enemy, 2 which contain double guns meaning that every 7 seconds she can hit an enemy ship with 7 shells for a total of around 60 shells a minute. With the way fires currently stand with HE shells, sitting at range and spamming high-explosive rounds is a perfectly viable option for this ship.
Murmansk is an Omaha-class ship. In comparison with Omaha in the U.S. tech tree, Murmansk is basically an Omaha that has been fully upgraded. It is nearly identical to an Omaha with the C hull, the gun upgrade, and the fire control upgrade. The main difference lies with the torpedoes. Instead of firing Mark 11's, it uses Soviet 53-39's, which have a range of 8.0 km, travel at 55 knots, and inflict 14,400 damage. The reload time is higher and the torpedo firing arc is smaller, but all-in-all it's a solid upgrade. Other differences include: 2 fewer 76.2 mm AA guns, 4 additional 20 mm Oerlikon AA guns (for a net gain of 16 dps), and an even faster rudder shift time. This makes Murmansk better than a fully upgraded Omaha. Premium ships are generally inferior to any elited ship, so Murmansk is a stand-out. The only downside would be for players who prefer Omaha's Hull (B), which has two more guns and two more triple-tube torpedo launchers, but has shorter range and loses most of the AA.
Pros:
Excellent firing range for a cruiser at its tier.
Carries a recon plane to increase its range.
One of the best AA cruisers at Tier V.
Superior to sister-ships Omaha and Marblehead in almost every aspect.
Cons:
Weak armor makes it susceptible to citadels.
Slow torpedo speed at 55 knots.
Large detection range.
No secondaries.
Research
As a Premium ship, Murmansk doesn't have any upgrades to research.
Optimal Configuration
Upgrades
The recommended upgrades for Murmansk are as follows:
Commander Skills
  Recommended Commander Skills  
Cost
(points)

Attack

Defense



1

★★★

 

★

★★★

★★★

 



2

★★★

 

★

 

★

 



3

★★★

 

★★★

★

★★

★★★



4

★★

 

 

 

★★★

 

Key: ★★★ - Extremely Useful      ★★ - Frequently Useful      ★ - Occasionally Useful     No stars - Not Useful
Consumables
Murmansk can equip the following consumables:
Camouflage
As a premium ship, Murmansk comes with Default permanent camouflage and a set of permanent combat bonuses.
Signals
Note: Use of the Juliet Charlie signal makes detonation impossible.
Gallery
References
See here for links to Update notes.

Added to the game in Update 0.3.0.3.
Update 0.4.0.4:

The "Hydroacoustic Search" consumable was added.

Update 0.5.0.1:

The KOR-2 catapult spotter was replaced with Vought OS2U, which is more consistent with historical facts.

Update 0.5.3.2:

The Type 6 camouflage was renamed to Type 9.

Update 0.5.6:

Added on sale for doubloons in the game client (before it was only available in the premium store).

Update 0.5.7:

The display of stars on the sides was fixed.

Update 0.5.8:

The armor model of the hull was refined.

Update 0.5.14:

Fixed display of camouflage on main battery turrets.

Update 0.6.1:

Improved appearance with the use of special technology for improved rendering of thin elements (mainly rigging).

Update 0.6.12:

Detectability when firing main guns in smoke changed to 6.58 km.
Detection range of the Vought OS2U aircraft was increased from 4 km to 7 km in air, and to 8 km by sea.

Update 0.6.13:

Fire extinguishing time now 30 s instead of 60 s.
Improved display of thin elements.
The survivability of air defense weapons was tested and brought to a single standard. The change affects 76.2 mm and 40 mm guns.

Update 0.6.15:

A bonus was added to the "Type 9" permanent camouflage - a 10% discount to the cost of post-battle maintenance.

Update 0.7.7:

Became available in the game client for purchase for doubloons.

Update 0.7.9:

Became unavailable in the game client for purchase with doubloons.

Update 0.7.10:

The range of the Hydroacoustic Search consumable was unified - 4 km for detecting ships, 3 km for detecting torpedoes.

Update 0.8.8:

Updated silhouette of the ship.

Update 0.9.2:

HE shell armor penetration increased from 24 mm to 25 mm.
Central armor was reinforced from 13 mm to 16 mm.

Update 0.9.6:

The value of the in-game turning circle radius was changed to 590 m to correct prior discrepancy.

Update 0.11.9:

Minor fixes to geometry and textures of the ship.