Gangut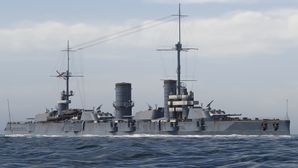 Tech Tree Position
305 mm/52 Model 1907 in a Metal Works Plant turret
4 х 3 

pcs.
Rate of Fire
1.67 

shots/min.
Reload Time
36 

sec.
Rotation Speed
3.2 

deg./sec.
180 Degree Turn Time
56.25 

sec.
Firing Range
12.41 

km.
Maximum Dispersion
180 

m.
HE Shell
305 mm HE Model 1911 
Maximum HE Shell Damage
4,500 
Chance of Fire on Target Caused by HE Shell
33 

%
Initial HE Shell Velocity
762 

m./s.
HE Shell Weight
470.9 

kg.
AP Shell
305 mm AP Model 1911 
Maximum AP Shell Damage
8,600 
Initial AP Shell Velocity
762 

m./s.
AP Shell Weight
470.9 

kg.
120 mm/50 Model 1905 on a Vickers mounting
16 х 1 

pcs.
Firing Range
4 

km.
Rate of Fire
7 

shots/min.
Reload Time
8.57 

sec.
HE Shell
120 mm HE Model 1907 
Maximum HE Shell Damage
1,700 
Initial HE Shell Velocity
823 

m./s.
Chance of Fire on Target Caused by HE Shell
8 

%
75 mm Model 1892 on a Meller AA mounting
8 х 1 

pcs.
. . . Average Damage per Second
15.2 
. . . Firing Range
3 

km.
Maximum Speed
23 

knot
Turning Circle Radius
660 

m.
Rudder Shift Time
14.3 

sec.
Surface Detectability Range
13.21 

km.
Air Detectability Range
8.86 

km.
Battle Levels
Gangut — Soviet Tier IV battleship.
At the end of 1907, after the requirement specifications for the new battleship had been determined, the Shipbuilding and Procurement Bureau sent out invitations to Russian and foreign shipbuilding companies to participate in the tender. 9 projects were selected out of 23 submitted, and the project from Baltic Works was considered the best. The construction of four new battleships—Poltava, Petropavlovsk, Sevastopol, and Gangut—lasted from 1909 until 1911. The latter served in the Navy until the end of the 1950s.
Modules
Compatible Upgrades
Player Opinion
Performance
Warning. The data presented in the AA Defense sidebar section may be incorrect.
For a graphic summary of ships Tiers VIII thru XI see LittleWhiteMouse's "Actual AA DPS".
Coming from
Knyaz Suvorov
,
Gangut
is sure to feel like a welcome improvement thanks mainly to the centerline turret layout which allows 75% of the main battery to be fired while still giving favorable hull angles to deflect or absorb incoming fire. Captains who own either
Oktyabrskaya Revolutsiya
or
Imperator Nikolai I
will find adjusting to this ship to be a rather pain-free experience due to their similarities. However, since
Gangut
is a tech tree Russian battleship, it does not have the longer range accuracy found on the aforementioned premium ships and instead must close the distance with enemy ships to land more than singular random hits. This is somewhat easily accomplished by her 23-knot top speed which ties
Gangut
for second-fastest BB of the tier alongside
Kaiser
, meaning she will be able to (slowly) run down or outrun most other battleships in her matchmaking spread.
Pros:
Good rudder shift time when upgraded to B-hull.
Superstructure is small and the ship's 32 mm outer plating makes her highly resistant to HE spam.
The main guns have good firing arcs, accuracy, and penetration.
Damage control has a fast cooldown.
Cons:
Detection range is higher than maximum possible firing range without commander skills and camo.
Same poor reload time as Knyaz Suvorov.
Slightly improved, but still poor AA defense.
High and under-protected citadel is easily hit if not angled. The ship's armour is ineffective against battleship guns.
No torpedo blisters means only a 9% reduction in damage from torpedo hits.
Damage control has limited charges.
Research
The research path of Gangut is relatively simple – players are encouraged to first unlock the (B) hull to increase ship health, anti-aircraft armament, and rudder response time, and finish with the fire control upgrade, which allows for a 10% firing range upgrade.
Optimal Configuration
Upgrades
The recommended upgrades for Gangut are as follows:
Commander Skills
  Recommended Commander Skills  
Cost
(points)

Attack

Defense



1

★

 

 

★★

 

★



2

★★

 

 

★

★★

 



3

★

 

★★★

★★

 

 



4

 

 

★

★★★

★★★

★★★

Key: ★★★ - Extremely Useful      ★★ - Frequently Useful      ★ - Occasionally Useful     No stars - Not Useful
Consumables
Gangut equips the following consumables:
Keep in mind that while the damage control team is very efficient, it can be used a limited number of times before becoming exhausted.
Signals
Note: Use of the Juliet Charlie signal makes detonation impossible.
Gallery
References
See here for links to Update notes.

Available for testing by supertesters in the game starting from Update 0.8.1.
Introduced into the game as a researchable ship in Update 0.8.4.
Update 0.9.4:

The stock firing range was increased from 12.3 to 12.4 km.

Update 0.10.0:

The firing range of the secondary battery was increased to 4 km.