V-25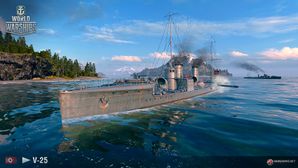 Tech Tree Position
88 mm/45 Tbts C/13 on a Tbts LC/13 mount
3 х 1 

pcs.
Rate of Fire
15 

shots/min.
Reload Time
4 

sec.
Rotation Speed
10 

deg./sec.
180 Degree Turn Time
18 

sec.
Firing Range
7.57 

km.
Maximum Dispersion
77 

m.
HE Shell
88 mm Spr.Gr. 
Maximum HE Shell Damage
1,000 
Chance of Fire on Target Caused by HE Shell
3 

%
Initial HE Shell Velocity
750 

m./s.
HE Shell Weight
9.5 

kg.
AP Shell
88 mm P.Spr.Gr. 
Maximum AP Shell Damage
1,800 
Initial AP Shell Velocity
750 

m./s.
AP Shell Weight
9.5 

kg.
500 mm Zwilling
2 х 2 / 2 х 1 

pcs.
Rate of Fire
1.58 

shots/min.
Reload Time
38 

sec.
Rotation Speed
25 

deg./sec.
180 Degree Turn Time
7.2 

sec.
Torpedo
G/6 
Maximum Damage
9,067 
Torpedo Speed
49 

knot
Torpedo Range
5.01 

km.
Maximum Speed
36 

knot
Turning Circle Radius
440 

m.
Rudder Shift Time
2.9 

sec.
Surface Detectability Range
5.24 

km.
Air Detectability Range
1.99 

km.
Battle Levels
V-25 — German Tier II destroyer.
This ship was designed for escorting the battle fleet and belonged to the most numerous series of destroyers in the German Navy. She boasted a very high speed for her time. Initially ships of this class carried weak artillery, but during World War I many were re-equipped with more powerful guns.


Modules
Compatible Upgrades
Player Opinion
Performance
For new players looking to dive into the destroyer lines, V-25 presents a solid introduction. With her speed, interesting torpedo armament, decent main batteries and above average concealment she is forgiving for new Captains. However paper thin armor, slow torpedo reload and abysmal shell flight time will test the ability of Captains to rapidly assess situations.

Speed
The V-25 is tied with Longjiang as the fastest Tier II destroyer when fully upgraded. Both have identical power to weight ratios making them highly maneuverable, however that is where the similarities between the two begin to divest.

Agility
V-25 is one of the smallest ships in the game with rudder shift time among the top of Tier II tech tree destroyers, bested by the premium DDs Tachibana and Smith. The small turning radius of V-25 makes for a difficult target to hit when dodging and weaving and Captains will quickly become accustomed to this evasive maneuver as her paper thin hull cannot sustain much damage.

Concealment
The small size of V-25 and lowest detectability range in the game, ensures she is able to get into ambush and capping positions relatively quickly undetected. Be warned though Captains, a low health pool ensures a quick trip back to port if an exit strategy is not ready upon detection.

Armor
As noted above, V-25 has relatively paper thin armor. She has 9mm deck and side plating armor with 6mm fore and aft-end plating that provides nothing more than a platform that floats. With such measly protection, incoming armor piercing shells will over penetrate as the arming threshold for such shells is simply not met. Therefore, like the majority of DDs in game, she is highly susceptible to incoming HE damage having only 6mm of superstructure and gun-mount armor to speak of. Get used to being on fire, a lot!
Main Battery
With the upgraded hull, V-25 is armed with three, 105mm single gun turrets in an A-XY layout which are quite usable over the stock 88mm. She has great firing angles, able to keep all three turrets engaged at 16 degrees to port or starboard. Having two turrets in the aft position gives Captains a fighting chance to disengage and keep any would be pursuer second guessing. Turrets will take 18 seconds to traverse 180 degrees so plan any main turret engagements well ahead of time.

With the upgraded hull, she has respectable AP DPM with 25mm of penetration and HE DPM. Fire chance for the HE shells is the lowest at 5% having the longest flight time between the two shell types. Her fast reload compensates for terrible shell flight times allowing Captains to keep the pressure on while she reloads her torpedoes. Due to the high firing arcs, ranged combat is something of a "hit & miss" exercise with V-25, but again the quick reload provides a slight edge in close quarters combat.

AA
V-25 will not see any CV's so AAA is inconsequential.

Torpedoes
V-25's torpedoes are her best feature. Armed with two, single-firing forward launchers which can almost fire straight ahead, along with two, double-firing launchers amidships, she can assault smoke screens with a smaller profile than most other destroyers. The 500mm torpedoes offer the highest damage among Tier II–III ships with a decent flood chance but are among the slowest within that same tier range. To fire her torpedoes undetected once upgraded, Captains need to appropriately manage the small area of advantage between the torpedo range and her detectability at sea.

Consumables
Along with the Damage Control Party and Engine Boost consumables available to most of her peers, V-25 also has access to a Smoke Generator. With a 20 second action time, Captains can conceal large areas to disappear! Be quick to execute your evasion plan though as the smoke disperses after only 40 seconds!
Summary

While
V-25
is fragile, her speed, agility and torpedo armament make her an interesting, quirky and capable destroyer. Captains that take the time to study the unfolding battle and adjust tactics accordingly so as not to over extend her weaknesses, will have no problem leading a convoy to victory!
V-25
is a decent entry-level destroyer to jump into and have some fun while learning the line!
Pros:
Fastest Tier II destroyer
Lowest detection of all ships in the game
Very small profile and great acceleration
Forward mounted, single torpedoes that launch almost directly forwards
Guns have fastest rate of fire of all Tier II tech tree destroyers
Cons:
Paper thin armor
Slow shell speed and high firing arcs
Slow turret traverse speed
Slow torpedo reload speed
Research
V-25 has quite a number of upgraded modules to choose from. Investing in the torpedo upgrade to increase torpedo range above ship detectability by sea range should be the priority. This will allow her to fire torpedoes undetected which provide the majority of her damage output. After that, pick up Hull (B) followed by the improved main battery upgrade. The Fire Control System upgrade to boost her main battery range can be saved for last.
Optimal Configuration
Upgrades
The recommended upgrades for V-25 are as follows:
V-25 only has one upgrade slot; Main Armaments Modification 1

is the recommended choice.
Commander Skills
Low-tier German DDs need skills that allow them to survive longer. Priority Target, Preventative Maintenance, High Alert, Last Stand, Vigilance, Survivability Expert, Concealment Expert, and Advanced Firing Training will all help in this regard.
  Recommended Commander Skills  
Cost
(points)

Attack

Defense



1

★

★★

 

 

 

★★★



2

 

★★★

 

 

★★

★★★



3

★★

★★★

★★

 

★★

★★★



4

 

★

★

 

★★★

★

Key: ★★★ - Extremely Useful      ★★ - Frequently Useful      ★ - Occasionally Useful     No stars - Not Useful
Consumables
V-25 equips the following consumables:
Signals
Juliet Charlie (

), Sierra Mike (

), India X-Ray (

), Victor Lima (

), and November Foxtrot (

) signals are good signals to mount for this ship.
Note: Use of the Juliet Charlie signal makes detonation impossible.
Gallery
References
See here for links to Update notes.

Available to supertesters in the game starting from Update 0.5.15.
Introduced into the game as a researchable ship in Update 0.5.16.
Update 0.6.12:

Detectability when firing main guns in smoke changed to 2 km.

Update 0.6.13:

Fire extinguishing time now 30 s instead of 60 s.

Update 0.10.9:

Ship flag was changed to Kaiserliche Marine flag for historical reasons.

Update 12.5:

The penetration of HE shells fired by 105 mm main battery guns has been increased from 18 to 26 mm.