Fuso
Revision as of 08:04, 30 July 2016

Derping again :(

Revision as of 11:54, 17 August 2016
Line 5:
Line 5:
 
 
 
|Performance=<!-- write text about performance in battles below -->
 
|Performance=<!-- write text about performance in battles below -->
?
The Fuso is a solid-performing tier 6 battleship, once the time and effort has dedicated to her. Featuring a powerful armament of six turrets with each packing a pair of 14 inch guns, the battleship can theoretically wipe out anything below and a tier higher than her due to her broadside that's practically unrivaled at her tier. At her stock hull which is her 1914 build, she might look unimpressive, clunky and her range being very low which does not help matters of her hull being fairly easy to punch through, but once she has her final 1944 hull and the researchable fire control module with it, she can be a force to be reckoned with as she can now reach targets at about 21+km which will make her one of the battleships that you can both love to be in and a ship to prioritize sinking due to her potential. The Fuso also gains a large mobility increase when it is upgraded, with a speed increase of almost three knots, allowing you to outrun US dreadnoughts and outranging them.<br /><br />
+
The Fuso is a solid-performing tier 6 battleship, once the time and effort has dedicated to her. Featuring a powerful armament of six turrets with each packing a pair of 14 inch guns, the battleship can theoretically wipe out anything below and a tier higher than her due to her broadside that's practically unrivaled . At her stock hull which is her 1914 build, she might look unimpressive, clunky and her range being very low which does not help matters of her hull being fairly easy to punch through, but once she has her final 1944 hull and the researchable fire control module with it, she can be a force to be reckoned with as she can now reach targets at about 21+km which will make her one of the battleships that you can both love to be in and a ship to prioritize sinking due to her potential. The Fuso also gains a large mobility increase when it is upgraded, with a speed increase of almost three knots, allowing you to outrun US dreadnoughts and outranging them.<br /><br />
 
 
 
|Pros=<!-- write list of positive points below. use * as in ordinary wiki-list. -->
 
|Pros=<!-- write list of positive points below. use * as in ordinary wiki-list. -->
Revision as of 11:54, 17 August 2016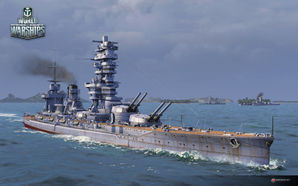 Tech Tree Position
152 mm/50 41st Year Type on a casemate mount
14 х 1 

pcs.
Firing Range
4.96 

km.
Rate of Fire
6 

shots/min.
Reload Time
10 

sec.
HE Shell
152 mm HE Type4 
Maximum HE Shell Damage
2,500 
Initial HE Shell Velocity
825 

m./s.
Chance of Fire on Target Caused by HE Shel
9 

%
127 mm/40 Type 89 on a Model A1 mount
4 х 2 

pcs.
Firing Range
4.96 

km.
Rate of Fire
12 

shots/min.
Reload Time
5 

sec.
HE Shell
127 mm HE Type0 
Maximum HE Shell Damage
2,100 
Initial HE Shell Velocity
725 

m./s.
Chance of Fire on Target Caused by HE Shel
8 

%
127 mm/40 Type 89 on a Model A1 mount
4 х 2 

pcs.
. . . Average Damage per Second
40.4 
. . . Firing Range
5.01 

km.
13 mm/76 Type 93 on a twin mount
10 х 2 

pcs.
. . . Average Damage per Second
20 
. . . Firing Range
1.2 

km.
25 mm/60 Type 96 on a single mount
8 х 1 

pcs.
. . . Average Damage per Second
14.4 
. . . Firing Range
2.49 

km.
Maximum Speed
21.56 

knot
Turning Circle Radius
740 

m.
Rudder Shift Time
17.1 

sec.
Surface Detectability Range
18.9 

km.
Air Detectability Range
9.74 

km.
Battle Levels
Fusō — Japanese Tier VI battleship.
One of the mightiest battleships of her time. When built, Fusō was the largest warship in the world. She had a fairly powerful artillery and reasonably heavy armor.
Modules
Compatible Upgrades
 Slot 1 
 Slot 2 
 Slot 3 
 Slot 4 
Player Opinion
Performance
The Fuso is a solid-performing tier 6 battleship, once the time and effort has dedicated to her. Featuring a powerful armament of six turrets with each packing a pair of 14 inch guns, the battleship can theoretically wipe out anything below and a tier higher than her due to her broadside that's practically unrivaled by any fellow Japanese battleship she will face. At her stock hull which is her 1914 build, she might look unimpressive, clunky and her range being very low which does not help matters of her hull being fairly easy to punch through, but once she has her final 1944 hull and the researchable fire control module with it, she can be a force to be reckoned with as she can now reach targets at about 21+km which will make her one of the battleships that you can both love to be in and a ship to prioritize sinking due to her potential. The Fuso also gains a large mobility increase when it is upgraded, with a speed increase of almost three knots, allowing you to outrun US dreadnoughts and outranging them.


Pros:
Unrivaled battery at her tier of twelve 14 inch guns in six dual mount turrets
A faster rate of fire as compared to the Kongo
Torpedo bulge is nearly similar to US dreadnoughts
Impressive range at 21.8 km when upgraded
Broadside can potentially destroy anything in a single salvo provided if all shots connected and they penetrated.
Cons:
Questionable ergonomics.
Very high detection range (19km surface).
Abysmal or no AA even when upgraded.
Poor deck and bulkhead armor don't allow for immune positioning; extremely vulnerable to fires.
Engine seems to be broken with even the smallest torpedoes.
Having two midship turrets limits forward and rear firepower; turning broadside to use them invites serious damage from any battleship it faces
Abysmal gun range in stock configuration at 13.2 km, gets outranged by any cruisers at the same tier. Upgraded gun fire control system is only available with the (C) hull researched and mounted, takes a total of 27500 XP and 2200000 credits for it
Terrible gun dispersion
Lousy AP penetration, uses the same gun as the Kongo's, but more firepower
A Hull gets citadeled easily and has questionable 44900 HP
Research
Initially the Fuso is painful, and you might think about getting the propulsion upgrade first. However, the Fuso is significantly benefited first by the improved addition on the AA suite, the 5 second reduction in rudder shift time, the addition of survivability, and the additional gun range provided by the Fuso (B) hull upgrade (Upgraded hull increases the range from 13.2 to 19.8). After the hull upgrade the next most important is probably the propulsion as it will allow you to get somewhere faster. Plus for most situations, the near 20km gun range is good enough. Once you've got the propulsion you can choose to get the firing range increase from the Fire Control module or you can skip the 2km boost in favor of saving more for the Nagato (although that 2km can be handy at times).
Gallery