Z-39
Revision as of 21:54, 14 May 2018
Revision as of 19:35, 15 May 2018

Added performance.

Line 15:
Line 15:
 
3. Write a brief summary paragraph of 1-3 sentences highlighting the key takeaways from the paragraphs above.
 
3. Write a brief summary paragraph of 1-3 sentences highlighting the key takeaways from the paragraphs above.
 
-->
 
-->
 
+
 
+
 
+
 
+
 
+
 
+
 
+
 
+
 
+
 
 
 
|Pros=<!-- write list of positive points below. use * as in ordinary wiki-list. -->
 
|Pros=<!-- write list of positive points below. use * as in ordinary wiki-list. -->
Revision as of 19:35, 15 May 2018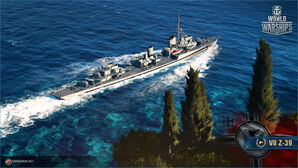 Tech Tree Position
150 mm L/48 LDrh LC/38
1 х 2 / 2 х 1 

pcs.
Rate of Fire
8 

shots/min.
Reload Time
7.5 

sec.
Rotation Speed
8 

deg./sec.
180 Degree Turn Time
22.5 

sec.
Firing Range
11.84 

km.
Maximum Dispersion
103 

m.
HE Shell
150 mm Spr.Gr. 
Maximum HE Shell Damage
2,200 
Chance of Fire on Target Caused by HE Shell
12 

%
Initial HE Shell Velocity
835 

m./s.
HE Shell Weight
45.3 

kg.
AP Shell
150 mm P.Spr.Gr. 
Maximum AP Shell Damage
3,700 
Initial AP Shell Velocity
835 

m./s.
AP Shell Weight
45.3 

kg.
533 mm Vierling
2 х 4 

pcs.
Rate of Fire
0.67 

shots/min.
Reload Time
90 

sec.
Rotation Speed
25 

deg./sec.
180 Degree Turn Time
7.2 

sec.
Torpedo
G7 Steinbarsch 
Maximum Damage
14,400 
Torpedo Speed
65 

knot
Torpedo Range
8.49 

km.
37 mm Flak LM/42
4 х 2 

pcs.
. . . Average Damage per Second
41.2 
. . . Firing Range
3.51 

km.
20 mm Flakzwilling 38
2 х 2 

pcs.
. . . Average Damage per Second
8.4 
. . . Firing Range
2.01 

km.
20 mm Flakvierling 38
2 х 4 

pcs.
. . . Average Damage per Second
12 
. . . Firing Range
2.01 

km.
37 mm Flakzwilling 30
2 х 2 

pcs.
. . . Average Damage per Second
5.2 
. . . Firing Range
3.51 

km.
37 mm Flak LM/42
2 х 1 

pcs.
. . . Average Damage per Second
15 
. . . Firing Range
3.51 

km.
Maximum Speed
36 

knot
Turning Circle Radius
670 

m.
Rudder Shift Time
4.5 

sec.
Surface Detectability Range
7.74 

km.
Air Detectability Range
3.5 

km.
Battle Levels
Z-39 — German promo premium Tier VII destroyer.
The last sister ship of destroyer Z-23 belonged to a series of ships laid down after the start of World War II (Zerstörer 1936A Mob). She carried 150mm guns. During 1944-1945, the ship underwent an overhaul with a considerable reinforcement of her AA defenses. This, however, required that one of the ship's main guns be demounted.


Modules
Compatible Upgrades
 Slot 1 
 Slot 2 
 Slot 3 
 Slot 4 
 Slot 5 
Player Opinion
Performance
Z-39 has surprisingly good concealment for her tier, and for a German destroyer. In fact, most of Z-39's characteristics can be described the same way. Her 150 mm guns are some of the largest put on a destroyer in World of Warships, only matched by her compatriots Z-23 and Ernst Gaede. She has surprisingly good AA while ignoring the effects of those destroyers with defensive fire, and a decent striking arm of torpedoes which reload fairly fast and travel quickly.
The first unique thing about the Z-39 is her guns. Being 150 mm guns, there are a few things different from other guns found on similar tiered non-German destroyers. They can deliver devastating salvos to enemy ships should the AP manage a full penetration, and her HE packs a good punch as well despite the limitations of German HE damage and the gun's slow reload. Unfortunately, Z-39's four guns share the same reload as the tier lower Ernst Gaede, despite her also having four 150 mm guns with identical handling. The only thing Z-39 holds an edge on gunnery wise is her longer range, as she has a nearly kilometer advantage over Ernst Gaede. While her guns are certainly powerful, it's nothing you cannot find a tier lower. Her torpedoes are a similar story, though the German destroyer line is somewhat known for all ships having similar torpedoes. In fact, her torpedoes are entirely identical to the ones found on a fully upgraded Leberecht Maass, making them fairly unremarkable other than the noteworthy German traits of good speed and stealth.
Her AA is another unusual trait, possessing one of the most potent anti-aircraft arrays at her tier for a destroyer. Unfortunately, the effectiveness of this armament is dampened somewhat by the ship's lack of a Defensive Fire consumable. As such, she loses out to those destroyers capable of using DFAA—namely, the Mahan and Sims. Her health is another point of interest, following the typical German trend of having quite a bit of it. In fact, she has the highest destroyer health at her tier.
Z-39
provides a good, well balanced destroyer platform to operate from. She had tools to react to any threat, break away from those she can't handle, the health and concealment to control engagements with enemy destroyers, and the armaments to deal good damage to enemy vessels. All in all, she is a very capable ship, a destroyer standing strong at tier seven.
Pros:
Has access to the Tier VIII module Concealment System Modification 1 (), allowing the Z-39 to sneak around the seas.
Fairly quick torpedo reload.
Has access to the Hydroacoustic Search () module.
AP rounds can quickly devastate cruisers with citadels at mid-to-close range.
Incredibly high hit point pool for a Tier VII destroyer; the hit point pool rivals those of Tier IX destroyers.
Cons:
Takes large amounts of HE damage
Lackluster HE performance
Average torpedo alpha strike
Research
As a premium ship, Z-39 doesn't have any upgrades to research
Optimal Configuration
Upgrades
The recommended upgrades for Z-39 are as follows:
Slot 1 Provides several options for captains. Main Armaments Modification 1 (

) is recommended to improve the survivability of the ship's weapons. Magazine Modification 1 (

) can instead be mounted to reduce the risk of a magazine detonation. Captains can also choose to mount the Hydroacoustic Search Modification 1 (

) or Engine Boost Modification 1 (

) upgrades in Slot 2. These upgrades increase the action time of their specified consumable.
Commander Skills
Key skills for Z-39 are similar to those of most destroyers, with the addition of Expert Loader to improve the efficiency of her guns. Because of her 150 mm guns, Z-39 cannot make use of Basic Firing Training and Advanced Firing Training to improve her main battery reload and range, respectively.
Recommended Commander Skills
Cost
(points)

Endurance

Attack

Support

Versatility



1

★★★

★★

★★

 

 

 

★

 



2

★

★

★★

 

★

 

★★

★★★



3

★

★★★

★★★

 

 

★★★

★

★



4

 

 

★

 

 

 

★

★★★

Key: ★★★ - Extremely Useful       ★★ - Frequently Useful       ★ - Occasionally Useful      No stars - Meh    

Χ

- Not recommended
Consumables
Z-39 can equip the following consumables:
Camouflage
As a premium ship, Z-39 comes included with Type 10 camouflage that lowers her detection radius, reduces the accuracy of incoming shells, reduces her repair costs, and increases the amount of experience she earns.
Signals
A typical flag setup for a destroyer works best for Z-39, featuring Sierra Mike (

), Juliet Charlie (

), and the two fire flags India X-Ray (

) and Victor Lima (

). As Z-39 is a premium ship, economic flags such as Zulu Hotel (

), Equal Speed Charlie London (

), will boost the XP earning potential of the ship, and captain XP.
Recommended Signal Flags
Combat

★★

 

★

★★

★★

 

★

★★★

 

 

★

★★★

Economic

★★

★

★★

★★

★★

Special

★★

★★

★★

★★

★★

 

 

 

Key: ★★★ - Extremely Useful       ★★ - Frequently Useful       ★ - Occasionally Useful      No stars - Not Useful
Gallery