De Ruyter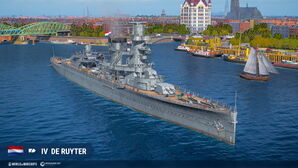 Tech Tree Position
150 mm/50 Mk.10 on a Mk.10 mount
1 х 1 / 3 х 2 

pcs.
Rate of Fire
6.67 

shots/min.
Reload Time
9 

sec.
Rotation Speed
8 

deg./sec.
180 Degree Turn Time
22.5 

sec.
Firing Range
12.55 

km.
Maximum Dispersion
119 

m.
HE Shell
150 mm HE Brisantgranaat 
Maximum HE Shell Damage
2,150 
Chance of Fire on Target Caused by HE Shell
11 

%
Initial HE Shell Velocity
900 

m./s.
HE Shell Weight
46 

kg.
AP Shell
150 mm AP Pantsergranaat 
Maximum AP Shell Damage
3,000 
Initial AP Shell Velocity
900 

m./s.
AP Shell Weight
46.7 

kg.
25 mm akan L/64 Model 1932 on a twin mount
5 х 2 

pcs.
. . . Average Damage per Second
20 
. . . Firing Range
2.49 

km.
12.7 mm Browning M1921
4 х 1 

pcs.
. . . Average Damage per Second
18.4 
. . . Firing Range
1.2 

km.
Maximum Speed
32 

knot
Turning Circle Radius
660 

m.
Rudder Shift Time
9.8 

sec.
Surface Detectability Range
11.7 

km.
Air Detectability Range
5.13 

km.
Battle Levels
De Ruyter — Dutch Tier IV cruiser.
Based on the results of the work of a special commission, the development of a new cruiser began in the Netherlands in 1930. It was planned for the ship to join the fleet in the East Indies in addition to two already available ones. The project was developed by a German-Dutch company and had design features of German ships of that time. The cruiser was named after M. A. de Ruyter, one of the most esteemed Dutch Admirals. The ship was launched in October 1936 and sent to the East Indies the next year, where she stayed until the outbreak of World War II. In 1942, De Ruyter was the flagship of the allied squadron commanded by Admiral Karel Doorman.
Modules
Compatible Upgrades
Player Opinion
Performance
Warning. The data presented in the AA Defense sidebar section may be incorrect.
For a graphic summary of ships Tiers VIII thru XI see LittleWhiteMouse's "Actual AA DPS".

De Ruyter is a Tier IV Royal Netherlands Navy light cruiser. She follows Java, improving certain aspects of her predecessor while keeping the overall flavor.
Just like her Tier III comrade, De Ruyter has no access to torpedoes and thus has to rely on gunpower alone. While she does loose 30% of the guns on paper, the favorable arrangement results in better overall firing angles, which when coupled with the much reduced reload time and good gun range offers solid damage dealing. On top of that, De Ruyter has access to the Spotting Aircraft 

consumable to boost her gun range further.
Where De Ruyter may feel like a downgrade is in terms of citadel protection. No longer featuring a turtleback, De Ruyter's chance of surviving AP salvos at close ranges is drastically reduced. To avoid this De Ruyter has to maintain an angle to threatening ships, and avoid taking hits.
As for the preferred playstyle,
De Ruyter
is best played at range, hitting targets with HE shells and avoiding return fire as much as possible. Close range engagements are to avoid at all cost, as
De Ruyter
lacks the effective means to dispose of threats quickly.
Pros:
Accurate guns.
Box shaped citadel in combination with a 30mm strong citadel roof makes De Ruyter less prone to citadel hits when at an angle.
Sufficient main battery firing range
Above average Alpha per salvo
10% torpedo damage reduction
Access to Spotting Aircraft  allows for a temporarily boosted gun range
Good firing angles
Cons:
Lacks torpedoes, unlike other same tier counterparts.
Citadel extends above the waterline and covers ~75% of the ship's length
Above average reload time for the main armament
Worse than average concealment
Sluggish in handling
Research
Researchable module upgrades for De Ruyter:
Hull: Upgrade to Hull (B) for more health and improved AA and maneuverability. Research of this module unlocks progression to V Celebes.
Gun Fire Control System: Upgrade to SUO Mk 4 Mod. 2 for an extra 10% range on the main battery.
Optimal Configuration
Upgrades
The recommended upgrades for De Ruyter are:
Commander Skills
  Recommended Commander Skills  
Cost
(points)

Attack

Defense



1

★★

 

 

 

 

★★



2

 

 

 

 

★★

 



3

 

 

★★

 

★★

★★



4

★★

 

 

 

★★

 

Key: ★★★ - Extremely Useful      ★★ - Frequently Useful      ★ - Occasionally Useful     No stars - Not Useful
Consumables
De Ruyter can equip the following:
Signals
Note: Use of the Juliet Charlie signal makes detonation impossible.
Gallery
References
See here for links to Update notes.

Available for testing by supertesters in the game starting from Update 0.10.4.
Available in pre-early access as the July 2021 reward from Prime Gaming.
Update 0.10.6:

Available in early access for Netherlands tokens in sequential bundles in the Armory.

Update 0.10.8:

Introduced into the game as a researchable ship in Update 0.10.8.