Gorizia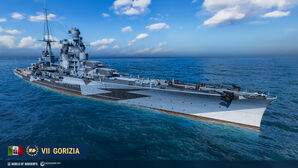 Tech Tree Position
203 mm/53 Ansaldo 1927
4 х 2 

pcs.
Rate of Fire
4 

shots/min.
Reload Time
15 

sec.
Rotation Speed
7 

deg./sec.
180 Degree Turn Time
25.71 

sec.
Firing Range
15.55 

km.
Maximum Dispersion
140 

m.
Chance of Fire on Target Caused by HE Shell
0 

%
AP Shell
203 mm proiettili AP 1927 
Maximum AP Shell Damage
4,800 
Initial AP Shell Velocity
900 

m./s.
AP Shell Weight
125.3 

kg.
Maximum SAP Shell Damage
5,050 
Initial SAP Shell Velocity
900 

m./s.
100 mm /47 OTO 1928
8 х 2 

pcs.
Firing Range
5.6 

km.
Rate of Fire
10 

shots/min.
Reload Time
6 

sec.
HE Shell
100 mm proiettili HE 
Maximum HE Shell Damage
1,500 
Initial HE Shell Velocity
850 

m./s.
Chance of Fire on Target Caused by HE Shell
6 

%
100 mm /47 OTO 1928
8 х 2 

pcs.
. . . Average Damage per Second
52.8 
. . . Firing Range
3.99 

km.
40 mm/39 Vickers-Terni 1915/1917
4 х 1 

pcs.
. . . Average Damage per Second
22.4 
. . . Firing Range
2.01 

km.
13.2 mm/76 Breda 1931
4 х 2 

pcs.
. . . Average Damage per Second
16.4 
. . . Firing Range
1.2 

km.
Maximum Speed
33 

knot
Turning Circle Radius
580 

m.
Rudder Shift Time
9.8 

sec.
Surface Detectability Range
13.96 

km.
Air Detectability Range
7.01 

km.
Battle Levels
Gorizia — Italian promo premium Tier VII cruiser.
A heavy Zara-class cruiser. Ships of this class were designed to confront the weakly protected cruisers that were built after the Washington Naval Treaty of 1922. At the time of their entry into service, they had the best armor among ships of their type. The international displacement-limiting treaties, which were still in force during the ship's construction, were the reason why no torpedo weaponry was mounted on her.

Modules
Compatible Upgrades
 Slot 1 
 Slot 2 
 Slot 3 
 Slot 4 
Player Opinion
Performance
Sitting at Tier VII, Italian premium heavy cruiser Gorizia is nearly identical to Zara, sharing the same hull and gun set up as her tech tree sister. Captains familiar with Zara will recognize Gorizia's excellent ballistics and maneuverability, as well as her access to the Exhaust Smoke Generator (

). The key difference between the two ships is that in exchange for the long-range torpedoes normally found on Italian cruisers, Gorizia has access to the Hydroacoustic Search (

) consumable.
Gorizia is armed with eight 203-millimeter guns in a 4x2 configuration that load either SAP or AP shells. Despite having one of the worst guns at Tier VII dpm wise, the alpha strike potential and the characteristics of her shells make up for it. These shells leave her barrel at an astounding 900 meters per second making them difficult to dodge. Her SAP shells can penetrate up to 54 millimeters of armor, posing a significant threat to enemy destroyers and cruisers. It is not uncommon to see 7-8k chunks being taken off enemy cruisers and destroyers that fall prey to Gorizia's SAP. Gorizia's AP shells, while having above average penetration values, are underwhelming as they cease to be effective if the enemy gives an angle. As such, the ammo type of choice should be the SAP shells, only switching to AP against enemy cruisers that are showing flat broadside.
Gorizia enjoys a 70mm citadel roof, ensuring that battleship shells that penetrate through her deck have little to no chance of reaching her citadel. In addition, her midsection is protected with a 30mm armor plate, capable of bouncing large caliber battleship shells when properly angled. However, her bow and stern plating is only 16 millimeters. Thus, when engaged with an enemy battleship, captains should attempt to dodge in such a way as to either avoid the enemy shells entirely or to have them hit her angled midsection.
Cruiser captains will be delighted to discover that Gorizia turns on a dime, with a turning circle of 580 meters - one of the most maneuverable cruisers at Tier VII. This can be used to make her a difficult target to hit, as she weaves in and out of shells and torpedoes on a moment's notice.
What sets Gorizia apart from the rest of the Italian cruisers is her access to a Hydroacoustic Search (

) consumable with a range of 6km, the best at her tier. This consumable, when used in tandem with her standard Italian Exhaust Smoke consumable and her SAP makes Gorizia a potent hit and run destroyer killer.
All in all,
Gorizia
can be best described as a side grade over her tech tree counterpart
Zara
. Her hydroacoustic search offers an aggressive play style and helps her specialize in killing enemy destroyers and cruisers.
Pros:
Large health pool
Great armor profile featuring 30mm side plating and a 70mm citadel roof
Has semi-armor piercing (SAP) ammunition, which is effective against destroyers and cruisers
Great gun firing angles
Great shell ballistics
Above average penetration on armor piercing shells
Comfortable handling featuring an excellent turning circle
Has access to Hydroacoustic Search (), unlike most Italian cruisers
Cons:
Doesn't have access to HE, making her less effective against heavily protected targets such as battleships
Abysmal gun dpm
Below average gun firing range at 15.5km
No torpedoes
Extremely short ranged aa defenses
Poor concealment



Research
As a premium ship, Gorizia doesn't have any upgrades to research.
Optimal Configuration
Upgrades
The recommended upgrades for Gorizia are as follows:
Commander Skills
  Recommended Commander Skills  
Cost
(points)

Attack

Defense



1

★

 

 

★★★

★★

 



2

 

 

 

★★

★★

 



3

★★

 

★★★

 

★★★

★★



4

★

 

 

 

★★★

 

Key: ★★★ - Extremely Useful      ★★ - Frequently Useful      ★ - Occasionally Useful     No stars - Not Useful
Consumables
Gorizia can equip the following consumables:
Camouflage
As a premium ship,
Gorizia
comes included with
Type 10 camouflage
that lowers her detection radius, reduces the accuracy of incoming shells, reduces her repair costs, and increases the amount of experience she earns.
Gallery
References