Alberto di Giussano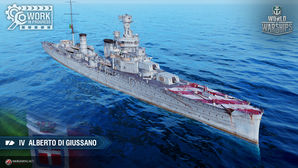 Tech Tree Position
152 mm/53 Ansaldo Model 1926 on a Model 1926 mount
4 х 2 

pcs.
Rate of Fire
4 

shots/min.
Reload Time
15 

sec.
Rotation Speed
5 

deg./sec.
180 Degree Turn Time
36 

sec.
Firing Range
12.6 

km.
Maximum Dispersion
128 

m.
Chance of Fire on Target Caused by HE Shell
0 

%
AP Shell
152 mm proiettili AP 1926 
Maximum AP Shell Damage
3,000 
Initial AP Shell Velocity
850 

m./s.
AP Shell Weight
47.5 

kg.
Maximum SAP Shell Damage
3,850 
Initial SAP Shell Velocity
950 

m./s.
100 mm/47 Model 1924/27/28 on a Eugenio Minisini mount
3 х 2 

pcs.
Firing Range
4 

km.
Rate of Fire
10 

shots/min.
Reload Time
6 

sec.
HE Shell
100 mm proiettili HE 
Maximum HE Shell Damage
1,500 
Initial HE Shell Velocity
850 

m./s.
Chance of Fire on Target Caused by HE Shell
6 

%
IDS_PIGT029_533_MM_2_TUBES_L
1 х 2 / 1 х 2 

pcs.
Rate of Fire
1.28 

shots/min.
Reload Time
47 

sec.
Rotation Speed
25 

deg./sec.
180 Degree Turn Time
7.2 

sec.
Torpedo
533 mm Si 270 G 
Maximum Damage
9,067 
Torpedo Speed
51 

knot
Torpedo Range
8.01 

km.
100 mm/47 Model 1924/27/28 on a Eugenio Minisini mount
3 х 2 

pcs.
. . . Average Damage per Second
19.8 
. . . Firing Range
3.99 

km.
13.2 mm/76 Breda Model 1931 on a twin mount
4 х 2 

pcs.
. . . Average Damage per Second
16.4 
. . . Firing Range
1.2 

km.
40 mm/39 Vickers-Terni Model 1917 on a single mount
2 х 1 

pcs.
. . . Average Damage per Second
11.4 
. . . Firing Range
2.49 

km.
Maximum Speed
36.5 

knot
Turning Circle Radius
580 

m.
Rudder Shift Time
9.8 

sec.
Surface Detectability Range
10.77 

km.
Air Detectability Range
5.11 

km.
Battle Levels
Alberto di Giussano — Italian Tier IV cruiser.
In response to the French construction of modern light cruisers and large destroyers, the Italians designed cruisers named after the Italian Renaissance condottieri. Alberto di Giussano was laid down first in 1928. The ship served in the Mediterranean Sea, participated in the Spanish Civil War, and was deployed at the Battle of Punta Stilo at the beginning of World War II. She laid minefields and escorted convoys. In 1941, while transporting gasoline to North Africa, she was intercepted by British destroyers and sunk by torpedoes.
Modules
Compatible Upgrades
Player Opinion
Performance
As the first ship to step away from the protected cruiser concept in her line, Giussano is considered to be the first modern Italian cruiser. Sporting a heavy broadside of eight (8) 152mm semi-armor piercing (SAP) shells, she is capable of dealing substantial damage to any lightly armored ship that she encounters. Despite having a long reload of fifteen seconds, Giussano is able to output similar amounts of damage when compared to her peers. This is largely due to the higher per-shell alpha of SAP, coupled with impressive ballistics and good accuracy.
Giussano is best deployed in a flanking role, with a speed of 36.5 knots and excellent base concealment of 10.8 kilometers allowing captains to easily locate and exploit weak points in enemy positions. As Giussano does not have access to the Exhaust Fuel Smoke consumable that her successors have, she lacks an easy escape path and is unable to play as aggressively as higher tier Italian cruisers. Nevertheless, Giussano's ability to deal significant damage when played correctly on a flank is akin to other ships in the Italian heavy cruiser line.
Giussano's primary weakness lies in her poor armor. Enemy battleships can deal crippling damage to Giussano at virtually any angle, but her captain can mitigate the damage taken by performing evasive maneuvers using her speed and concealment. As with most of her peers, Giussano lacks a comprehensive anti-aircraft suite, making her vulnerable to aircraft carriers at her tier.
The main strength of Giussano, and by virtue, the entire Italian cruiser line, is her unparalleled firepower, rivaling the alpha strike of some battleships. They owe this strength to their exclusive access to SAP shells, which have similar damage output to armor-piercing shells and never over-penetrate. SAP shells are able to penetrate even at extreme angles, and will penetrate regardless of the increased armor thickness caused by angling. Giussano also has access to long range torpedoes to help in her fights at range. Despite not having a large spread or high alpha damage, the range of the torpedoes forces enemies to always be on the lookout for them.
Pros:
Centerline gun configuration
Access to SAP shells
High alpha strike potential
Long range torpedoes (8 kilometers)
Highest speed among all cruisers at Tier IV (36.5 knots)
Excellent base concealment (10.8 kilometers)
Cons:
Poor armor protection
Very long base reload (15 seconds)
Low torpedo count per launcher (2)
Poor anti-aircraft suite
Lacks access to the Exhaust Fuel Smoke consumable
Research
Captains should prioritize researching the upgraded B hull for Giussano, as it gives her 4700 more hit points and slightly improves her handling. Research of this module unlocks progression to Tier V Montecuccoli. Captains should research the gun range upgrade next, as Giussano is not very well armored, and relies on ranged engagements to minimize damage taken.
Note that Tier IV battleship
Dante Alighieri
becomes unlocked for progression by unlocking
Alberto di Giussano
.
Optimal Configuration
Upgrades
The recommended upgrades for Alberto di Giussano are:
Commander Skills
  Recommended Commander Skills  
Cost
(points)

Attack

Defense



1

★★

 

 

 

 

★



2

 

★★

 

 

★★

 



3

★★

 

★★

 

★★

★★



4

 

 

★

 

★★

 

Key: ★★★ - Extremely Useful      ★★ - Frequently Useful      ★ - Occasionally Useful     No stars - Not Useful
Consumables
Alberto di Giussano equips the following consumables:
Signals
Note: Use of the Juliet Charlie signal makes detonation impossible.
Gallery
References
See here for links to Update notes.

Available for testing by supertesters in the game starting from Update 0.8.7.
Introduced in Update 0.8.10.

The starting ricochet angle for a semi-armor-piercing shell was increased from 65 to 70 degrees.

Update 0.9.2:

Updated hull geometry.
The armor thickness was changed: the central part was reinforced from 13 to 16 mm

Update 0.9.3:

Minor fixes for textures and ship model.

Update 0.9.5:

Small changes to geometry and textures.

Update 0.10.0:

The firing range of the secondary battery was increased to 4 km.